Hamish Blake Interview LEGO Masters Season 2
Hamish Blake Admits to Stealing Ideas from LEGO Masters When He Plays With Sonny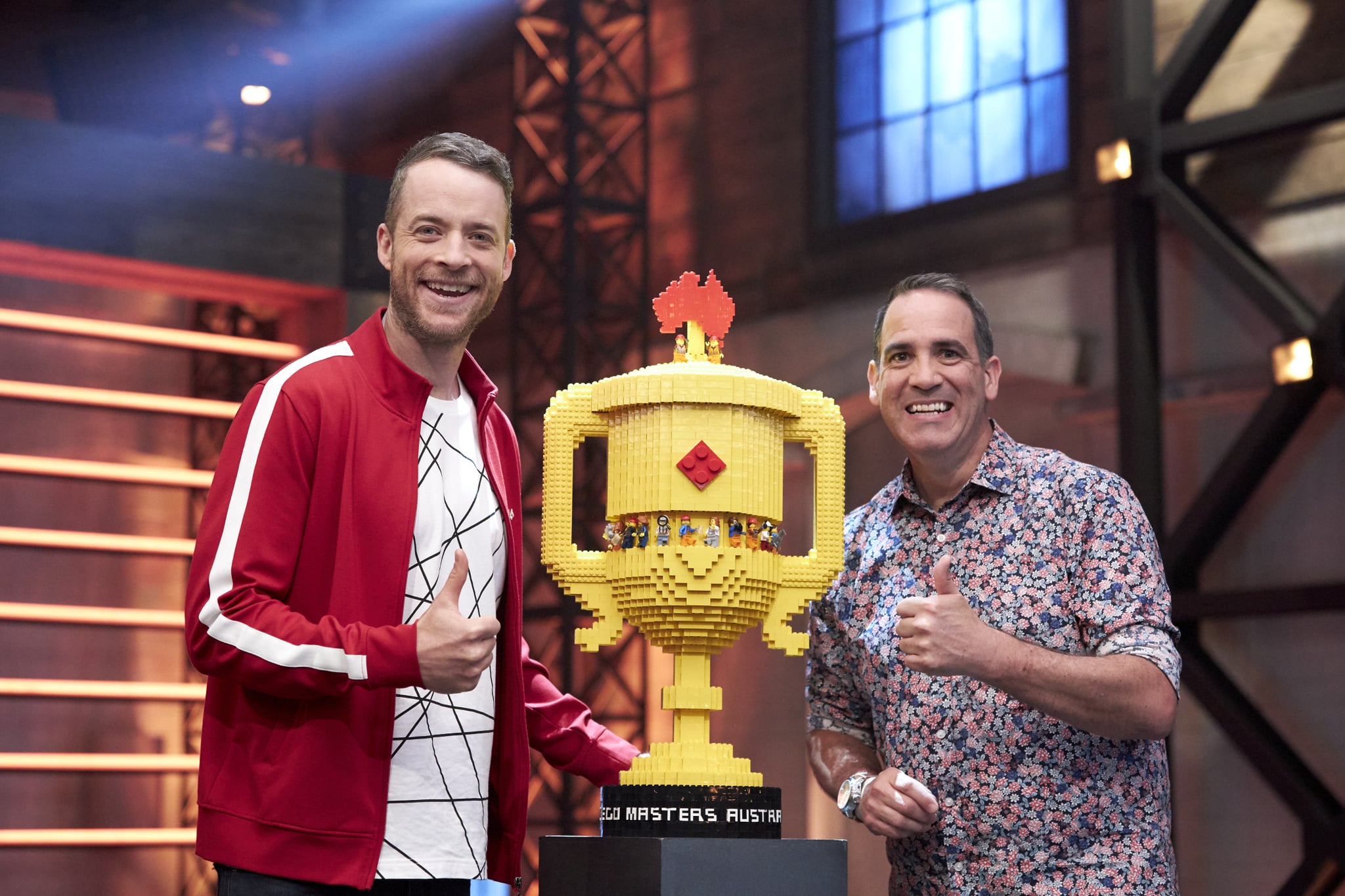 When LEGO Masters host Hamish Blake plays LEGO with his son, Sonny, he feels like "a bit of a fraud". He admits to nicking tricks and techniques from the contestants to impress Sonny. "I feel like I cheat a little bit when I play with my son because I'm definitely stealing things that I saw someone do on the show and pretending to my son that I've made it. And then he's going, 'Dad, you're the best!' I probably should correct him and tell him that I just stole that technique from someone else, but I'll probably just let him think that I'm great at building LEGO."
For Sonny, the fact that his father plays LEGO for a living is just a normal part of life — like hanging out on set. "Any attempts by me to impress him that I'm doing the show doesn't seem to register," Hamish says. "I don't think it's clicked that that's a non-traditional career, because he doesn't know any better. If I used to be a baker and then suddenly threw it all in and now I made LEGO, maybe then he would be like, 'Oh, this is different . . .'"
As the entire country is confined to their homes, amid the COVID-19 outbreak, Hamish and his partner, writer and Go-To skincare founder, Zoë Foster Blake, have found inventive ways to use ordinary items to keep their kids, Sonny, 5, and Rudy, 2, entertained. "We've got a lot of cardboard boxes in our house that usually just get squashed down and recycled, and now any cardboard box is just something else. We've got cities and fortresses and rollercoasters. If you can make it out of a cardboard box, it's in our living room."
Hamish has been keeping himself occupied through self-isolation by crashing other people's Zoom meetings. Recently, Zoë walked in on Hamish attending a ballet lesson. "I don't think she was ready for the level of enthusiastic dancing that I was doing in the lounge room."
He can attest that kind of enthusiasm can get you kicked out of a Zoom meeting — or more specifically a Zoom fitness class. "I was trying to keep the chat up in the fitness class. Everyone was doing it from their garages and I was trying to talk to the instructor and I guess I was mucking around a little bit. And then the message came up on screen that said, 'You have been removed from the meeting.' I want to say on the record that I fully back what that trainer did — I would have done the same thing to me."
He keeps his fingers crossed that he ends up invited to an internal White House meeting. "Until then, I'm happy to be doing people's workplaces and their uni tutes and their sister's surprise 35th birthday."
A sense of play, along with a focus on creativity and imagination, drew in so many viewers to LEGO Masters when it premiered on Channel Nine last year. Playfulness is simply "one of the key parts of life", for Hamish. "You don't want to lose your ability to play and to have fun.
"The contestants themselves and the things that they create I think blew people's minds a little bit. And I would include myself in that. I had to keep reminding myself that these people were building stuff out of LEGO without instructions, and they had to think of something and then build it in 10 hours . . . I think that was really the most impressive part — the imagination of the show."
This year, the "ferociously good" contestants are trying to best people from the first season. "Everybody comes in ready to try to top what they've already seen," Hamish says. "Taking nothing away from season one — those people were amazing — but they kind of set that bar and people are keen to jump it."
Hamish acknowledges that he wouldn't be a very good contestant. "I would just spend the whole time hoping for a final Hail Mary. That would be terrible."
He does talk to judge and LEGO Certified Professional Ryan "Brickman" McNaught about whether they'd make a good LEGO Masters partnership. "We would, but only because he's as good as like six people, and I'm probably worth about minus two. So overall, we'd still have the power of four people."
At a time when our social and working lives have changed on a fundamental level, LEGO Masters might serve as a comfort to people or a source of connection.
"Whatever people's little escape is, whether it's music, TV, books, painting, comedy, whatever it is, I think that that's just as important in this time to have those little outlets. So if our show is that for some people then that's a lovely thing. And if it means that the kids drag out the LEGO and sit on the mat and build a bunch of stuff then that's also a good thing."
LEGO Masters season two premieres on Channel Nine on Apr. 19.