Irena and Locky First Single Date The Bachelor 2020
It Was So Satisfying to See Irena Beat Locky at Fencing on Tonight's Bachelor & Earn a Kiss!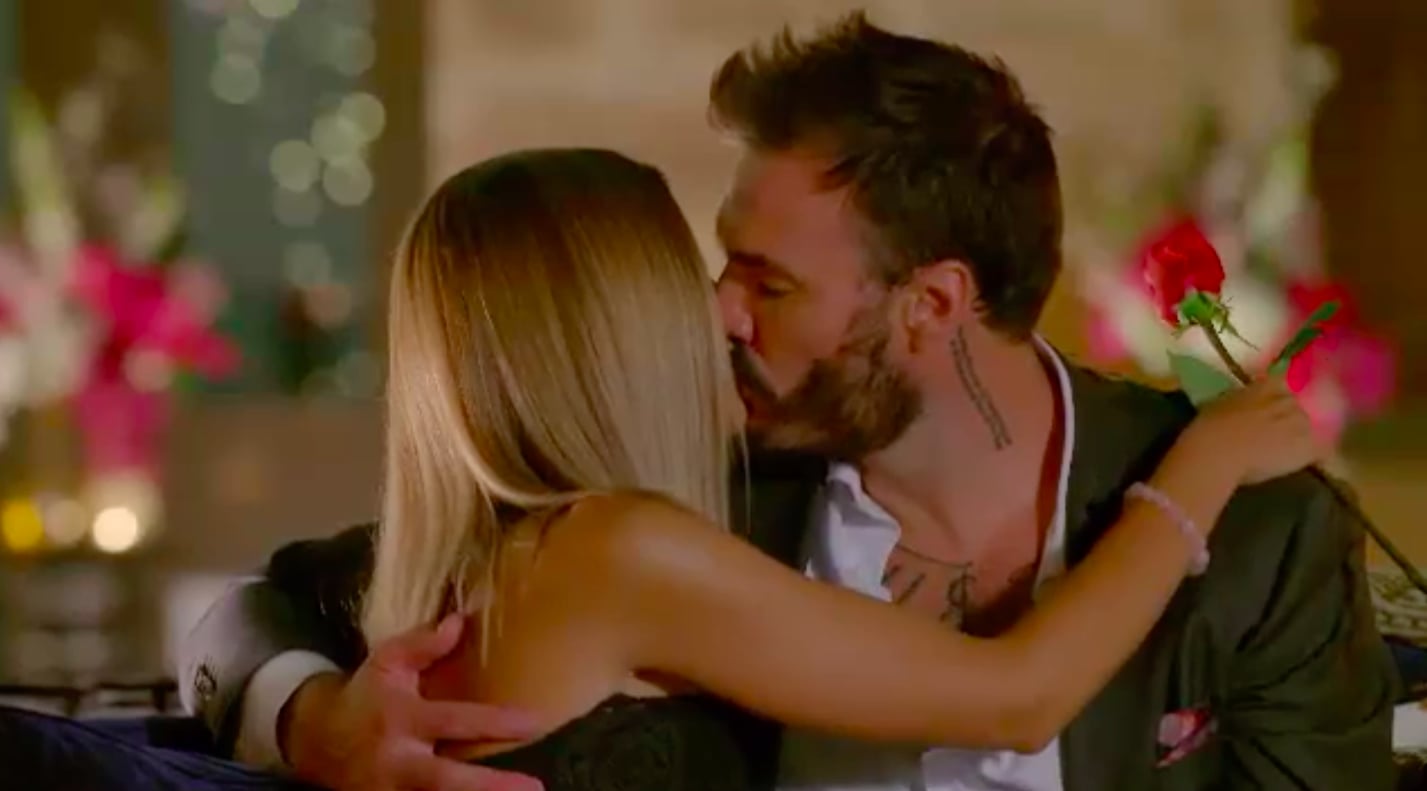 Locky Gilbert took early favourite Irena fencing on their first single date on tonight's The Bachelor.
The quirky activity gave both the Bachelor and Irena the opportunity to make innuendos, Locky commenting, "Hopefully Irena doesn't mind a little bit of swordplay." Irena laughed, "I'm sure it'll be fun getting poked around with Locky's sword today."
The pair seemed to have fun learning how to fence and then fighting against one another, their competitive spirits coming out. "I'm a terrible loser," Locky admitted.
But Irena easily beat Locky, and we've got to say it, it's so fun watching a contestant beat the Bachelor — especially someone as seemingly unthreatening as nurse Irena.
During the sitdown portion of proceedings, they needed to saber (uncork with a sword) a champagne, proving yet again that Locky has no idea how to open a bottle of sparkling. While he instructed her how to do it, standing reassuringly behind her, it was the very capable Irena who got the job done, and their closeness during that moment led to a cheeky peck!
"I'm nervous when I'm gonna meet you, but then when I'm with you I just feel so good, safe and like I've got nothing to worry about," Locky gushed. In reply, Irena explained that she was surprised by how comfortable she felt with him too, adding that trust issues from previous relationships means she usually guards herself from opening up and getting hurt.
She told Locky her "terribly, madly in love" parents were an inspiration to her in relationships. "They're very cute, they've been married for 34 years. They met on a holiday and after 10 days my dad proposed. They went on four dates!"
Locky and Irena shared a kiss after he presented her with a rose, having admitted that his feelings for her were rapidly growing. "I could spend the rest of my life with you beating me at everything and it wouldn't even bother me, as long as you're with me and just keep being yourself."
"It's such a weird feeling to have such a strong connection with someone so early, but Irena just makes me look into the future," Locky noted. "She makes me want to have a life, have a family, have a relationship." And Irena too was quickly plotting a future with Locky!
We're feeling the warm and fuzzies watching these two together!
The Bachelor airs on Network Ten, Wednesday to Thursday. Join us at our Facebook group Pass the Popcorn to gab about all things reality TV.