Jackson Garlick The Bachelorette Elimination Interview
Jackson Garlick on How The Bachelorette Helped Him Let Go of "Ingrained Masculinity"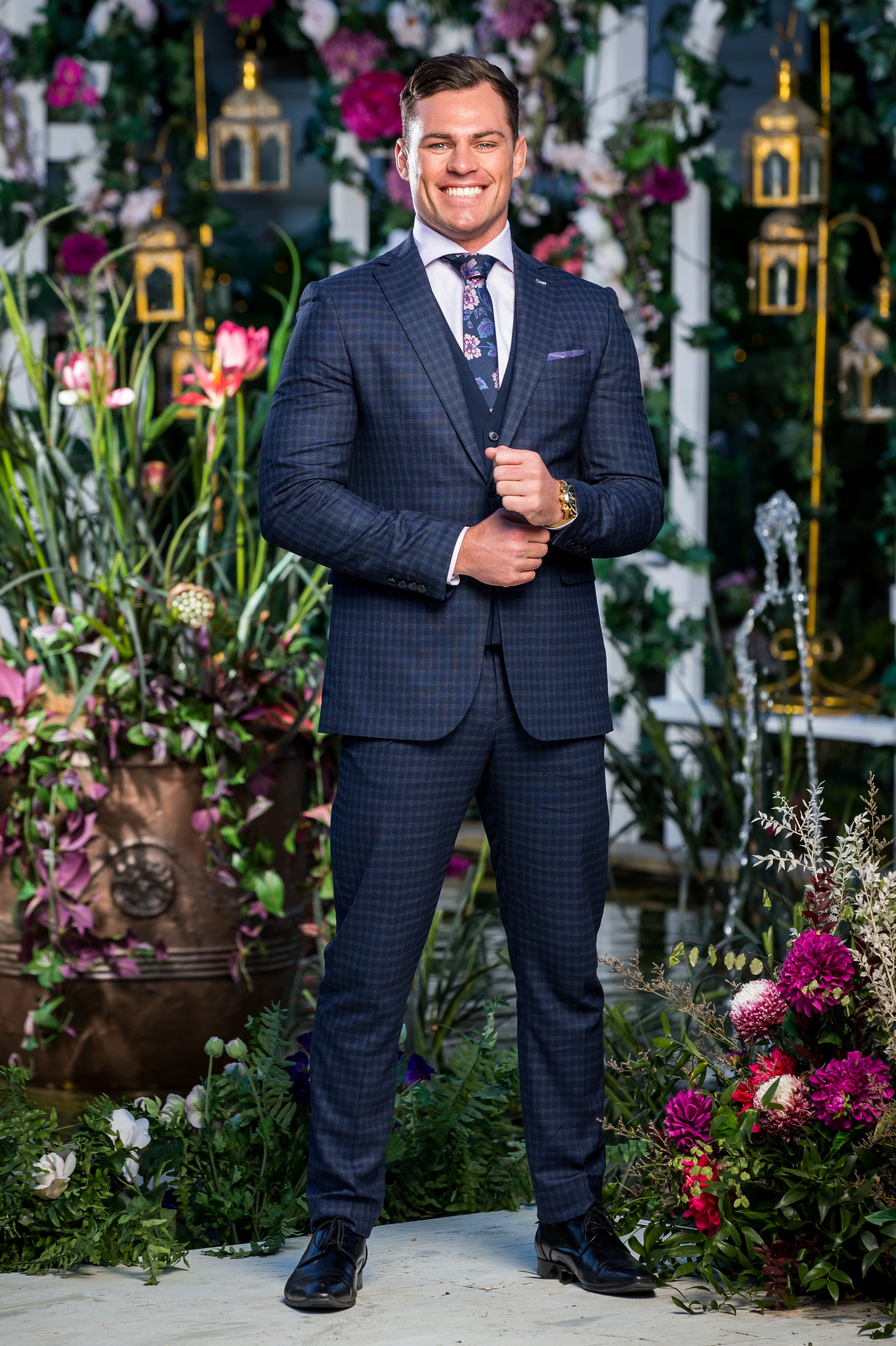 Jackson Garlick was a quiet achiever throughout his time on The Bachelorette. Having largely stayed out of all the drama, he also formed a solid connection with Angie that allowed him to cruise into Hometowns week. However, once there, Jackson struggled to open up about his feelings, and was ultimately eliminated in forth place. Below, he chats about what went wrong on his hometown date, as well as what he has learnt about vulnerability through being on the show.
POPSUGAR: Hey Jackson! How was it to have to relive your exit last night?
Jackson: Obviously I already knew that it was my time to go, but I was a bit nervous to see how my family would come across. I think dad definitely stole the show when it came to the hard hitting questions, and if he had his time over then I think he would maybe take his foot off the peddle a bit and be a bit more understanding of how hard working Angie is. If anyone questioned Angie's hard work and discipline then I'd definitely back her, because I can see it and I know she's a genuine sheila.
PS: Were you surprised that you were eliminated?
Jackson: After my hometown date, Angie did have some questions for me that I don't think I answered too well. I was confronted with questions that I hadn't really been confronted with before, and I knew I didn't do a good job with answering them. So, I did kind of predict that I would go, although little did I know the other hometowns would be equally as rocky. But yeah, the writing was on the wall for me that I probably didn't do enough to reassure Angie about how I felt about her.
PS: How much do you feel what happened at your hometown influenced Angie's decision?
Jackson: Even though dad gave her a grilling, I don't think Angie would have been too fazed by that. Although she definitely did seem a little shocked by some of the questions dad was throwing at her, I think I have to place the blame on myself. I could have been a little more open throughout the experience, she needs blokes like himself to open up. It was also kind of unfortunate timing that I had one of the first dates on the show, it meant I got a good start but that I was a bit on the back foot going into the top 10 and top 4 because I hadn't had much time alone with Angie. I think that was probably the catalyst for me not being able to share enough. My feelings had definitely developed, but I didn't have the opportunity to let her know that. Relationships aren't all transparent and you've got to hold some of your cards close to your chest, but this was like dating on steroids. I realised after the experience had ended that you probably have to be a little bit more vulnerable than you normally would be on the outside world, because there are many other suiters ready to take your place if you can't open up enough.

PS: Did you see the not be willing to move thing as as big of a deal breaker as your dad seemed to?
Jackson: I think at this point in time the business is definitely growing, and my dad's 50, he's not getting any younger. He's nowhere near retirement, but he does want to kind of ease off a bit and he's been really pushing for me to slot into his position. It'd be difficult to do that from outside of Sydney, where our head office and bakery is. At the end of the day my decision is my decision, and if I had to name my own deal breaker then it's all about trust. But if you do truly like or love someone then you can make it work, and it's just about putting the logistics in place to be able to do that.
PS: You mentioned last night that that the way you were brought up might have affected your ability to open up to Angie, can you tell us more about that?
Jackson: At home, I wouldn't say I'm necessarily affectionate with my brothers, we're very competitive. I also grew up in a football environment, where you don't often go up to your mate and tell them how you feel, you go up to your trainer and tell them how you're sore. I guess as a result my vocabulary about my feelings hasn't been the best over the years, and it did probably stump me when Angie questioned me as she was leaving. I don't regret my upbringing, but I do think I should probably have been more in touch with my emotional side if I wanted to truly show Angie how I cared.
PS: How strong were you feelings for Angie at that time?
Jackson: I was really developing a connection with Angie, and when I look back on my whole life I don't think I've found a better girl. She is so easy to get along with, makes you feel so comfortable, and can have a laugh at both you and herself at the same time. It was tough watching the show back because I saw parts of her that I liked when she went on dates with other blokes. That definitely made me jealous, even though I'd come to the realisation that that chapter of my life had closed.
PS: As we found out a few episodes ago, you applied for a previous season of the show but didn't get on. Why do you think this season was the right time for you to be a part of the experience?
Jackson: I'm actually glad I didn't get on the first time, because there was three years between the two seasons I applied for. I thought, I'm still single, I'm still doing the same thing on the weekend, I work, I train and go to uni all week. So, on the weekend all I really wanted to do was spend time with my mates. I wasn't out there on the social scene looking for girls or looking for a partner. So I thought if I could meet someone who was actually looking for a good connection, then why not do it? It would be an experience that would put me under the microscope, make me be a bit more vulnerable and hopefully help me learn a few things. Looking back, it definitely did tick all those boxes and I did meet a wonderful girl. Unfortunately I didn't end up with her, but it did provide me with some lessons that I'll keep forever.
PS: What was the highlight of your experience on the show?
Jackson: I think it was the whole feelings part of it. They say it's toxic masculinity, but I don't think it's necessarily toxic, I just think it's ingrained masculinity where you have to 'hard' enough to have no feelings. I now definitely think that you can be vulnerable, especially with someone that you like. I know it's on national TV and there's always that possibility of heartbreak, but for now in the real world I've learnt that you can share your feelings and be a bit more honest with the person you're seeing. I haven't been able to achieve that just yet because I've been focusing on time with my friends and family, but still can say 'I love you' to mum every now and then and pick up the phone and tell her. That's probably the biggest learning I've gotten.
PS: Do you think seeing some of your friends on the show like Ciarran being open with their emotions helped too?
Jackson: Yeah, I learnt a lot from everybody on that show. I learnt from Ciarran about being confident in your own skin and also emotional at the same time, while Timm taught me how to cook and Jamie taught me how to tell stories. For me it was a learning experience not just due to my experience with Angie, but also thanks to the boys I shared a mansion with.
PS: Who's your tip to win now out of the three remaining guys?
Jackson: I keep using the word eclectic, but they bloody are an eclectic group. Each one of them is so completely different. Carlin was a frontrunner from the start since he won the White Rose, and then Ryan came in, and then Timm showed his face too. I did think, "gee, these blokes are all going to be hard to beat." But if I had my money on anyone, it would be Timm. He's one of a kind, definitely, and he's not cut from the same cloth as anyone that I know. I formed a really good bond with him, and if Angie had no choice and I got to pick someone for her, then I'd pick him because he'd make her really happy.