Jamie Doran The Bachelorette Elimination Interview
Bachie's Jamie on How Carlin Will Have to Deal With "Point Blank Lying to Angie For the Rest of His Life"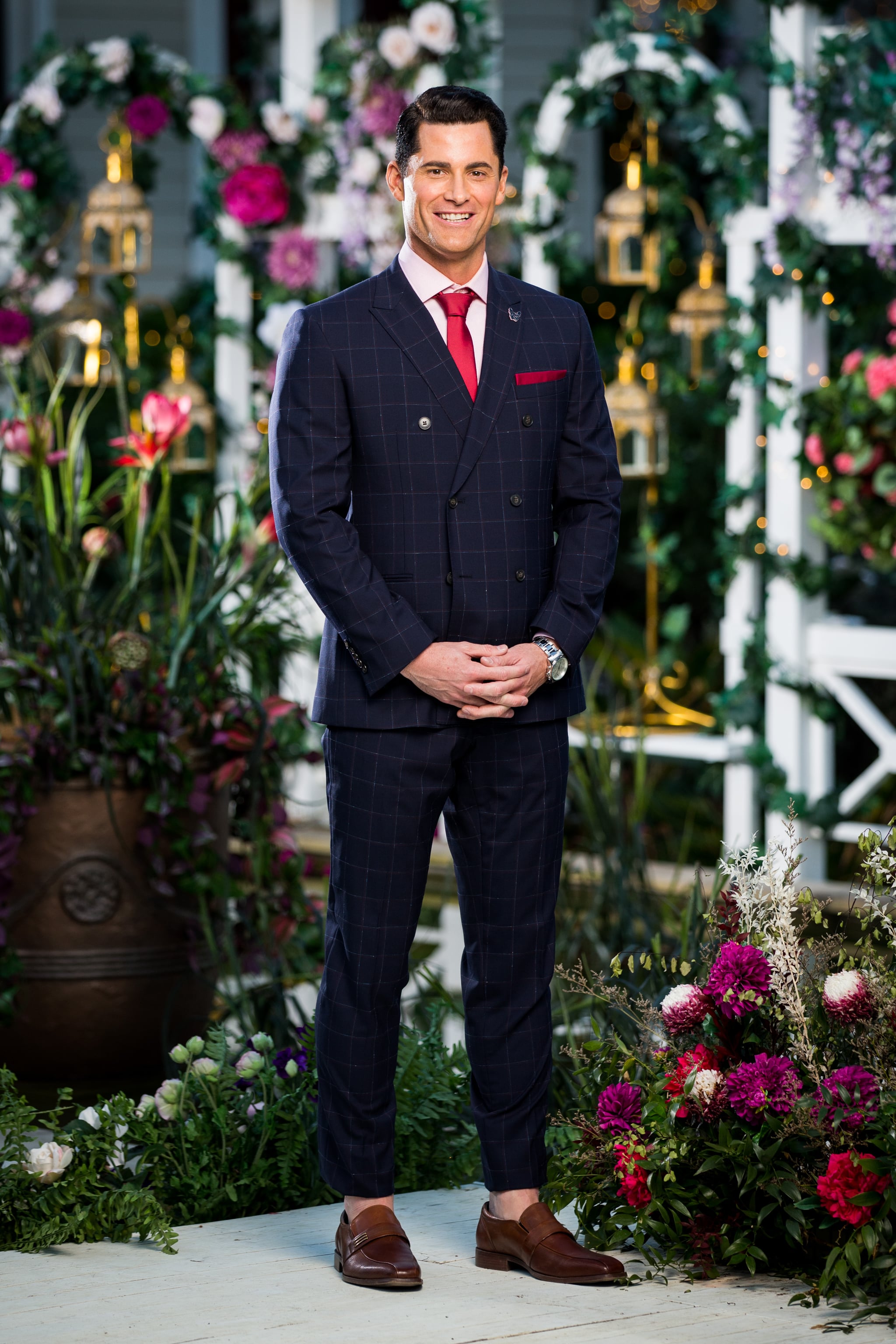 Jamie Doran was certainly one memorable character on this season of The Bachelorette. Not only was he not always presented in the most flattering light, but he was also involved in several confrontations with the other contestants. The biggest and most recent issue he had was the backlash he received for calling out the other guys on what he felt was disingenuous behaviour. Below, he chats whether he has any regrets, as well as how he feels about the edit he received.
POPSUGAR Australia: Hey Jamie! How are you feeling after having watched the episode back last night?
Jamie: It was pretty tough, just as it was tough to not get that rose at the end. But you've got to move on, don't you? I'll move on and find another Angie out there.
PS: Well, as best as you can when you have to relive it all now! Did you anticipate you'd be leaving last night, or were you surprised by it?
Jamie: I had a feeling that my time was up. I lost a lot of traction, and I felt like it was time to go.
PS: It did seem like things took a turn when you told Angie what you thought about the other guys. How much of a role do you think that played in your elimination?
Jamie: I think it was a factor. Even if I hadn't told her though, then I still wouldn't have felt comfortable [in the mansion] anymore, not after what the guys said to Angie's dad. It's a blessing in disguise I think.
PS: How did you go about dealing with everyone in the mansion after having found out what they said about you on the group date?
Jamie: I was fuming. I stopped talking to a few people, and I just solely spent my time with people I was already good friends with like Timm and Jackson. I ostracised the guys who spoke about me to Angie's dad, like Ciarran, Carlin and Matt.
PS: Those guys are the three people you told Angie you didn't think were genuine. Was them speaking out about you part of the reason you did the same to them?
Jamie: It was definitely a factor. Before then, I'd never spoken a bad word about anyone on or off camera for two months. I heard a lot of locker room talk in the mansion, and I kept it all to myself. When they started dropping bombs about me, I was like, "no more Mr. Nice Guy." I'm not going to withhold information from the girl I'm trying to end up with. I chose my own destiny. Timm did warn me that there'd be a good chance I'd go home because of it, and Jackson said the same thing. But I knew that I didn't want to stay there as a coward anymore, I wanted to go out like a knight. I wanted to go out being honest to Angie by letting her know what was going on behind the scenes. If I had any feelings for her at all, then I think it would have been wrong of me to hold back information that I knew.
PS: Carlin was so insistent that he never said he wanted to be the next Bachelor. Do you stand by your belief he did indeed say it?
Jamie: Yeah, I stand by it! He's going to have to deal with the fact he point blank lied to Angie's face for the rest of his life. That's on him now, forever. That's something he's going to have to deal with, and we will have to see what happens in the future there.
PS: If only the cameras had caught him saying it, that would probably make things a lot easier for both the audience and for Angie. . .
Jamie: Carlin's smart enough to not say those things in front of the camera.
PS: Noted! Do you have any regrets from your experience?
Jamie: I wish I hadn't been as intense in episode one and two. I was way too intense in those episodes. I got involved in that fight with Jess, and other people as well, which you didn't see, and it broke me down. In episode two I was a little bit too excited about her picking me to play her husband in the photo shoot, and I probably should have contained my emotions a lot better then. But it's a high pressure environment, and I wanted to prove early on that I was there for her.
My biggest fear was being one of the first guys to go home, and in the end I walked out of the mansion in seventh place. Despite that, I didn't get a single date or ant extra time with Angie. That's quite rare for someone who got as far as I did, if you look back on Bachelor and Bachelorette history. But I'm happy with my time there, I'm happy with my connection with Angie even though you didn't see a lot of it. There was a lot of connection between her and I, we share a similar passion for wildlife, travelling, people with disabilities and family. Unfortunately you didn't get to see that TV, as they can only show so much.
PS: Were there any particular moments from your time on the show you were surprised didn't make it to air?
Jamie: Yeah, a few of our in depth chats, I had chats with Angie that went for 30 to 45 minutes. I thought one or two of those would have made it in, but they chose not to show them and that's fine. They've only got 45 minutes minus commercials to show everything that happened, so I understand. But in a perfect world it would have been good to see parts of me that weren't me coming in like a bull, disrupting Ryan's chat and breaking the bro code. My friends know the true person I am, and the guys on the show do too. I really do have no regrets, and I'd do it all again if possible. Angie's a legend and I couldn't speak more highly of her. She handled the drama that I brought, and that Jess, Wazza, Ciarran and Timm brought very well. She never overreacted or got angry at any of us boys for some of the drama and anxiety that we brought her. She was an absolute trooper, and that made me like her even more!
PS: You weren't always given the most flattering edit. How do you feel about how you were portrayed on the show?
Jamie: It was tough at times, and cringe at times. There were times where I actually had trouble watching it, and I didn't recognise that guy on TV. People pointed out that I basically narrated every rose ceremony, like I don't think there was one rose ceremony that I didn't narrate. So Osher, I'm coming for your job mate! But yeah look, I don't mind. When it's all said and done, I'd rather have been depicted like I was with all of the airtime that I had, instead of someone who went on the first night. People who talk to me now realise that I'm just a genuine, normal guy who was in a very high pressure situation where emotions were heightened. But ultimately, I did meet a great girl in Angie, and a great bunch of blokes. I'll be friends with Timm, Jackson, Adam and Alex for the rest of my life. There are a lot of positives that came out of it.
PS: Who would you like to see win now. . . presumedly not Carlin?
Jamie: [Laughs] I think Carlin is a huge frontrunner, so he has to be taken seriously. If Carlin wins, I'll be happy for him. I'm rooting for my boy Timm, I hope he pulls through. In my heart I think it's going to be Ryan but the rumour mill is circling that Ciarran is going to return. You heard that here first! If it's true, it's going to get pretty wild, Ciarran is very popular with the Australian public and he's also very popular with Angie.