Kieran Davidson Fake Eviction Big Brother 2020
Kieran Davidson Wasn't Evicted From Big Brother Tonight — He Was Sent to the White Room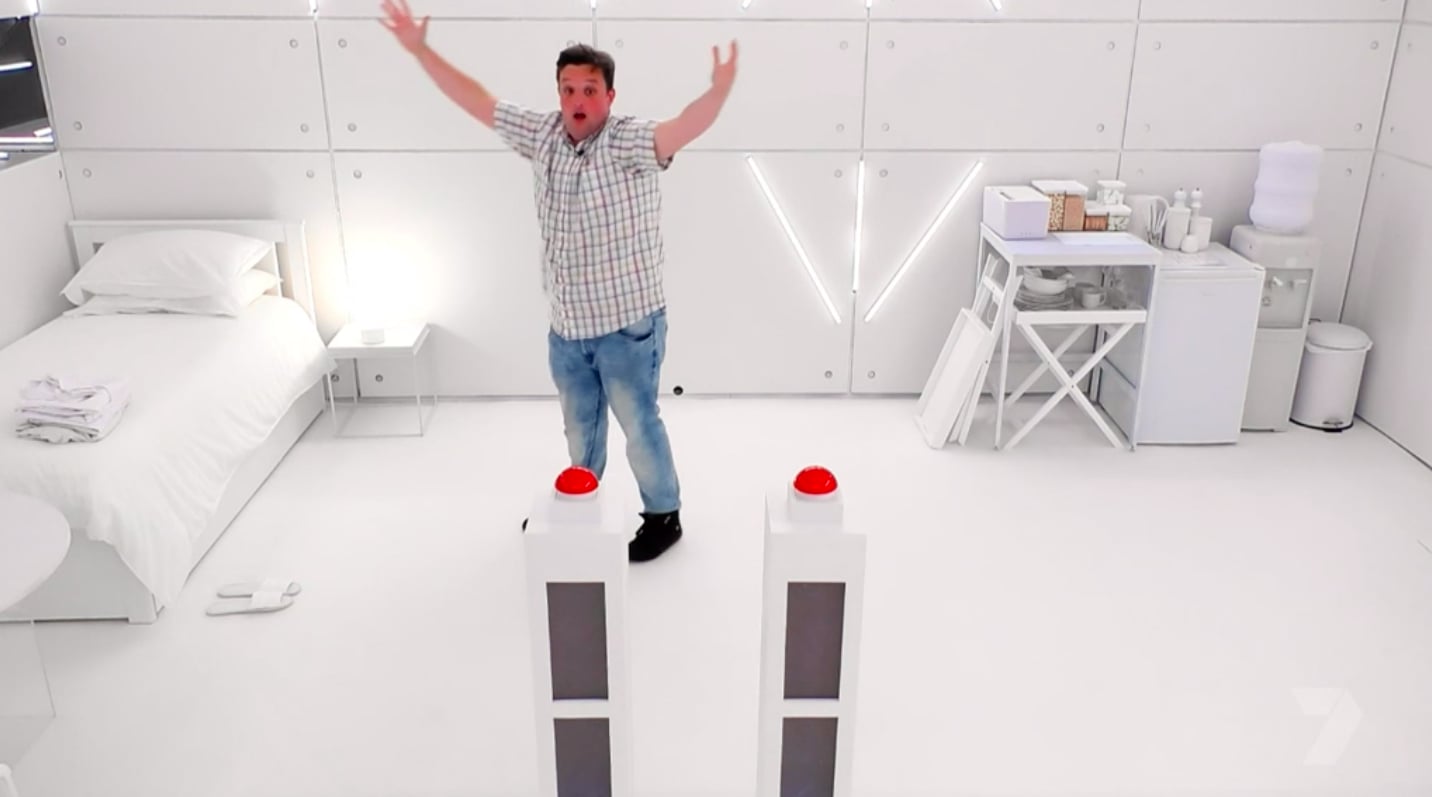 On tonight's Big Brother, Kieran Davidson wasn't actually evicted, but was instead sent to the White Room.
It's a twist we've seen before. In season seven, the wildcard housemate who lasted the longest in an entirely white room became an official housemate at the beginning of the season. This time around, the White Room will offer a second chance to Kieran Davidson to potentially remain in the competition, if he can bear staying in the psychologically demanding room.
Kieran was put up for eviction against Mat Garrick by Nomination Challenge winner Chad Hurst in his seventh overall nomination, and was unanimously voted out. It was finally his time to go — or in the open language of host Sonia Kruger — to "bid your housemates goodbye", after weeks of clashing over shared household duties.
As he left the house, Kieran mumbled to himself: "Far out, wow, sixth! Who'd have thought?"
Luggage in hand, he was stopped in the corridor by Big Brother, just like Angela Clancy before him. "Kieran, one moment," Big Brother said. "While moments ago, you received the majority of tonight's votes, you have not been evicted. Not yet."
Kieran jumped around in celebration as Big Brother continued: "There is still room for you in the Big Brother house. Specifically: the White Room."
"You're joking! I haven't been evicted?" he exclaimed, with joy, before setting out to the secret room at the end of the airlock.
"Oh my God, I can't believe this," he said to himself, before entering the White Room, where the only pops of colour were two red buzzers. The food was white, like marshmallows, popcorn and rice bubbles, as was all the furniture, which included two beds on opposite sides of the room. Does that mean the next evicted contestant will join Kieran in the White Room?
"Kieran, you are here in the White Room with a second chance at this game," Big Brother said, before Kieran interjected: "Dude, I love you!"
"The question is how long do you think you can stay in the White Room?" Big Brother concluded.
In the promo for tomorrow's episode, Big Brother asked Kieran, "How much white can you handle?" And we're expecting to see the young strategist, all dressed in white, "slowly lose his mind" in his so-called "halfway house": "Who is gonna come and save me from this hell?"
Big Brother airs on Channel Seven, Monday to Wednesday. Join us at our Facebook group Pass the Popcorn to gab about all things reality TV.
Image Source: Channel Seven