Luke Toki Australian Survivor Elimination Interview
"I Thought I'd Be Gone in the First Four or Five Votes"— Luke Toki on His Survivor Second Run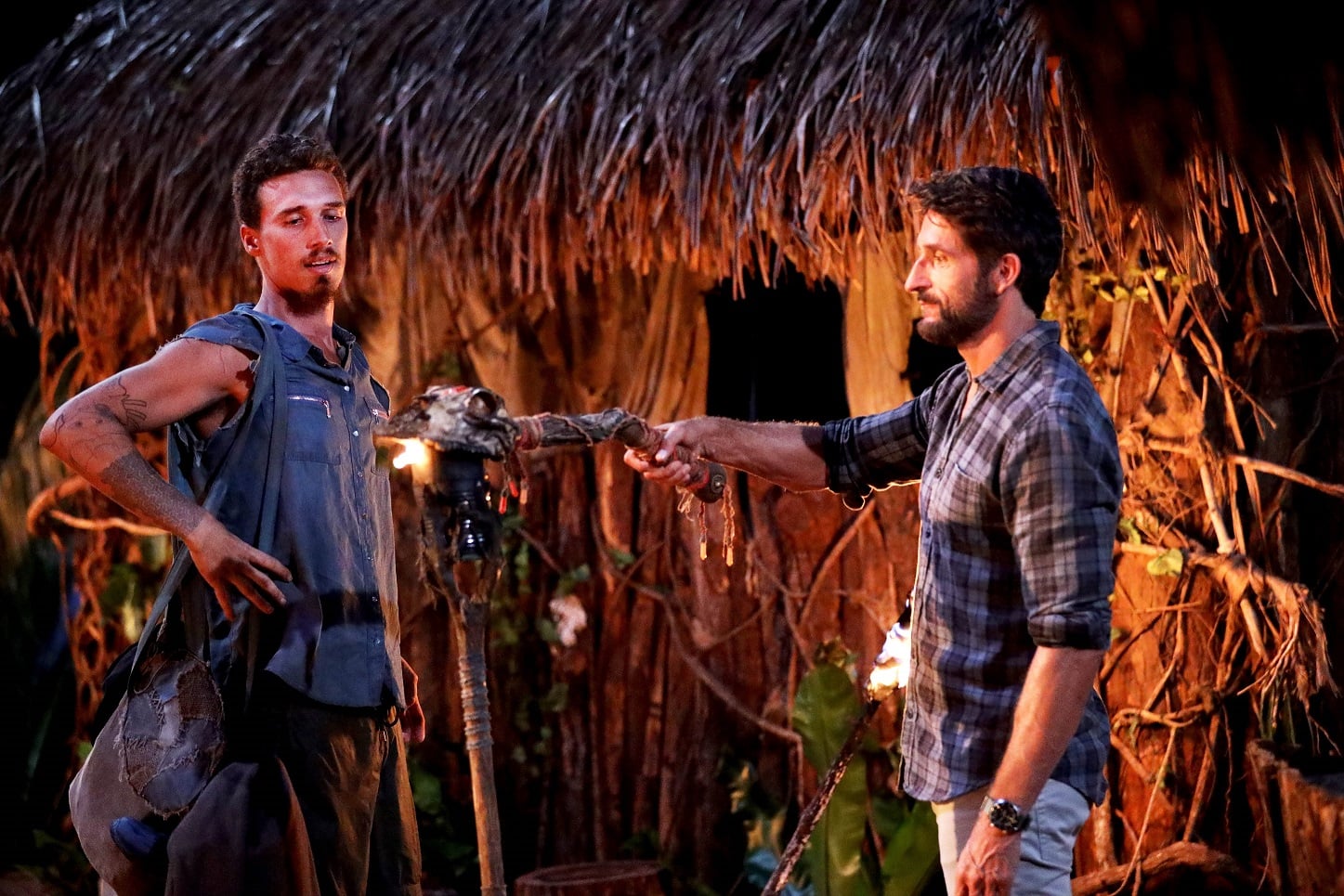 There's no question that Luke Toki is one of the most popular Survivor contestants of all time. After making his debut on Australian Survivor 2017, he became the first Aussie contestant to return for a second shot when he appeared on this season of Champions v Contenders. Impressively, he made it all the way to the final four before an immunity challenge loss meant he was sent packing due to his immense threat level. Not only did the country fall in love with Luke for his entertaining antics, but also due to his touching family story. He and wife Mary have two boys who are on the Autism spectrum, and also welcomed baby Madeline, who was born with cystic fibrosis, just six weeks before filming commenced. Below, Luke chats his heartbreaking elimination, the 'humbling' response from fans and how his family are doing now.
POPSUGAR Australia: Hey Luke! All of us fans are so sad to see you go. How was it for you to watch the episode back?
Luke Toki: I'm not going to lie, I cried on the day when I got voted out, and I got a little bit teary when I watched it back as well. They captured it exactly how it went down. I suppose I did try to beg and plead to stay in the game, and I put it all on Pia's shoulders, but that's the game! Sometimes you get to a dead end.
PS: How did you even begin to process the knowledge that you'd come so far and fallen at what was almost the last hurdle?
LT: All I knew was I needed to win that immunity. Forget about the last four immunities I'd won before that, it was that one I needed. It just slipped through my fingers, and before I even went to tribal I was so emotional because I was like "how the hell am I going to get out of this." I knew that I was a huge target, and I'd put all my eggs in one basket by voting Abbey out at the previous tribal because I thought if I won the next immunity then I'd get a shot at the top three. It just didn't swing my way, and it would have been a dream come true. . . but what can you do!
PS: As much as it would have been amazing for you to win, it's still incredibly impressive that you made it to top four as a returning player. Did you ever expect to make it so far?
LT: Nah, not at all! I thought I'd be gone in the first four or five votes. I thought they'd target me and there would be nothing I could do. It was very lucky that I found that idol which meant I held power early, but as soon as I got my claws in the game and really got my footing, it wasn't like I was a returnee anymore. That aura over me being a returnee only lasted maybe five or six days, and then I became just like any other castaway because of the relationships I built. But yeah man, who would have thought, top four!
PS: It's a testament to your social game that you were able to integrate as well as you did . . .
LT: Yeah, it's such a social game! I linked up with Dave and in the end, we just had fun with the situation. The first thing I did was find someone who was bigger than me, someone who had abs, while I had flabs! It felt like there was a lot on the line with me coming back, like what would become of me if I got voted out? The pressure was real, so to trip over at that last hurdle was just. . . heartbreaking! [Laughs]
PS: Do you regret not voting out someone else instead of Abbey at the previous vote?
LT: Well I knew Abbey would potentially win the final three immunity challenge because she was just a freak at that kind of endurance stuff. I made the executive decision to take her out, thinking that would better my chances of going on to win five immunities, which would have been a Survivor record. So I went for the glory, instead of thinking "well, maybe if I voted out Pia instead, then Abbey would have been emotional about voting me out and would have let me go to [the fire-making challenge]." It's so hard to pick the right move all the time, you just have to go with your instincts, and my instinct was "get rid of Abbey, win the next immunity, then go on and win the game."
PS: Is voting out Abbey the move you're most proud of though? It was such an innovative move and you executed it really well.
LT: It was! I've heard a few things and the fans seem to think it was up there in terms of game moves. I do remember when I thought it through in my head that my aim was to blindside every single person who was sitting there in that tribal. By doing that, it would solidify me as the top dog in the game. I didn't want to sit there at the end and think "maybe I might win this." I wanted to be able to sit there and be like "you know who won this." It could have worked out for me if I'd won that last immunity.
PS: You were very popular in your first season, but I feel like the love for you from fans has just gone to a whole new level this year with the show having grown in popularity too. How does it feel to have received such positive feedback? Not to mention all the Go fund Me pages that had been set up to help you and your family.
LT: It's extremely humbling! I can't thank everyone personally, but as a whole, I'm so thankful for people to have gotten behind me like there are people who have donated who might even be struggling themselves. It's all love, I've got love for all the people left in the game as well, I've got no hard feelings towards Pia, Harry or Baden. To think that I'm walking away with potentially a bit of money. . . Well, it's all going to my wife and kids who are the ones that held down the fort while I was gone. I know I could sleep on the beach somewhere and still be alright, but that money's all for them.
PS: I saw you took to Instagram to implore fans to lay off Pia for voting you out because some people were sending her hate over it.
LT: Yeah, you get these hardcore fans who are so invested in me winning, or just who they think deserves to win. But if you run the tape back, you'd see in the challenges Pia was jumping off the tower of terror twenty times, or she was jumping on these logs that only taller people could get across, and she never gave up. At one stage I was even standing on her back in a challenge, and I was heavy! [Laughs] Then you've also got Harry, who's been so proactive in playing the game and surviving, which is why they nicknamed him the cockroach. He's done a great job at that. Then there's Baden, who is such a nice kid with his whole life ahead of him. All three of them could use the money. I'm not a hater, and I think that showed last night when I got voted out like I wasn't giving the finger as I left! [Laughs] Game respects game!
PS: How has little Madeline been doing since you finished filming?
LT: She's good! Since I've been back she's been doing quite well. We've had to learn how to do rehab on her, and obviously, I've learnt how her body works. I also just learnt about cystic fibrosis, because I only had six weeks to learn before I left for the game. She's always going to have it, I hear a lot of bad stories, but I also hear a lot of good stories. I've just interviewed a guy called Nathan Charles for my new podcast (Welcome to the Jungle), he's an ex Wallaby and he's managed to get to the point where he's playing rugby union for Australia while having cystic fibrosis. There's a lot of good stories out there, as much as she's always going to have a tough road ahead of her and have her moments of illness. She's smiley as, she's cute as, and you can have the worst day and come home and be cheered up by her, so I'm very fortunate to have her.