What Happened On the MAFS Season 7 Premiere?
Married at First Sight Cheat Sheet: The 4 Biggest Takeaways From the Season Premiere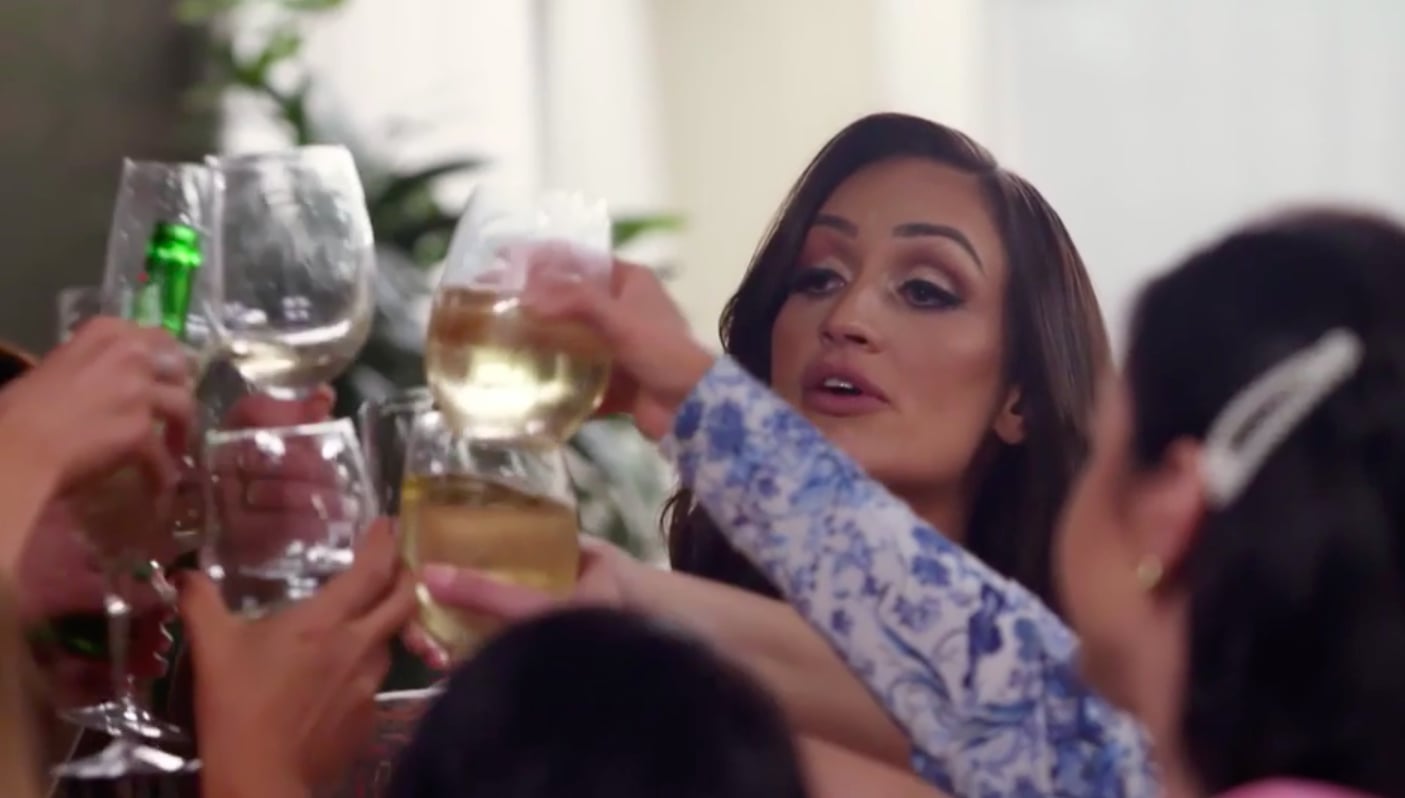 With Married at First Sight airing four nights a week for the foreseeable future, you might not be able to sit down and watch every single episode. We understand! It happens to all of us — even the most devoted among us.
That's why we're here, with this cheeky cheat sheet, so you can blag your way through tomorrow morning's office chat about the show, or alternately if you need a quick refresher after watching it live.
Here are the big moments you missed from the season premiere of Married at First Sight:
1. We're introduced to one half of the first lesbian couple to ever feature on MAFS.
All the women taking part in the "experiment" meet for the first time at their shared hen's party. Tash is asked what kind of man she's looking for, and reveals that she's actually a queer woman. But her bride is not in attendance.
"I'm struggling to find love because people assume they know who I am and what I want, but I'm looking for something different," Tash says at the opening of the episode. While the other women did assume she was heterosexual, they come across as simply excited about the different dynamic. "I think everyone has an open mind, and now I just wanna focus on my bride," Tash concludes.
Tash jokes that the other women have nothing to worry about, she's not interested in stealing their husbands. So Poppy suggests they all commit not to bang each other's husbands, and the women toast on it, with Hayley suggesting that they're at the very least honest about this kind of thing should it arise. They've learned from last year's season.
2. The lads argue about whether a kiss on the wedding day is appropriate or not.
The hen's and buck's dos set up future sources of tension between the group — Hayley talks over people, and likes to be the centre of attention, and Michael and Ivan are presented as rivals. Michael's a larrikin with lots of disposable income, and Ivan is a man who purports to challenge the norm while being chivalrous at the same time . . .
The whole group of men talk about whether or not a kiss on the lips is appropriate on the wedding day, but Ivan won't commit to anything at all. He reckons it's smarter not to kiss her, because oxytocin? But Michael suggests it would be ludicrous to only shake her hand. "I think you'd make her look like a mug if you didn't kiss her," he insists.
3. Poppy spends her entire wedding tossing up whether to ditch Luke — because she doesn't want to be separated from her twin sons.
Poppy is already set up as a fan favourite. She literally opens the episode explaining that she's a single mother with a bawdy, self-deprecating joke — the kind of joke expert John Aiken calls a defence mechanism. "One of the reasons I am single is if you look at my pram, it's seven-foot-long. I walk past and all the penises in the land just go flaccid."
And she has a heart-wrenching backstory: her ex-husband left her for another woman when she was caring for their twin newborns. But Poppy is clear throughout the episode that she's hesitant about embarking on this journey, because it requires being away from her two-year-olds. Even though she really fancies Luke, and she's had a cheeky Jim Beam to calm her nerves.
There's a real tension between the couple, Luke trying to put a cheery face on it, all while calling the experience a "trainwreck", and Poppy feeling understandably unsure and overwhelmed throughout the wedding photoshoot and reception. Her friends convince her to stay and she eventually manages to get out of her own head and actually enjoy her evening. By the end of the episode, Poppy's issues seem resolved, and Luke is extremely understanding.
4. Cathy and Josh get married, and they each seem chuffed about it.
Josh explains that he's sick of "getting thumb cramps on Tinder", which is why he's wound up on MAFS. Meanwhile, Cathy's tired of dating either arseholes and cheaters, or people who make her feel like she's not good enough for them. "Guys want a really soft, dainty woman, but that's not how it goes with me, mate," she says.
All they do is laugh together, which is a great sign. Cathy also had a dream about her husband being named Josh, and being a very Australian bloke — spooky! The guy literally said, "You bloody ripper!" as she walked down the aisle. Later, Josh sits her down to reassure her that he's not just being polite, he really, really does like her. "I'm crushing hard," he declares. Finally, it seems like Josh has someone to cry with him about Friends.
Married at First Sight airs on Channel Nine at 7.30 p.m., Monday to Thursday this week. Come tell us what you thought of episode one at our Facebook group Pass the Popcorn.