The Best Tweets From Married at First Sight Episode 24
Ivan Taking That Cheeseboard as His Own Is Too Relatable on Episode 24 of MAFS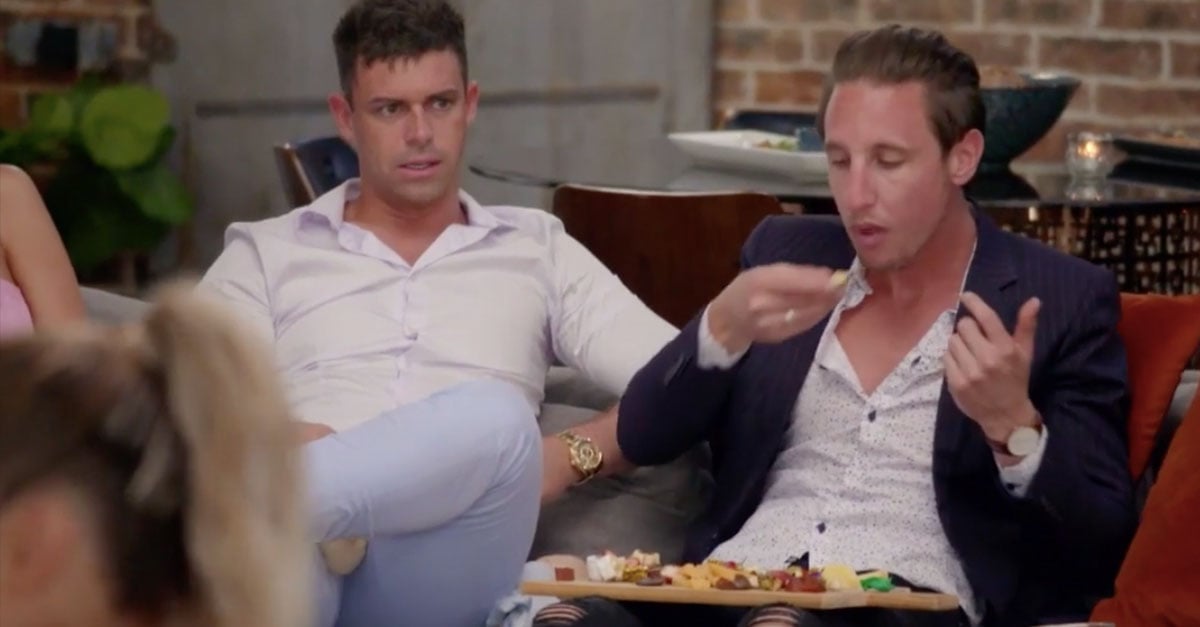 OK, we may not have fully gotten our heads around what just happened between Aleks, Ivan, Michael and Josh on episode 24 of Married at First Sight. We simply don't know if which actor in tonight's drama was lying. But what we do know is that the moment Ivan picked up an entire cheeseboard and placed it on his lap was a mood.
It's something we've all wanted to do — if not done — even if the experts deemed it a way for Ivan to 'eat his feelings'. While eating the cheese he told Michael that he loves Aleks, but really he seemed preoccupied by delicious pieces of cheddar.
Well, we were all here identifying hard with Ivan.
MOOD #mafs pic.twitter.com/j7UacpY8py

— margaret (@van_margogh) March 11, 2020
Ivan is my spirit animal tonight, sitting over there comfort eating with the whole charcuterie board on his lap 😂#MAFS #MAFSAU

— MFD (@3croookedhearts) March 11, 2020
Eating a cheeseboard worth of feelings is probably the most normal thing any of these idiots have done

We don't need your negativity thanks experts #MAFS #MAFSAU

— shiesty bish (@bishcheese) March 11, 2020
Ivan cry-hoarding the cheese platter is all of us at the moment#MAFS

— Tassie Codriver (@tassie_codriver) March 11, 2020
Ivan finding comfort in a cheese platter os too relatable #MAFS #MAFSAU pic.twitter.com/P6AmDgr9wu

— Courtney (@thatwitchx) March 11, 2020
Cmon now we've all been in that cheese platter on the lap, stuff your face mood at least once in our lives #MAFS #MAFSAU

— Jess (@AussieJessy) March 11, 2020
Ivan pulling the whole cheese platter onto his lap is a MOOD #MAFS #MAFSAU

— go ask alice. 🏳️‍🌈 (@thewwhiterabbit) March 11, 2020
Ivan & the cheese board..... the best relationship on #MAFS #MAFSAU so far......

— Sue K. (@SueKennedy19) March 11, 2020
Watching Sad Ivan comfort eat his way through a cheese platter is a (completely relatable) mood. #MAFS #MAFSAU #MAFSAustralia pic.twitter.com/1zkE1BZbZf

— The Purity Of Evil (@ThePurityOfEvil) March 11, 2020
'He's hoeing into the food'

'He's taking comfort in cheese'

Ivan is me in male form #MAFS #MAFSAU pic.twitter.com/YY9uFuMIVK

— Jen (@hertherevrywher) March 11, 2020
Ivan nursing the cheese platter is a whole vibe. #MAFS pic.twitter.com/m8BE8CST8Y

— k (@klackaak) March 11, 2020
Ok John, enough with the judgement. A boy needs to hoe down on some cheese sometimes #MAFS #MAFSAU

— Bridget (@staybridget) March 11, 2020
I need to find myself a man who looks at me the way Ivan looks at cheese.
Married at First Sight airs on Channel Nine, Sunday to Wednesday. Join us at our Facebook group Pass the Popcorn to chat through the ep!