The Best Tweets from Married at First Sight Episode 28
Connie's Decision Tonight Was Totally Gut-Wrenching and You've Got to Feel For Her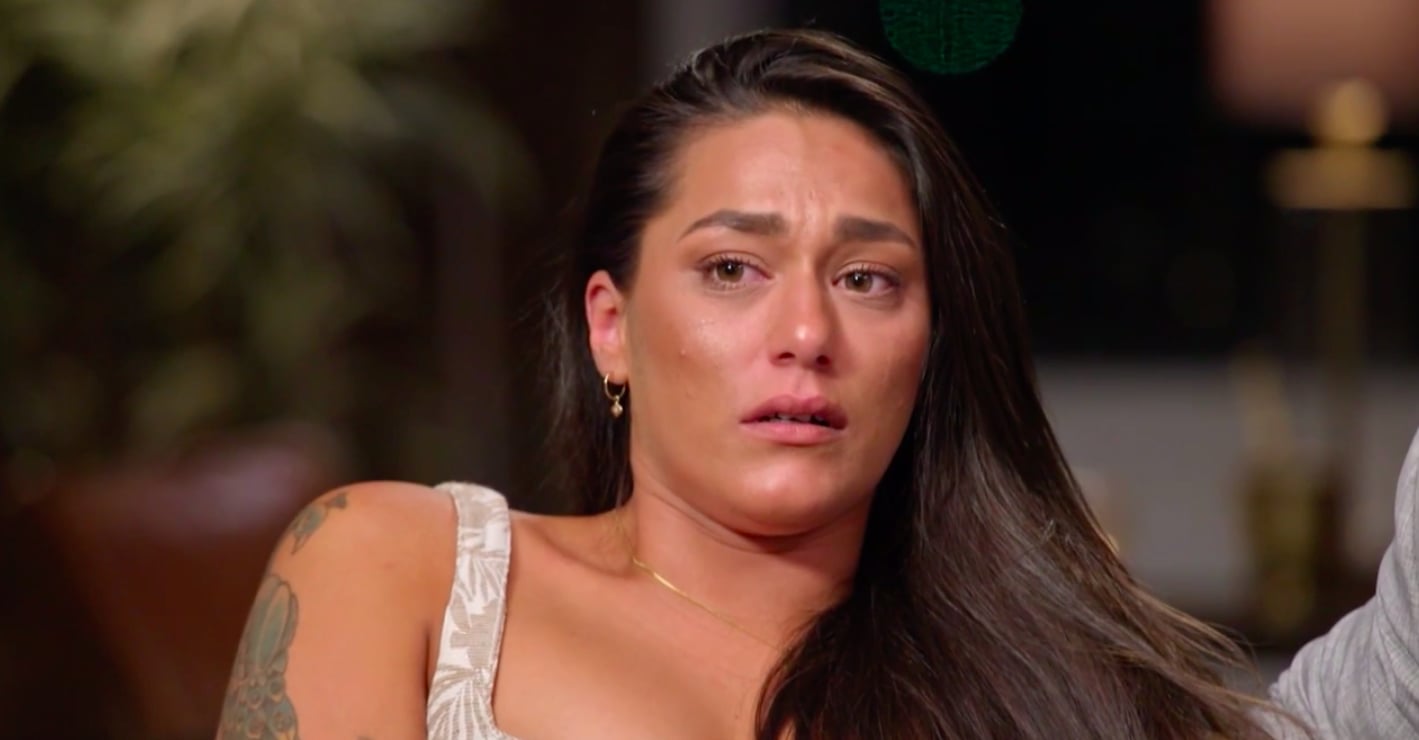 Connie was so upset on episode 28 of Married at First Sight that it made our hearts ache. After spending last night's dinner party focused on a carafe of wine as the others talked about their excellent sex lives, tonight Connie fell to pieces on the couch in front of the experts.
Jon had to answer their questions for her, and she sat there shaking as he spoke about how his feelings for her hadn't developed the way he had hoped they would. By the end, she talked about how she was prepared to leave and spare herself the hurt, to go after the reciprocated love she deserves. But she decided to stay instead, because this way she was "being honest about what [she] wanted" and seeing the "experiment" through to the very end.
Everyone is feeling pretty concerned for Connie:
I find Connie so utterly genuinely scarily vulnerable #mafs

— Dee Madigan (@deemadigan) March 18, 2020
Connie is physically breaking down here and they just keep hammering her with questions. It's like they're trying to break her. #MAFS #MAFSAU

— 𝗖𝗢𝗢𝗣𝗦 (@wosaurus) March 18, 2020
My heart BREAKS for Connie - this isn't fair shes had to sit through this every week. Experts should have pulled them both out #MAFS #MAFSAU

— Aimee (@itsaimeecraig) March 18, 2020
Oh Connie. You're awesome. The whole of Australia is breaking with you right now. Go find love, you beautiful woman. #MAFS #MAFSAU

— Crazy Tan (@CrazyTans) March 18, 2020
Connie came into this as a shy, sensitive, lonely soul. And she was not given the kind of partner who'd bring out her best. Well done "experts" #mafsau #mafs

— Peter Johnson (@P_Johnson9) March 18, 2020
Connie looks like she's having an anxiety attack and the experts keep pressuring her with questions she clearly can't answer. It seems like she wanted love so badly that she went on a show she was not ready for. I do feel really bad for her. #MAFS

— sdimsim (@officialdimsim) March 18, 2020
Quite sad how unsympathetic and uneducated people are on panic/ anxiety attacks. It's serious because you can't breathe and you can begin to shake. Connie is experiencing one right now and it's only a glimpse of what it does to you. #MAFS

— Ashlee (@_itsashleeee_) March 18, 2020
Those of you that think Connie is acting obviously have never had an anxiety attack. Worse- you've never felt one coming. That shit will bring you to your knees. #MAFSAU #MAFS

— jesse (@jesseelizabethc) March 18, 2020
You absolutely fucking wrote what, Connie?#MAFS #MAFSAU pic.twitter.com/P6x9k18HgK

— shiesty (@bishcheese) March 18, 2020
some people on here are nasty. how are you gonna sit there and write horrible things about a woman who clearly isn't in her right mind and just had a panic attack on national television. get some empathy, maybe? #MAFS #MAFSAU

— alysha / juliette fan account (@intosneedy) March 18, 2020
Married at First Sight airs on Channel Nine, Sunday to Wednesday. Join us at our Facebook group Pass the Popcorn to chat through the ep!