The Best Tweets From Married at First Sight Episode 8
Tonight's Episode of MAFS Was Totally Bonkers & No One Knew How to React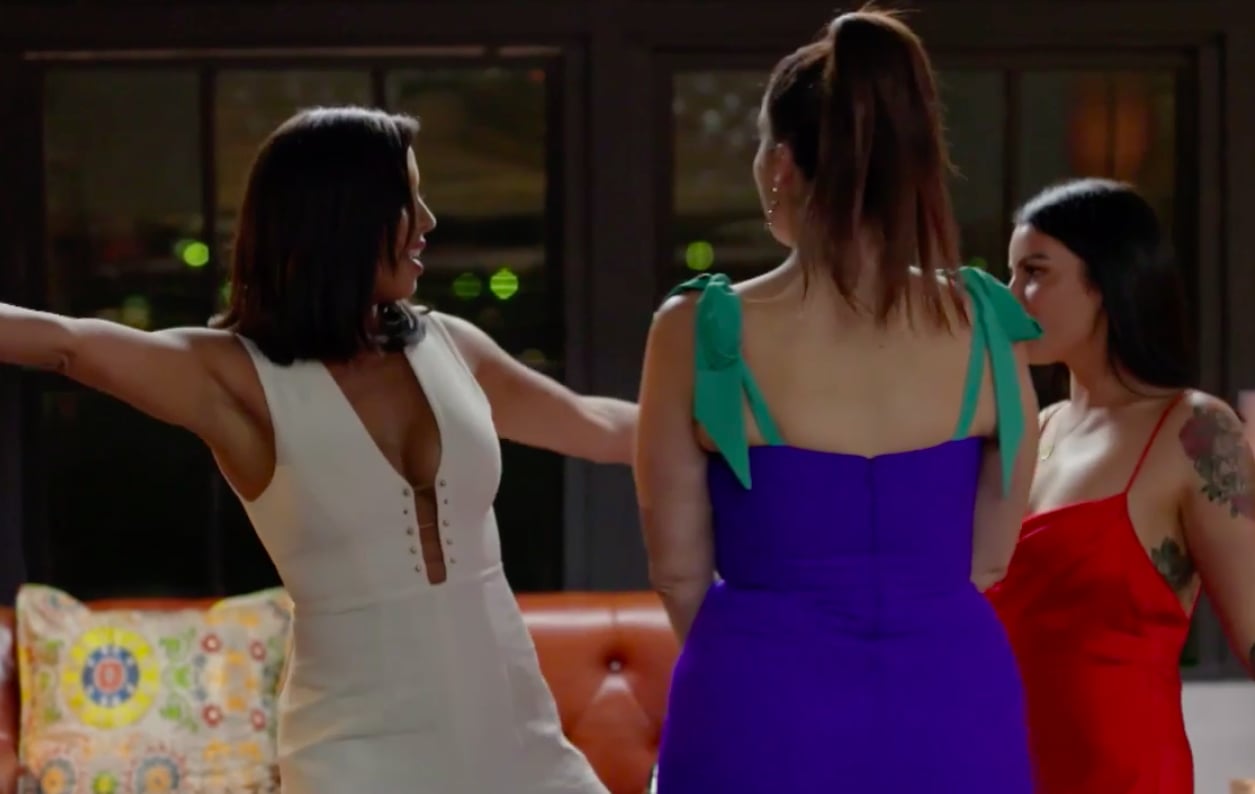 Episode eight of Married at First Sight gifted us with our first dinner party — including plenty of loved-up couples, new friends drinking heavily and opening up to each other, and the obligatory blow-up.
While there was some conflict between the couples — like Hayley and David's extremely awkward/desperate interactions, and Amanda's completely disapproving face when watching Tash dare fraternise with anyone else — the big moment of tension came near the end of the show, when Hayley would not stand for Ivan's rudeness. If this is what we're in for for the rest of the season, it's going to be one hell of a ride.
Here are some of our favourite tweets from tonight's episode:
It is hard to keep track of all the contestants — here's our guide.
I've forgotten who most of these people are already #mafs #MAFSAU pic.twitter.com/S4YyFhWXYA

— Courtney (@thatwitchx) February 12, 2020
We're also bored of Amanda and Tash's distaste for one another.
Can Amanda and Tash just break up already? #MAFS #MAFSAU pic.twitter.com/ecqtjLdfNj

— Married At First Sight Experts (@mafsexperts) February 12, 2020
People aren't feeling optimistic about where this dinner party is going.
If you could sum up what you think the dinner party is going to be like in a single gif....what would it be? I'll go first #MAFS #MAFSAU pic.twitter.com/YR4Rbt0UpU

— Colonel Kickhead (@colonelkickhead) February 12, 2020
Jon is a surrogate for all of us.
*Drama begins at the dinner party.* #MAFS

Australia: pic.twitter.com/AQC8WPV4XZ

— Ashlee (@_itsashleeee_) February 12, 2020
And so is Connie. . .
Connie doesn't care about the drama she's just there for the free food #mafs #mafsau pic.twitter.com/U6doMI95zC

— J O D E S 💗 (@jodes888) February 12, 2020
Connie in the background is me in all social situations tbh #mafs #mafsau pic.twitter.com/oWIzp2xV2Z

— J O D E S 💗 (@jodes888) February 12, 2020
Ivan is such a stirrer!
Ivan at the dinner table be like #MAFS #MAFSAU #mafsaunz #MAFSAustralia pic.twitter.com/iUkbkKq4fh

— Joseph Iramiyan (@Joseph_Iramiyan) February 12, 2020
Has Aleks forgotten what show she is on?
Ivan: "Are you upset?" Aleks: "no". Narrator: Aleks was in fact upset. #mafs #MAFSAU

— Beebb (@BiancaAkbari) February 12, 2020
"I told him not to get involved in the drama"

Oh babe have you ever seen this show? #MAFS #MAFSAU pic.twitter.com/vlc3XyxG79

— bishcheese (@bishcheese) February 12, 2020
We can't deny the things we love.
I think we can all agree that #MAFSAU is trash, but my god is it Good Trash.#MAFS pic.twitter.com/HXplD0ILZl

— mk 🐨☁️ (@itsmariekelly) February 12, 2020
Married at First Sight airs on Channel Nine, Sunday to Wednesday. Join us at our Facebook group Pass the Popcorn to chat through the ep!