People Got Behind Hayley When David Lashed Out on MAFS Ep 9
People Got Behind Hayley When David Lashed Out on MAFS Episode 9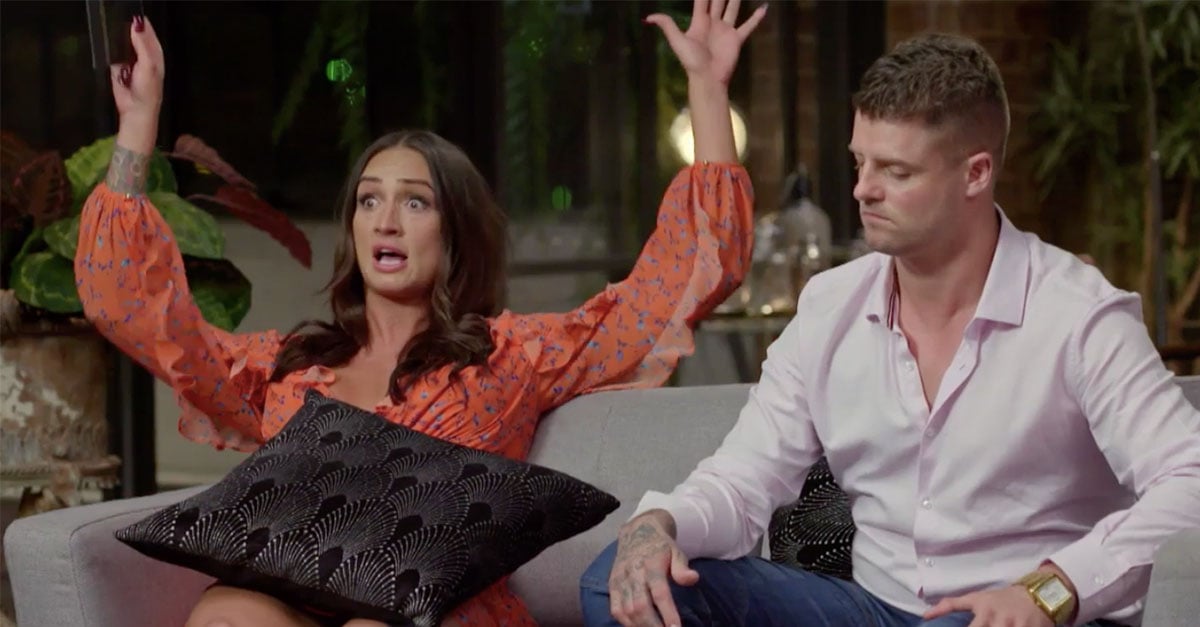 The first commitment ceremony of Married at First Sight episode nine tonight was an opportunity for the cast to put out all their dirty laundry to the experts, and to their fellow couples.
While some couples seemed rock-solid — like Cathy and Josh, and Stacey and Michael —there were plenty that seemed on flimsy ground but decided to stay on anyway. Tash was still super uninterested physically in Amanda. Poppy remained unable to reckon with a few weeks away from her kids. Aleks was over Ivan's childishness and didn't know if she really fancied him. Hayley and David's massive fight took up most of the episode.
David's complaint that he was lumped with Hayley, a "recovering drug addict and a smoker", had her in tears, and had people online calling him out for rubbing her past in her face.
David completely undermining her worth as a person is not a little thing. #MAFS #MAFSAU

— thoughts (@Atornadoflewar1) February 16, 2020
I make fun of these people for being on this stupid show, and I make fun of myself for watching it and defending it by being "ironic", but that bullshit with bringing up someone's past to beat them with it is dangerous bullshit that needs to be stamped on, hard! #MAFS #mafsau

— One Angry Eyebrow (and 200 solem faces) (@angry_eyebrow) February 16, 2020
I get that the wage comment was wrong, but I find David extremely judgemental and I think he has been gaslighting this whole situation to look her look worse #MAFS #MAFSAU

— Daisy (@daisy_seery) February 16, 2020
NONE OF WHAT IS HAPPENING RIGHT NOW HAS ANYTHING TO DO WITH HAYLEY TAKING DRUGS ONCE UPON A TIME. STOP THROWING THAT IN HER FACE LIKE SHE SHOULD BE ASHAMED #MAFS #MAFSAU

— Zoe Moon (@MissZoeLaLa) February 16, 2020
What a horrible thing to say. Someone who has recovered from drug addiction is a strong person, to be applauded at pushing through and conquering a horrible demon. Not belittled & mocked for their struggle. #MAFSAU

— G. 🌈❤️☮️ (@_MaverickGeorge) February 16, 2020
David is an asshole. The truth is that he can't get over Hayley's past, and he's using any excuse to pull out of the relationship. He's being unnecessarily cruel. He needs to stop being such a judgmental prick. #MAFS #mafsau #MarriedAtFirstSightau

— Tess Tickles (@EMMMMgirl) February 16, 2020
Just...why would you say that in front of the whole group. He is just being spiteful #MAFSAU pic.twitter.com/QK59ABQpcl

— Lala~ (@kdn_yjs) February 16, 2020
David: she's being inconsiderate to me
Also David: I'm going to tell the entire group that she is a recovering drug addict #MAFS #MAFSAU

— Weslee #TeamShonee (@WSpark98NZ) February 16, 2020
Hayley: you have a shit job. David: you are recovering drug user and you smoke. Hayley:stay. David: stay #MAFSAU

— adrian (@ajs071) February 16, 2020
Married at First Sight airs on Channel Nine, Sunday to Wednesday. Join us at our Facebook group Pass the Popcorn to chat through the ep!