MasterChef Amina Elshafei's Mudardara Recipe
Amina From MasterChef Combines Her Cultural Heritage and Her Husband's in This Mudardara Recipe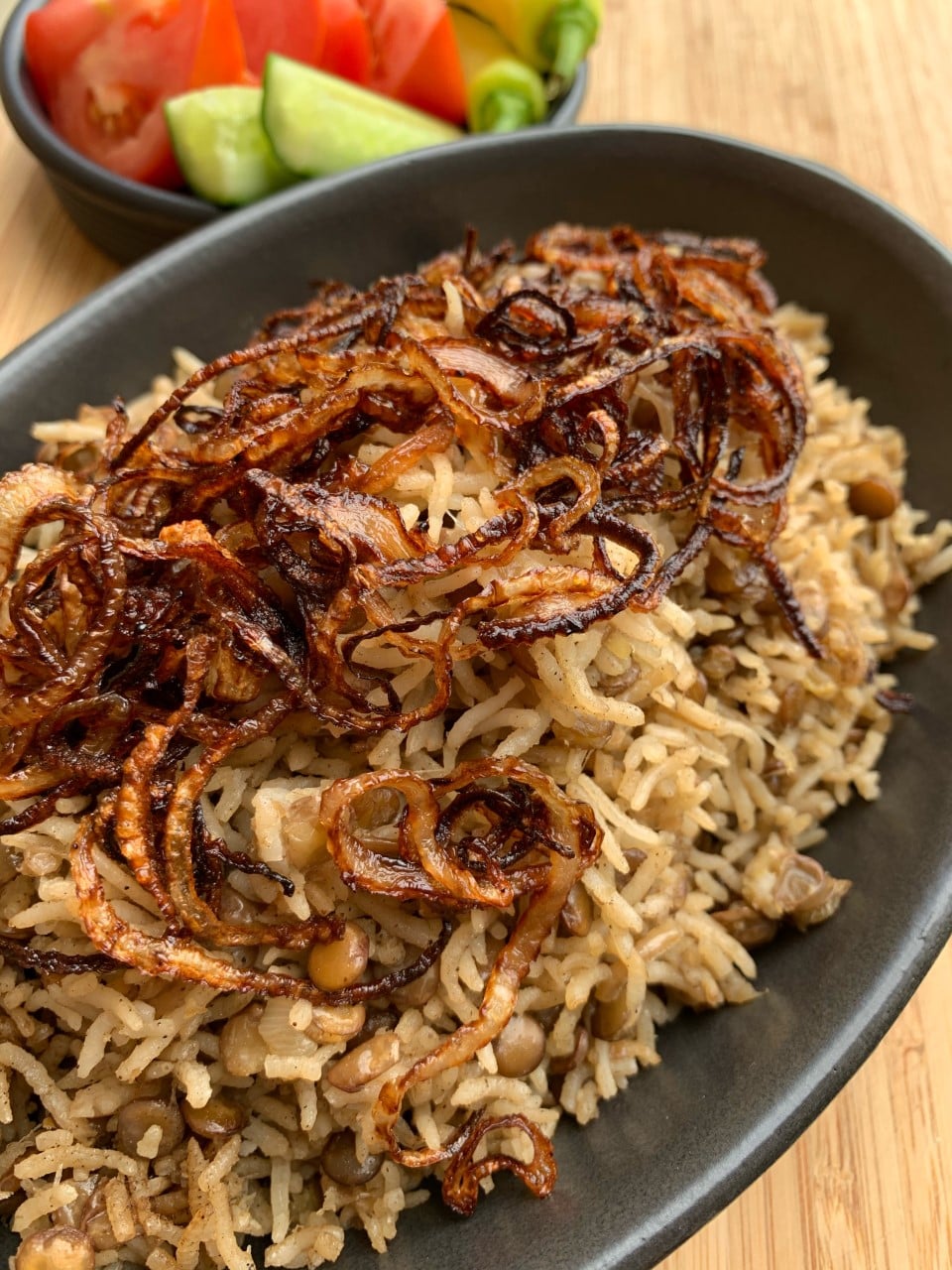 We've asked the eliminated contestants from MasterChef: Back to Win to share with us the dish that made them fall in love with cooking — because even world-class chefs had to start somewhere. And we've all got plenty of time — and the reality TV inspiration — to put our culinary skills to the test.
This mudardara recipe is very "sentimental" to fan favourite Amina Elshafei, explaining how the dish borrows from her cultural heritage, as the daughter of a Korean mother and Egyptian father, now married to a Lebanese man,.
The lentil dish, she notes, takes on elements of koshari, a very famous Egyptian street food dish. "Lentils are obviously a staple of Middle Eastern cooking," she says. "But more importantly, it just shows the evolution of my cooking, now that I've married into a Lebanese family.
"Understanding Middle Eastern food is phenomenal. It's such a huge palette to learn about and this is quite sentimental to me because it has elements of my Egyptian cooking and now Lebanese cooking as well."
Notes
Although this humble lentil, rice and onion dish might seem simple, it is delicious, inexpensive to make and a wonderful option to use some of the most basic pantry staples. It is also a great option for vegetarians too. Serve it up with some fresh vegetables and for some, it is a must with thick yoghurt.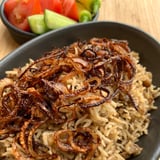 Ingredients
For the mudardara:
2 medium brown onions, skins removed
2 tbsp unsalted butter
1 tbsp olive oil
⅔ cup of dried green or brown lentils soaked for 10 minutes then drained
1½ cups vegetable stock (or water)
⅔ tsp Middle Eastern seven spice mix (or allspice)
⅔ tsp salt
½ tsp ground black pepper
1 cup basmati rice soaked for 15 minutes in tepid water and drained
For the garnish:
2 medium brown onions, skins removed
Vegetable oil for shallow frying
Directions
Quarter the onions and slice the quarters into 0.5cm slices. In a heavy-based saucepan, heat the butter and olive oil until hot and add the chopped onions. Cook on high heat for 2 minutes constantly stirring to avoid burning. Reduce to low heat and cook for a further half an hour to caramelise onions, ensuring you stir regularly.
While the onions are cooking, place pre-soaked lentils in a pot and cover generously with water. Bring the lentils to a boil, then reduce the heat to a simmer and cook for 10 minutes. Drain lentils and keep aside.
Once the onions have caramelised to a brown colour, add vegetable stock (or water), spice mix, salt and black pepper. Bring to the boil then add drained lentils and rice. Mix well, reduce to low heat and cover saucepan tightly with a lid ensuring that no steam can be released. Cook for 20 minutes.
While the mudardara is cooking, slice the medium brown onions for your ganish thinly. Heat vegetable oil either in a deep fryer or in a saucepan. Once oil is hot (around 170°C), fry the onions in multiple batches until dark golden brown and crispy. Drain on paper towels and keep aside.
After 20 minutes, remove the saucepan off the heat, but keep the lid sealed for a further 5 minutes. Use a fork to gently fluff the mudardara.
To serve, spoon the mudardara onto a large platter and garnish with the fried onions. Serve hot or warm.
Information
Category

Main Dishes

Cuisine

Mediterranean/Middle Eastern

Yield

Serves 4

Prep Time

5 minutes

Cook Time

45 minutes

Total Time

49 minutes, 59 seconds
Image Source: Supplied