MasterChef Emelia Jackson's Spicy Pork Meatballs Recipe
This Spicy Pork Meatball Recipe Is Where It All Started for MasterChef Winner Emelia Jackson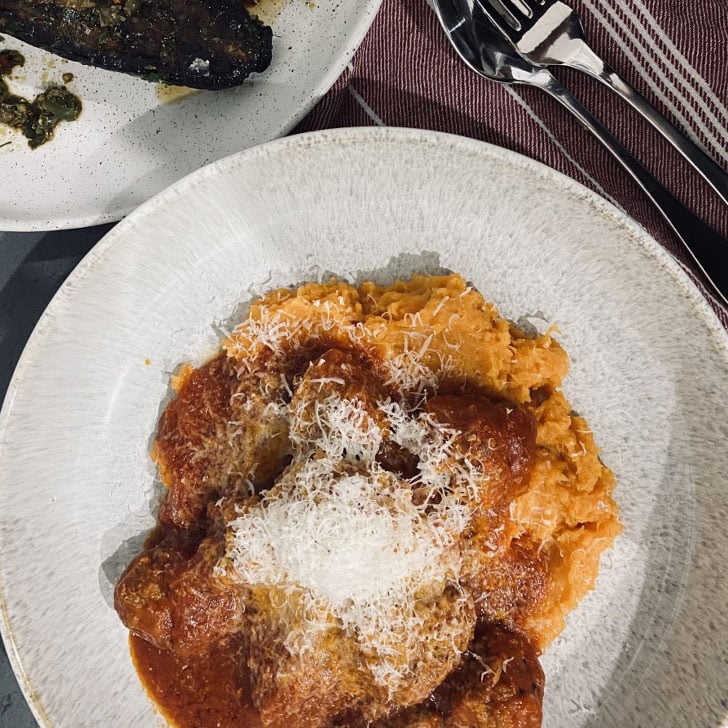 We've asked the eliminated contestants from MasterChef: Back to Win to share with us the dish that made them fall in love with cooking — because even world-class chefs had to start somewhere. And we've all got plenty of time — and the reality TV inspiration — to put our culinary skills to the test.
MasterChef: Back to Win champion Emelia Jackson actually auditioned with these Spicy Pork Meatballs for her spot in season six, where she came third. "My little meatballs are what started it all for me," she says.
And her meatballs reflects what she prioritises in food. "I'm a home cook, I don't work as a professional chef in savoury cooking. I think, for me, food is all about convenience, making things quickly for dinner, making them delicious — just making delicious, warming food."
Spicy Pork Meatballs With Tomato Sauce
Emelia Jackson
Ingredients
500g pork mince
1 onion, finely diced
5 cloves garlic, crushed
½ bunch parsley, finely chopped
1 egg
1 tbsp chilli oil, or chilli flakes
1/2 tbsp crushed fennel seeds
45g parmesan, finely grated
1 jar tomato passata
Salt and pepper to taste 
Directions
Mix together the pork, onion, garlic, parsley, egg, chilli, fennel and parmesan.

Roll into small meatballs, about the size of a 20c coin.

Over medium heat, heat a large pan with a lid. Add enough olive oil to coat the pan and seal off the meatballs until nicely golden.

Pour over the jar of passata and season with salt and pepper to taste.

Turn the heat down to low and simmer with the lid on for 20 to 25 minutes.

Remove the lid and reduce the sauce for 15 to 20 minutes until thickened slightly.

Serve with your choice of smashed sweet potato, mashed potato, polenta, or spaghetti.
Information
Category

Pasta

Yield

Serves 4-6

Prep Time

10 minutes

Cook Time

45 minutes

Total Time

54 minutes, 59 seconds
Image Source: Supplied