MasterChef Harry Foster's Gourmet Fish Tacos Recipe
These Gourmet Fish Tacos From MasterChef Seafood Pro Harry Foster Have Us Dreaming of Dinnertime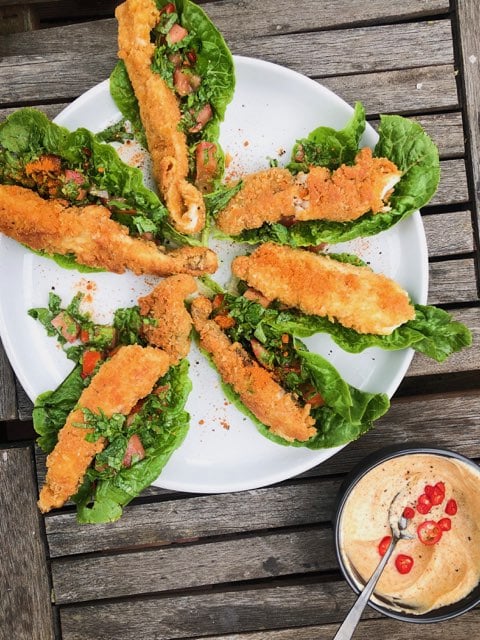 We've asked the eliminated contestants from MasterChef: Back to Win to share with us the dish that made them fall in love with cooking — because even world-class chefs had to start somewhere. And we've all got plenty of time — and the reality TV inspiration — to put our culinary skills to the test.
MasterChef's seafood pro, sustainable fisherman Harry Foster, shared his recipe for gourmet fish tacos.
"I am a sucker for a fish taco," he says. "You can't get anything better than a nice piece of crumbed fish, pineapple salsa, a nice bit of lettuce — delicious. I get to go fishing all the time and use the fish that I catch.
"It's a good one to bring people together as well. If you're sitting around the table with your friends or if you're having a dinner party, you put all the ingredients out in the middle of the table and everyone gets to make it themselves. Bringing people together with food is super important to me."
Gourmet Fish Tacos
Harry Foster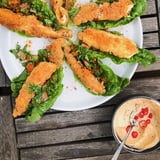 Ingredients
For the fish:
600gm fresh white fish — coral trout is my favourite!
¼ cup flour
2 eggs, whisked
2 cups panko breadcrumbs
2 cups oil for frying — I use rice bran or grapeseed
For the salsa:
½ ripe pineapple
½ red onion
½ lime
Coriander to taste
Chilli to taste
Olive oil
Salt
Pepper
For the sauce:
Japanese Kewpie mayonnaise
Chilli sauce of your choice — Cholula is my go-to
½ lime
To serve:
Cos lettuce
Directions
Cut your fish lengthways into long strips, like a thick fish finger.
Dust the fish with the flour, then dip it into the whisked egg, and then into the panko crumbs. I like to crush up the panko crumbs with my hands to make them a little finer and help them stick to the fish better. Make sure you firmly press the breadcrumbs into the fish to get an even coating.
Wash your cos lettuce thoroughly and let it sit upside down to drain. While you're letting your lettuce drain, make the salsa.
Finely dice the pineapple and onion, and finely chop the coriander and chilli. Mix these all together in a bowl with a sprinkle of salt, pepper, a good glug of olive oil, and the juice of half a lime.
Next, make the sauce. Get your favourite chilli sauce and mix it in a small bowl with a generous serving of Kewpie and some more lime juice. Adjust to taste.
Once your salad ingredients and sauce have been prepped, it's time to start cooking the fish! Heat your oil in a medium-depth pan, until it bubbles when you drop in a crumb.
Lay your fish pieces in gently and cook until they are nicely golden brown. It will take a much shorter time than you think, so keep an eye out and be careful not to overcook your fish.
Fill your cos lettuce leaf with crumbed fish, salsa and sauce.
Information
Category

Fish

Cuisine

Mexican

Yield

Serves 2 - 3

Prep Time

20 minutes

Cook Time

20 minutes

Total Time

39 minutes, 59 seconds
Image Source: Supplied