MasterChef Laura Sharrad's Gnocchi and Pork Ragu Recipe
This Gnocchi With Spiced Pork Ragu Recipe From MasterChef's Laura Is So Good It'll Make Nonna Proud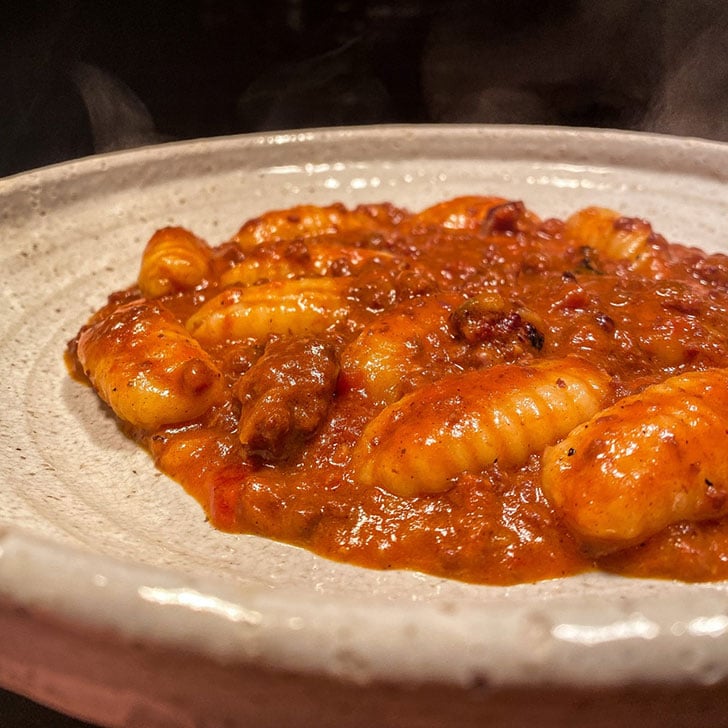 We've asked the eliminated contestants from MasterChef: Back to Win to share with us the dish that made them fall in love with cooking — because even world-class chefs had to start somewhere. And we've all got plenty of time — and the reality TV inspiration — to put our culinary skills to the test.
Laura Sharrad says that this gnocchi dish is a combination of dishes she and her partner Max learned to make from their nonnas.
"Gnocchi was the first dish I learned how to make from my nonna. So it's always such a special thing to make and to eat for me. Gnocchi is just my favourite thing ever. It's pure comfort. I think in winter in the middle of a pandemic, a bowl of gnocchi can sometimes be that warm hug you need.
"Then the pork ragu itself is actually my husband Max's nonna's recipe. I never got to meet her. She passed away before we got together. But I think this is like a nice mix of the two of us together in a dish and the memories that we associate with our childhood. It's comforting, it's special and it's homely."
Gnocchi With Spiced Pork Ragu
Laura Sharrad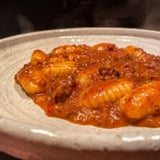 Ingredients
For the gnocchi:
500g royal blue potatoes, peeled and cut in half
125-150g 00 flour
Pinch of salt
For the spiced pork ragu:
1 brown onion, finely diced
2 sticks celery, finely diced
1 carrot, finely diced
2 cloves garlic, finely diced
650g pork mince 
2 tsp ground cinnamon
2 tsp ground clove
4 tins diced tomatoes
1 cup red wine 
Salt and black pepper
Directions
To make the gnocchi, bring your potatoes to a boil in a pot covered with salted cold water. A

llow potatoes to cook until they are tender.

Strain and pass through a tammi or potato ricer

.

Gently incorporate the flour and salt into the potato, without overworking the mixture to ensure you have light, fluffy gnocchi

.

Roll the gnocchi into 2cm thick long noodles, and cut to desired size

to cook. Cook in salted boiling water until they float.

To make the pork ragu, fry off onion, garlic, celery and carrot in enough olive oil to cover until golden.
Season with salt and pepper.
Add in pork mince, along with the spices and brown off, then deglaze with wine and add in the tomatoes.
Allow it to bubble away on a low to medium heat for 1 hour and 30 minutes or until reduced and thickened.
Serve with gnocchi and grated parmiggiano cheese.
Information
Category

Pasta

Cuisine

Italian

Yield

Serves 6

Prep Time

20 minutes

Cook Time

1 hour 30 minutes

Total Time

1 hour, 49 minutes, 59 seconds
Image Source: Supplied