Matt Agnew and Chelsie McLeod Interview The Bachelor 2019
Matt Agnew and Chelsie McLeod on What They Love Most About Each Other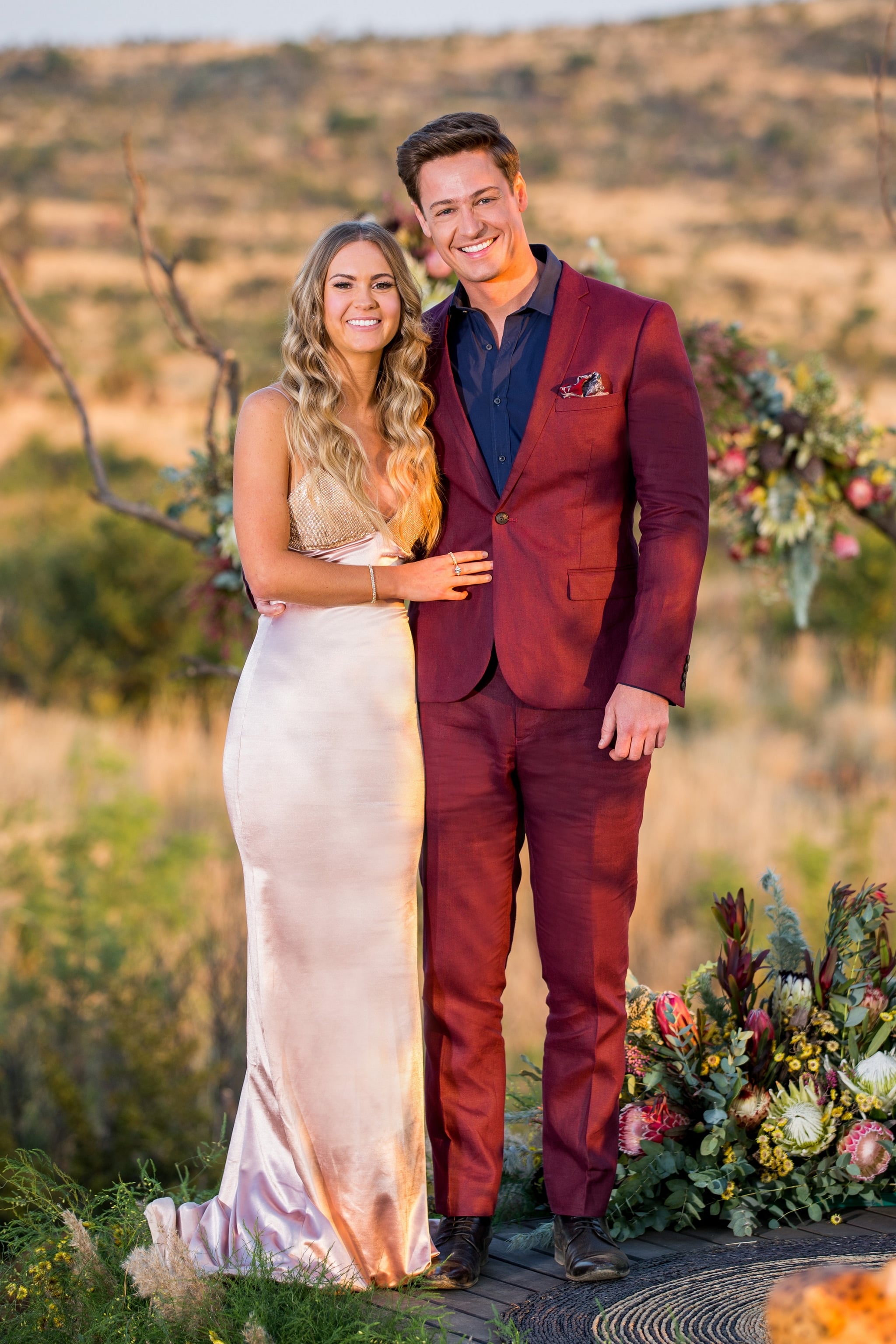 It was clear from the very moment they met that Matt Agnew and Chelsie McLeod have one special connection. The two scientists and self-proclaimed "nerds" found a whole lot of common ground, not to mention a whole lot of chemistry when they met through The Bachelor. Now, the happy couple are finally able to share their relationship with the world, after Matt chose Chelsie in a touching finale. Below, the pair chat why exactly Chelsie didn't believe she had won Matt's heart, as well as what they love the most about each other.
POPSUGAR Australia: Congratulations guys! How are you feeling?
Matt: Thank you! Yeah we're very good, we're very excited.
PS: How did you celebrate last night, did you watch the episode together?
Chelsie: We did watch the episode, and then we had quite a few phone calls to make.
Matt: Yeah, we had a fair few drinks and FaceTimed friends and family.
PS: Chelsie, you seemed genuinely shocked that Matt picked you. What made you so adamant it wasn't you?
Chelsie: I think it was because I knew I wasn't very open in my feelings, so I was thinking I'd left it too late. Also, I was up so early that morning, so I was adamant that you couldn't be up at 3am and not be the first person out of the limo. So that meant I was literally like "I'm done, I'm toast, I'm being broken up with, what have I done?" [Laughs]
PS: Did you ever imagine that the Bachelor would essentially be a male version of you, Chelsie?
Chelsie: Absolutely not! I was pleasantly surprised when I rocked up on the red carpet and I learnt that Matt knew what on earth oxytocin was, and that he was a boy version of me. Clearly, I couldn't have chosen a better Bachelor!
PS: Have either of you ever dated someone you have this much in common with before?
Chelsie: I have definitely not!
Matt: I have definitely had some relationships where I'd say there was a lot in common, I think it comes down to what I find attractive. But I do think Chels and I just have an enormous list of commonality.
PS: I feel like we didn't actually see too much of your final date last night, like they didn't show the night time portion of it. What moments from the date were you guys surprised didn't make the air?
Matt: There wasn't actually a night time portion. . .
Chelsie: We were up very early! The pool was our night portion.
Matt: Yeah, there wasn't a night portion because of the safari starting very early. There was a portion where we saw a musical performance that was cut, but that was really lovely, sharing a drink and watching the performance.
Chelsie: The gist of the story was still there though. . .
Matt: Yeah, the performance had just been a nice thing to share together. The important parts like the safari and the intimate time we had at the end were still shown. There are constraints on the lengths of the dates-
Chelsie: Animals come out at night!
Matt: -And also crew can only work for so long! [Laughs]
PS: Was there anything else from your love story that you were disappointed didn't make the air?
Matt: There was definitely a proportion of our kisses that got cut. I guess they wanted to make the ones that we shared more rare. I think that's probably the most obvious thing I noticed in the episodes I did watch, that some of the kisses and the connection we had didn't come across.
PS: I guess they were just really trying to emphasis your intellectual connection, and maybe downplayed your physical one as a result. . .
Matt: Yeah, I think that's right! At the end of the day it's a TV show and it's got a story, and you do want a bit of mystery to that story.
PS: So Chelsie, when did you realise that you loved Matt?
Chelsie: I knew at hometowns that I was falling in love with him, because I could really picture my life with him, since obviously we're both from Melbourne. But I think I really knew at our date afterwards where he gave me that necklace that tied in all our dates together. It was just so incredibly thoughtful and right then I was just like, "yes, I love this guy."
PS: Matt, when did you realise Chelsie was the one?
Matt: I think for me it was also at hometowns. There was very obviously that spark on the red carpet, and there was a real moment during our first date together where it hit me that there was something quite special there. But at hometowns where we were could see what life would actually look like together, that's when I was like, "wow, this is something quite amazing."
PS: This is a bit of a cheesy one, but we if can't be mushy on today of all days, when can we be? What do you guys love the most about each other?
Chelsie: [Laughs] I basically just love how Matt makes me feel. I'm very comfortable around him, and he has that emotional intelligence to be able to support me through what has been a very crazy experience.
Matt: For me it's something I banged on about a lot during filming, and I think a lot of it made it to air, it that's it feels like I've found a best friend so to speak. You're having a laugh together, you're gently ribbing each other, there's banter and playfulness, but there's also also that deep affection, support and care for one another. It's finding your best friend that you get to have a cuddle with!
PS: What's been the most difficult part for you guys since filming ended?
Chelsie: Not being able to see each other was incredibly frustrating, we had a few organised catch ups, but they were out of our control.
Matt: They were also few and far between. In a normal relationship, if you're feeling a bit insecure about anything or if something's weighing on your mind, then you can have a chat or have a cuddle and then everything's alright.
Chelsie: Or talk to your friends about it!
Matt: If something was wrong, we would just feel a bit off and there was nothing we could do other than talk on the phone. We couldn't talk to our mates or just catch up and realise everything's actually amazing. So it was really hard, the four months where this relationship was secret was by far the hardest part of the whole experience. You just want to get to where we are today now, and it just seemed so far away at the time.
PS: Chelsie, I've heard you had regular viewing parties with a big group of friends, how did none of them figure it out?
Chelsie: One of the girls did know, but she kept a huge secret. We FaceTimed that group of friends last night and they were incredibly happy for me. . . and incredibly surprised!
PS: What's next for you guys? Since you both live in Melbourne, is living together on the cards any time soon, or will you play it by ear?
Matt: We're probably being more cautious scientists than playing it by ear. We finally get to have just a normal relationship, and in any relationship there's those key milestones like moving in, but they're the milestones you work towards as a couple. The fun part of any relationship is seeing it grow and develop together. That's what we're most excited for!
PS: There was also a lot of speculation prior to the finale that you workplaces are a 10 minute walk from each other, so is that handy?
Matt: Yep, that one was actually accurate! We'll be able to have lunches and coffees during the week pretty easily, which is really nice because it means that we can still see each other if for whatever reason we have other commitments in the evenings. We'll always be able to squeeze in time just to see each other.
Chelsie: Yeah, too easy!