Opinion on Gratuitous Violence on SAS Australia
The Relentlessly Violent SAS Australia Is Uncomfortable Viewing for Me — and Not in a Good Way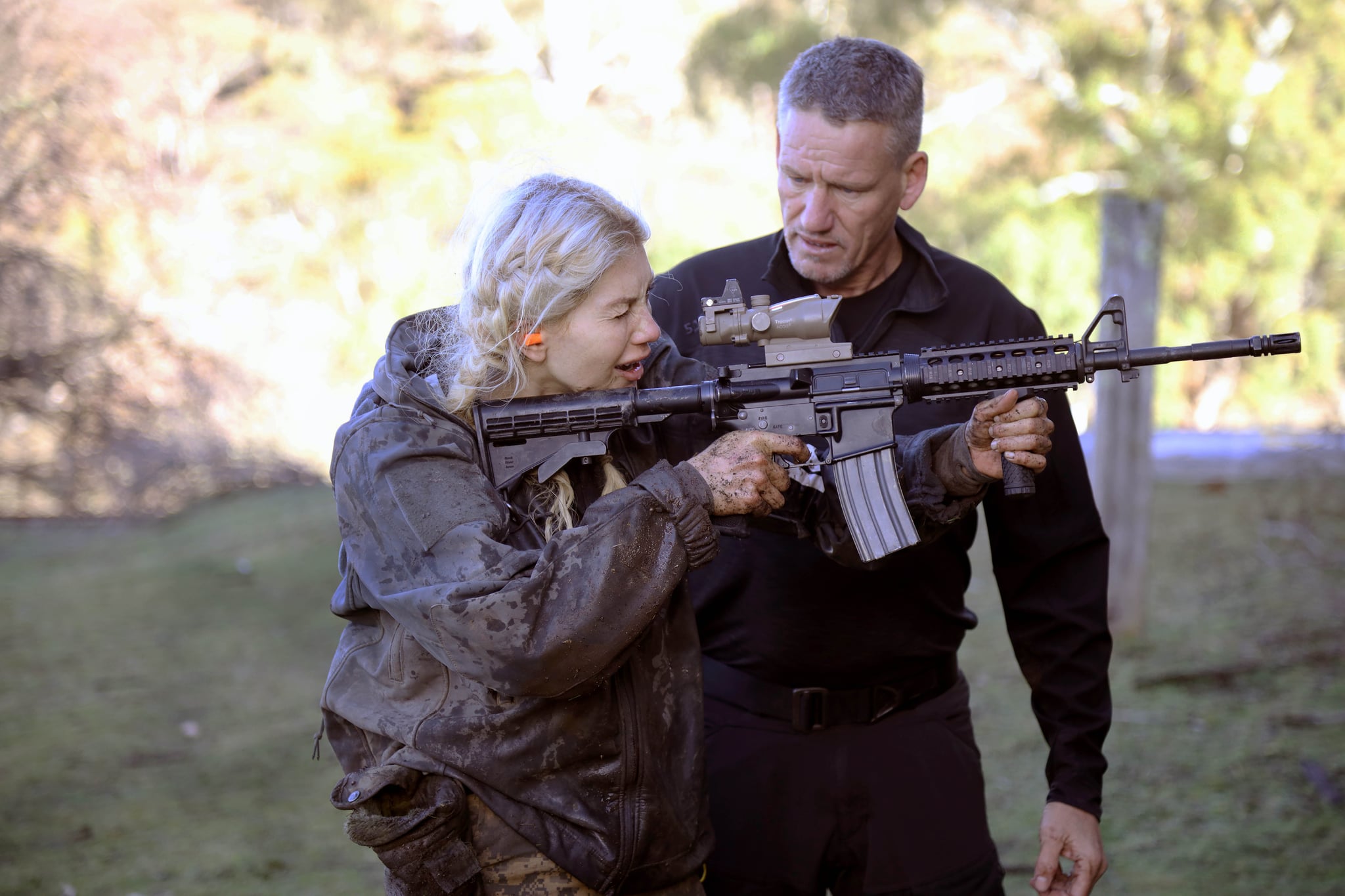 New military reality TV show SAS Australia has well and truly conquered the ratings in its first three episodes. But beneath its success is something that feels a little disturbing — violence.
Since its premiere last week, SAS Australia has been talked about for its more violent moments. Last week, AFLW star Sabrina Frederick decided to take on Nick "Honey Badger" Cummins in a fight, where she ended up pummelled by the former league player. Then, the next day, during a game of murderball, he tackled swimmer Shayna Jack with such force that she feared she had broken a rib.
Musician Guy Sebastian summed up some of the public's reaction to the scene with Sabrina on Nova radio show Nathan, Nat & Shaun, saying he felt "quite sick" when he was watching. "My wife and I run a foundation where we deal with domestic violence," he said. "I thought that was pretty p*ss-poor, if I'm being honest," he began.
"I think it makes it very difficult to tell your kids, to tell your boy, 'You never hit a girl! It doesn't matter what the circumstance is, you just never, ever hit a girl. Violence against women is always wrong.'
"I felt quite sick if I'm being honest, watching that."
Guy clarified that he wasn't having a go at Nick himself, but at production. He added on Twitter, "IMO just because 'she asked for it' by choosing him doesn't make it OK. In the DV space the line for 'she asked for it' is extremely varied so when it comes to entertainment, great caution."
He emphasised that even if the aim of the series is for the contestants to engage in SAS training, it's still, at the bottom of it all, a reality show. "I felt uneasy watching it because of the work we have done in the DV space. Everyone will have a different view and I respect that, however I still think we don't need more idolised sports stars hitting women on TV for ANY reason."
Model Erin McNaught, another contestant on the series, defended Nick on The Morning Show today, saying that he was "hesitant" to hit Sabrina, but was cajoled by Directing Staff.
"It actually really upsets me when people are targeting Nick about this because we did what we had to do. If we didn't do what we were told to do, we'd get kicked off. It's as simple as that," she said.
Then, on Monday's episode, the contestants had to make a quickfire decision about whether they would fire a gun at a potential enemy. They were raced through a course with bags over their heads, to the sound of gunfire. Then they were stopped, had their bags taken off, and they were faced with a man, who either had his gun cocked to shoot or his gun down, as he was an ally.
Most of the celebrities struggled with the exercise, out of breath, trigger-happy, or, quite reasonably, extremely disoriented because they'd had bags over their heads just seconds earlier. What was this exercise even supposed to prove? Someone's bravery? Their ability to make quick decisions in the line of fire? Surely, even the contestants and Directing Staff know this course isn't real.
The graphic gun violence was unsettling, especially when the contestants who "failed" were barked at, told they were stupid and that were they in a real combat situation (I must emphasise, they were not and likely never will be) they would have risked other people's lives.
The problem with SAS Australia, for me, is that there's a total lack of empathy and compassion for the contestants — both from the Directing Staff, and viewers at home. It's almost as though the most controversial figures possible were chosen so we could all justify relishing watching them all be punished with exhausting physical challenges and brutal interrogations for over an hour every Monday and Tuesday night.
Last week, News.com.au's Nick Bond summed up the issue he had with the series — there's none of the camaraderie and genuine relationships you see form on other reality shows, whether between MasterChef contestants, couples on The Block or the men of the Bachelorette mansion.
Next to other reality series that can feel like lockdown comfort food there's something distinctly mean-spirited about SAS Australia. There's no joy, only people being pushed to their limits, against a backdrop of violence, as a kind of a sick entertainment.
SAS Australia airs on Channel Seven, Monday to Tuesday. Join us at our Facebook group Pass the Popcorn to gab about all things reality TV.
Image Source: Channel Seven