Paulini The Masked Singer Australia Elimination Interview
"I'm Such a Different Person From Who I Was Before": Paulini on her Masked Singer Journey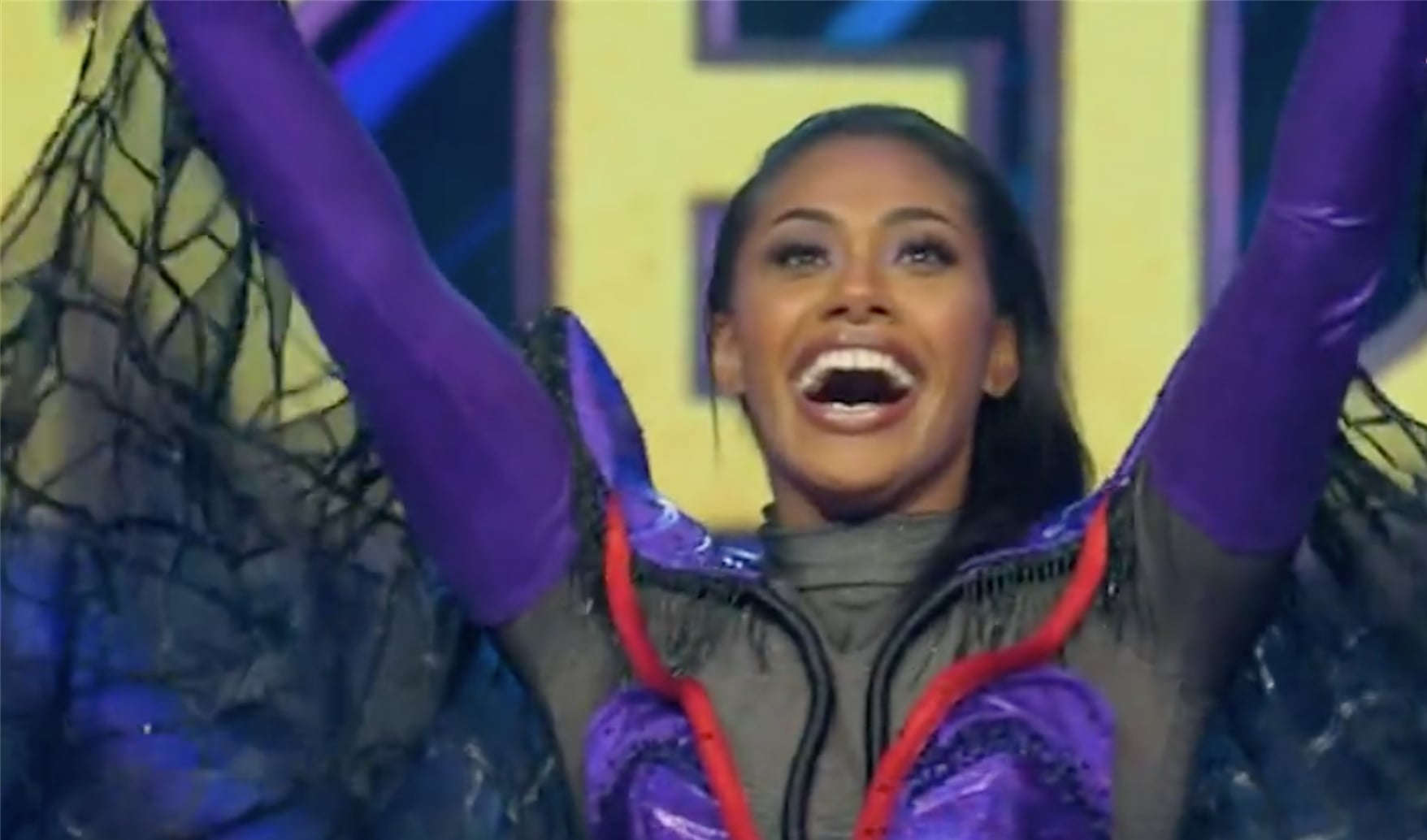 Paulini has come a long way since she first burst on to our screens in 2003 during the very first season of Australian Idol. Having achieved success as both a solo artist and as a member of the Young Divas group, she has also gone to to become a highly accomplished musical theatre performer. However, with much of her recent achievements having been away from the small screen, viewers were left guessing as to the Spider's identity on The Masked Singer right up until her elimination. Below, she chats how reality TV has changed, her reasons for doing the show and how she has "grown so much" from the experience.
POPSUGAR Australia: Hey Paulini! How was watching the episode back last night?
Paulini: It was a good episode! I like that I left with that song ['Someone You Loved' by Lewis Capaldi].
PS: How many of your family and friends knew you had gone on the show?

Paulini: Absolutely zero! It was the hardest thing to keep a secret because my family know my voice so well. During the very beginning I got a text from my two nieces saying "Aunty, is that you? Are you Spider?" [Laughs] I felt really bad because I had to lie! I'm also on tour with Hair the musical right now, so as the show went on a lot of the cast members would ask me and again I had to lie. Last night after I was revealed the number of texts I got like, "oh my God, you're such a great liar" was just ridiculous.
PS: Do you think the clues also helped people figure out it was you?
Paulini: I think if you researched the clues then they were pretty much spot on, and did point to me. But if you didn't know my history, then you'd be totally lost.
PS: A lot of people were guessing Spider was Kate Miller-Heidke, which is interesting since she's a pretty different artist to you!
Paulini: Absolutely! I was so honoured by that comparison, I was like, "oh my god, yes, I will go with that!" I was so down with that. [Laughs]
PS: Obviously you originally got your start in a singing competition, what was it like to go back and compete in another one so many years down the track?
Paulini: Well for me, I didn't really see this show as a competition. I wasn't up there trying to compete with any of the celebs who are wearing the different costumes. I guess for me I knew it was going to be a fun show, and it was another opportunity for me to get out there and remind people who I am. I loved the fact that I would be able to sing genres that I wouldn't usually sing, and that I wasn't going to be judged by what I look like as well.
PS: It was over 15 years ago that you were on Australian Idol. How do you think reality TV has changed since then?
Paulini: It's changed so much! First of all, the biggest difference now is the existence of social media. I think it's kind of both a good and a bad thing that we didn't. I think shows are just made differently now with the way they structure them. We were the first season of Idol and we didn't even have Facebook let alone Instagram. Nowadays you can reach a lot more viewers through shows like these, so if you want exposure and to reach audiences you wouldn't usually, then [going on reality TV] is a great way of doing it."
PS: What was your favourite performance on the show?
Paulini: Definitely AC/DC! I've always loved that song ['It's a Long Way to the Top'] and I've always wanted to perform it, but me and rock and roll don't usually go together. So I was like, "no, I'm going to try this song and I'm going to try to nail it," and I ended up enjoying every second of it.
PS: I feel like half the reason not everyone realised it was you was that you did songs outside of your usual genre like this. . .
Paulini: Totally, and that was my whole aim from the beginning, to try songs I would never do. I think my whole plan did kind of work, and a lot of people couldn't guess who I was because I did that.
PS: How did you end up being given the alter ego of the Spider? How does it symbolise you?
Paulini: Well I move slowly, and that's kind of my personality. I'm quiet and observant, and I've always got my finger in many pies. I think that sums me up best, that I'm a quiet mover.
PS: What do you think would surprise viewers the most about you or your experience of being on the show?
Paulini: I think people would not be aware of a lot of the things I've done in my career, although they've been really huge things for me. I've performed for the Pope when he was here, and that was a massive thing for me. There's been a lot of things that were quietly big stepping stones for me, and they went into that on the show with the clues. That's what I love about the show, it goes, "hey, this is not the only thing she's been doing, she does all of this other stuff too."
PS: What do you think you've learnt about yourself from doing the show?
Paulini: I've grown so much! I'm such a different person from who I was before. I've got such thicker skin, and people will always say things and have their opinions on you when you're in the public eye, but I'm so resilient to that now. What people say is what people say, but you don't listen to it. You hear these things and then you move on. That's one thing I think I've definitely achieved from the whole thing, that I now don't really worry about what people say. It's empowering!
PS: There's been a very persistent rumour that your former fellow Australian Idol season one competitior Rob Mills might be the Wolf. Do you have your suspicions too?
Paulini: Maybe! [Laughs] All I'm going to say is that I think I've heard that voice in the studio! I feel like as soon as I heard the voice I was like, "wow, I know that voice!" and you might be right! If it his him, then that's awesome!