Pia Miranda Australian Survivor 2019 Winner Interview
Australian Survivor Winner Pia Miranda on Her "Shocking" Unanimous Victory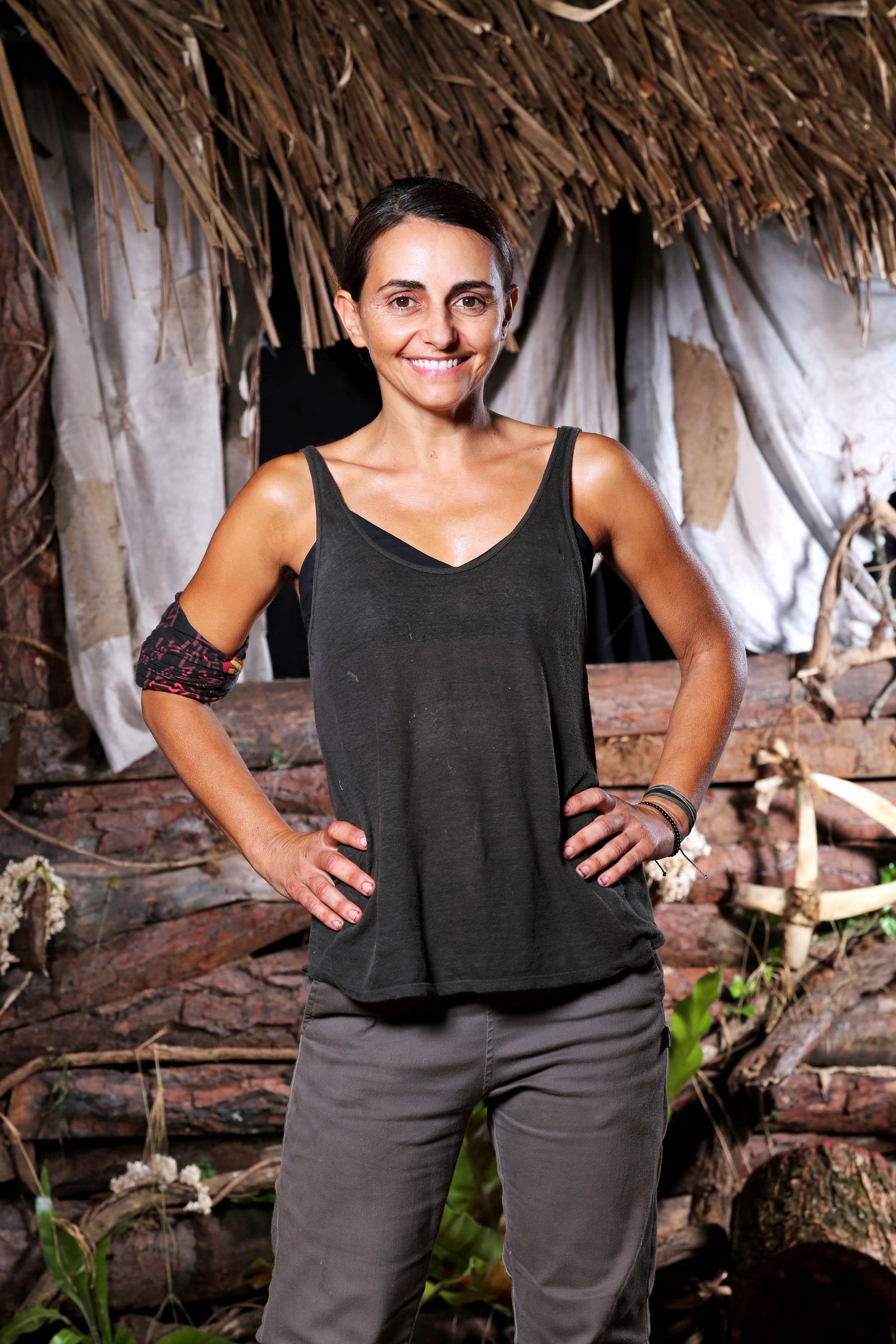 Pia Miranda is not only an accomplished Aussie actor, but also a huge fan of Survivor. So, it's no surprise she jumped at the chance to star on season four of Australian Survivor. It's safe to say Pia's knowledge of the game helped her out, as she made it to the final two through her strategy of making big moves when they mattered and utilising less subtle players as shields. Not only that, but she ultimately become the first person to win Australian Survivor unanimously when she defeated Baden Gilbert after a lively final tribal council. Below, she chats the public's reaction to her, her winning strategy and what's next for her now.
POPSUGAR: Hey Pia, congratulations! I interviewed you at the start of the season, but I had no idea yet that you had won. You kept that well under wraps!
Pia: Yeah I did, I really tried to keep it quiet, I didn't even tell my mum! We watched it as a family last night and mum was screaming at the TV.
PS: Oh wow, how hard was it to have to keep it a secret these last few months?
Pia: I was okay keeping the secret, but it was so hard on my kids who were just getting hassled at school like "did your mum win? Did your mum win?" But they did a great job. I bribed them with Disneyland and said "if you keep it quiet we'll go to Disneyland!" [Laughs]
PS: You now infamously said that you'd either be voted out first or you'd win. What made you so sure of that clearly very accurate theory?
Pia: I don't know, I just always knew that! I used to sit on the couch while watching it and go, "I could win this, or I'll be voted out first." When I got there and was dropped in a tribe with all these athletes I thought, "oh bugger, I'm going to be voted out first." But when I got that alliance together of Dave, Janine and Luke, I knew I was probably going to be okay.
PS: How confident were you going up against Baden?
Pia: I was well prepared, for a few days before the final tribal I had spent a lot of time in the shelter just working on my speech just in case. Then the whole day leading up to the tribal I was just working on my speech and trying to think of all the questions I could get. I've seen a lot of Survivor, so I knew that as long as you own your moves and you don't try and back away from them, then you're okay. And as long as you don't try to claim moves that weren't your own, then you're okay too. I thought I should go in and be truthful but really fight, because this is a big fight and it's worth it.
PS: That was definitely evident, I don't want to say that you and Baden were snappy with each other, but there seemed to be some tense moments between you two . . .
Pia: Yeah! I think when I started I was pretty nervous, and I was sort of a bit shaky and not strong enough. Abbey actually was the one who kept looking at me and mouthing "fight, fight," so I think something about that rallied me and made me think, "Pia, what are you doing, you need to absolutely fight for this." I put on my high school debating shoes and I went there!
PS: You totally reminded me of Josie Alibrandi last night!
Pia: [Laughs] Hey yeah, she was debating champ too! I was channelling my Josie!
PS: You seemed pretty rock solid in the way you spoke to the jury the whole time, but there were a few curveballs like when Dave said he considered you a goat. What was the most difficult part of the tribal?
Pia: I wasn't prepared for such hard questions and for them to be so aggressive, but I spoke to Dave afterwards and he said he did that to make me fight for it. I actually quite enjoyed it, I enjoyed being able to just get back at people, explain my game and fight to win. I had this feeling that there were people on my side who were really using [the questioning] as a tactic to help me.
PS: Did you expect to win unanimously?
Pia: No, that was the shocking thing! They usually alternate between people when they read out the votes, like "two Baden, two Pia" and so on. So when Jonathan kept saying my name, it was like the world stopped and I didn't understand what was happening, I was like, "oh, they've got it wrong." When they told me that I had won unanimously it was really pretty overwhelming. It was pretty incredible!
PS: I feel like your win has definitely continued the trend of Australian Survivor winners being more under the radar players, which you mentioned last night. Can you talk us through how you managed to utilise shields while also playing really actively?
Pia: I always made sure that I had someone in front of me who wanted to talk a bit more than I did. I really used that Sandra (Diaz-Twine, two-time American Survivor winner) way of playing where you only talk about strategy when you need to, and if people told me secrets I would keep my mouth shut. I was never running around camp causing trouble, but I always had a strategy about who I wanted out. I really just tried to talk to the people in my alliance in order to get something going. I definitely buffered myself with strong people, for sure!
PS: As a huge fan of the game, what surprised you the most about the experience?
Pia: Honestly what surprised me is how absolutely hard it is. It's brutal, the challenges are brutal, it's ruthless and the elements are incredible. It also goes for so long, like I went 29 days with no contact from my kids, and I only got that time because I won a phone call with them. All that stuff is really hard.
PS: You went through a lot in the game both physically and mentally, from the Luke vote to experiencing a vitiligo flare-up. What was the toughest thing you experienced out there?
Pia: It was definitely when it got close to the end and I was starting to vote for my friends, or see them get voted out, it was hard. It was that stuff, when the game gets to the pointy end and your emotions take hold. if you don't win, you want your mates to win, that's really how it feels.
PS: On that note, you've copped quite a lot of backlash from the Luke vote out, are you okay? How have you been handling it?
Pia: I was a bit shocked, because there were three of us who voted Luke out, and I was the one who was truthfully conflicted and honestly upset. I almost did give him a shot, but I changed my mind at tribal. Because he's so popular and so beloved, I was prepared for some backlash, but I didn't think it was all going to come my way. The fact that it did all come my way and it got so nasty . . . I'm going to be honest, it was a real shock to me. I backed [the decision] up with game play, and it was the right move for my game. People made those really, really horrendous comments all day and all night, and I'm a grown woman and I still struggled with it. I can't imagine how young people feel when they're going through this, because it really opened my eyes.
PS: I hope you know that there are many of us out there who do understand that it was the only move you could make if you were playing to win. . .
Pia: Yeah, all lovers of Survivor were completely supportive of my move, and understood that I wasn't going to take someone's place out there and not play properly. I promised myself I'd always play with my head, there's a famous move from season two of US Survivor where Colby took Tina to the final two and it's renowned as a big mistake. So when I was really going through the tough decision I kept saying to myself, "Colby and Tina, Colby and Tina." [Laughs] That's how I got through it! But I am okay, there still has been a lot of support and people have been wonderful to me today. It worked out so beautifully for Luke too, I'm so happy and excited for him and I feel like we're both winners. I wouldn't have it any other way!
PS: For sure, I think the fact that the Go Fund Me page that was set up to Luke is very likely to at least equal your prize money definitely helps the situation . . .
Pia: Yeah, I mean it's so incredible! He's so excited about it, and I'm happy to cop 24 hours of hate online to see him get that amount of love, as well as that incredible reward.
PS: Which move from the game are you most proud of?
Pia: The David blindside. I really planned that for a long time, I was getting itchy feet and I was desperate to do it but I sat on it until I had the right moment. It was definitely my favourite moment from the game and I think it was his too, we spook about it afterwards and he loved it! He's such a good sport.
PS: What would your advice for future contestants be?
Pia: Go to the gym and work on your strength, because that's going to make it easier for you to get to merge. I'm fit, but I certainly wasn't one of the strongest, and that's considered a real weakness in Australian Survivor where the challenges are way more physical than the American version. I also recommend going online and reading up on some of the great players. You can pick one who makes sense to you, and then try to emulate their game.
PS: What's next for you now?
Pia: I've just wrapped season three of [TV show] Mustangs FC, which sort of started the day I got back from playing! So I'm really happy to have a break now, spend some time with the kids and hopefully get to Disneyland!
PS: Wow, so you just rocked up to the first day on set and all the crew were like, "ah, why are you so skinny?"
Pia: Yep, and brown! I got so brown! [Laughs]