Proof Tash & Amanda Are the MAFS Couple Australia Needed
Proof That Tash & Amanda Are the MAFS Couple Australia Needed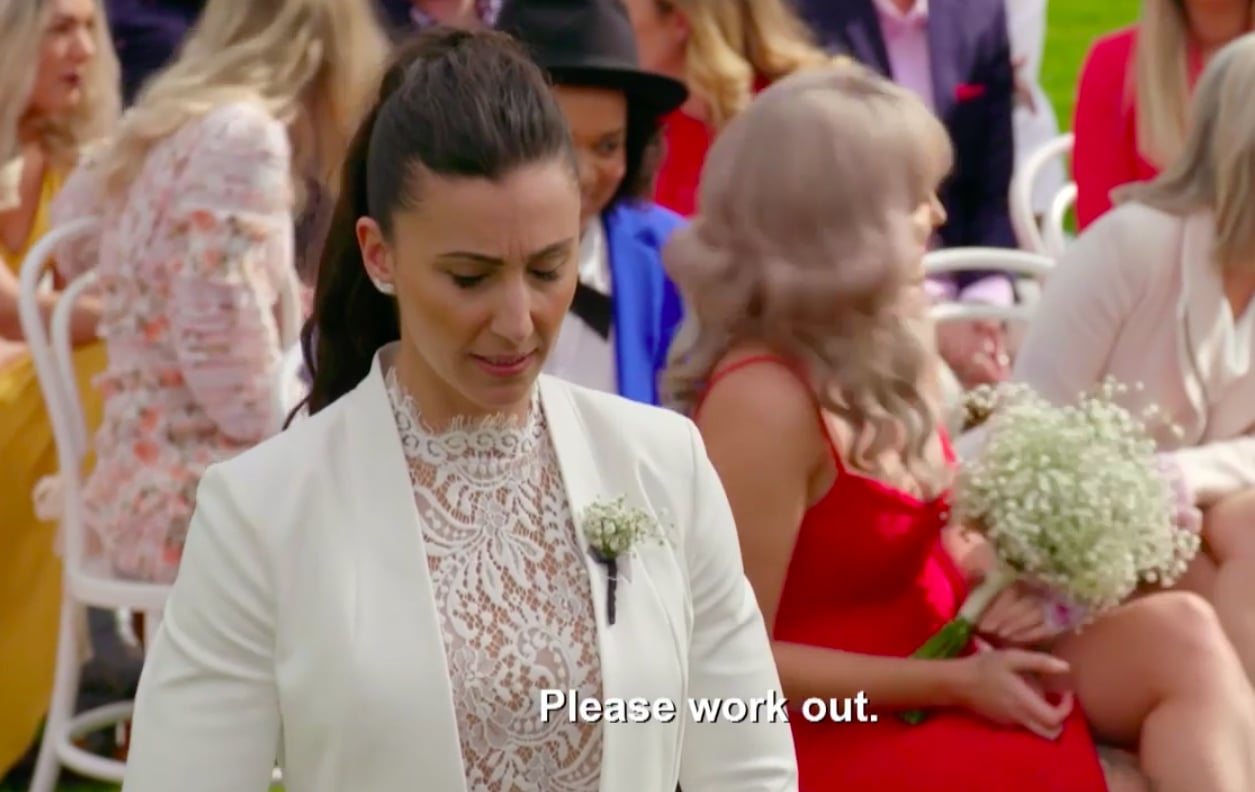 The second episode of Married at First Sight introduced us to our next bride and groom, and our first bride and bride — Natasha and Mikey, and Amanda and Tash.
After the relative calm of the season premiere, episode two was a bit more emotional: we really felt for Amanda as she struggled with her sexuality in a traditional European family, and quickly saw a soft side to the business-minded Mikey, who runs an aged-care home and has a close relationship with his differently abled aunt.
But it's MAFS, so, of course, the couples had to overcome a couple of trials. This time, Natasha wasn't going to fall into the pattern of dating a man who saw her as a kind of "trophy". Instead, she was trying to come to terms with potentially dating someone off-type — a nice guy, who was a bit too awkward and nervous to take the lead. It certainly didn't help that her friend Lincoln reckoned that he wasn't quite up to the challenge of dating her.
Tash's friends too decided to meddle in the marriage, asking Amanda directly about the "big mistakes" she referred to in her vows. Amanda admitted that she'd decided to go on Married at First Sight instead of reuniting with an old flame, which raised a few eyebrows. When Amanda explained herself to Tash, Tash accepted her reasoning. They'd take a risk on MAFS together — and it certainly helped that their chemistry was red-hot.
As with any episode of reality TV, everyone's gotten together on the internet to have their say, and Australia really got behind the series' first lesbian marriage:
the three stages to full equality: the postal survey, the parliamentary vote, and the first lesbian wedding on #MAFS

— Lane Sainty (@lanesainty) February 4, 2020
#MAFS is making me feel sad but so lucky to have an ethnic background with parents and a family who love and support me for who I am. There's nothing I cherish more than being able to live my truth. ❤️

— Chris Macheras (@chrismacheras) February 4, 2020
Your father might not be with you Amanda, but lots of people are with you in this moment! You look gorgeous. Keep being you! #MAFS #MarriedAtFirstSight

— Dallas (@dallasalex841) February 4, 2020
The graphic! ❤️❤️❤️👰🏼👰🏼 #MAFS pic.twitter.com/JvJHfT2uf9

— Dean Nye (@Dean_Nye) February 4, 2020
Amanda's vows though 🌈🌈🌈 #MAFS pic.twitter.com/gL30FbF5pW

— Kylie Rallings (@k_rallings) February 4, 2020
Watching the women's ceremony on Married At First Sight. Fun fact: this is actually considered 'taking it slow' in a lesbian relationship. #MAFSAU #MAFS

— Alice Clarke (@Alicedkc) February 4, 2020
#MAFS #mafsau this wedding should have taken place on Margret Court Arena pic.twitter.com/pWWaoOJDts

— bob_with_no_job (@oh_dear_bob) February 4, 2020
I think a "lesbian red flag" was just a red flag with the word lesbian to remind us they are lesbians #mafs

— Bec Shaw (@Brocklesnitch) February 4, 2020
it might be a too early to call but i genuinely have high hopes for Amanda and Tash. #MAFS #MAFSAU

— alysha (@intosneedy) February 4, 2020
Married at First Sight airs on Channel Nine at 7.30 p.m., Monday to Thursday this week. Join us at our Facebook group Pass the Popcorn to chat through the ep!