Reynold Poernomo Wins Final Immunity Challenge MasterChef
Reynold Reckons He Could Actually Win MasterChef After Last Night's Immunity Triumph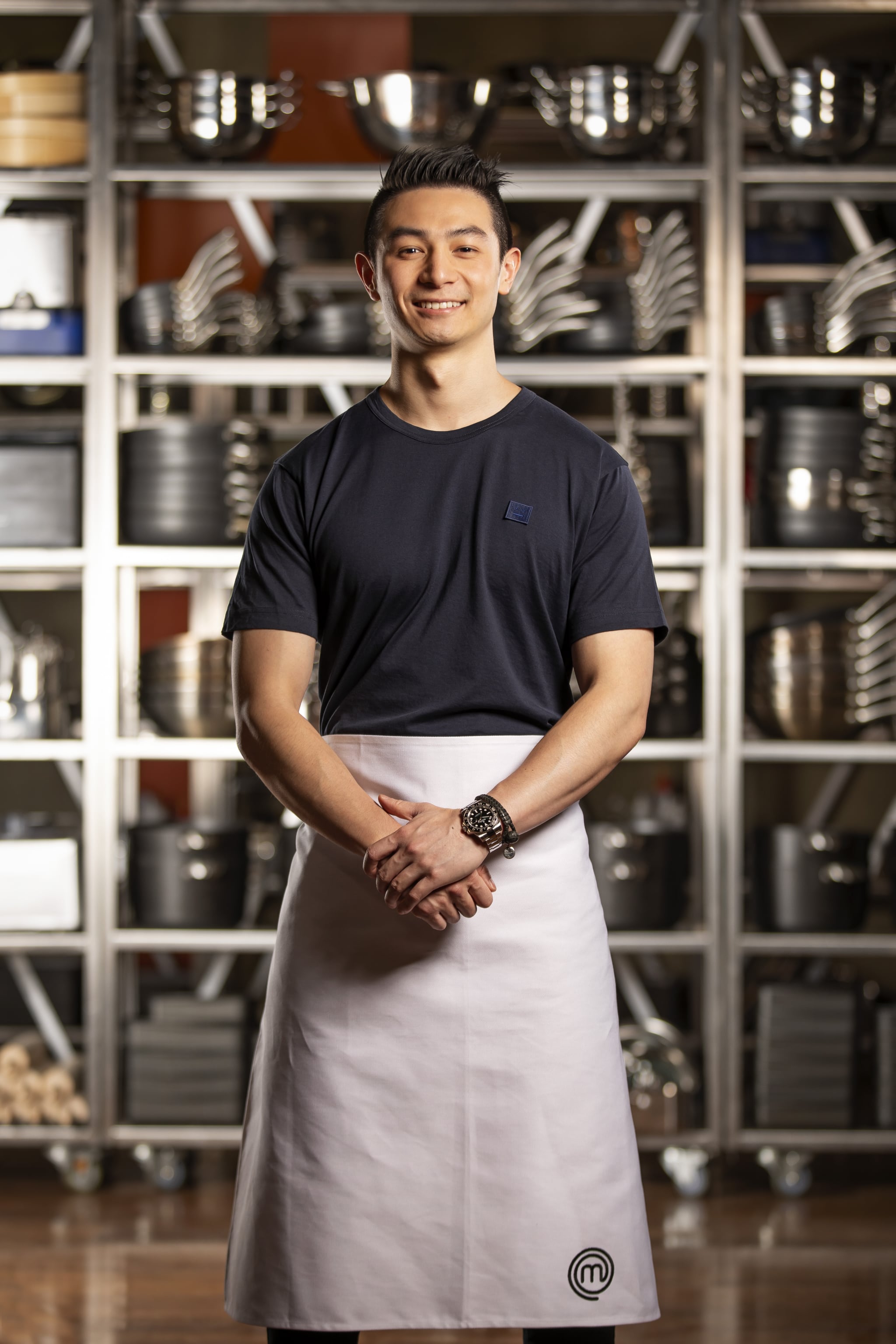 Reynold Poernomo won his second Immunity Challenge in a row — and the last in the competition — on Tuesday's MasterChef.
It was his third overall immunity, and guaranteed him the first spot in the final four for Finals Week, beating out Callum Hann and Laura Sharrad by making a Golden Snitch-inspired dessert.
The judges told the contestants they could create anything they wanted, sweet or savoury, to secure immunity, using anything in the pantry or garden, to a time limit of their choice. While Reynold wanted three hours, the group agreed to just two to make "the one dish you've been saving".
To motivate the contestants, Melissa Leong explained the true import of this immunity win: eight of the people first through to Finals Week then made it through to the finale, with six of those people winning the title of MasterChef.
Reynold's aim was to closely recreate the smallest and most valuable ball in Quidditch, the fictional sport in Harry Potter, although he added two extra wings, and in doing so made one of the most impressive dishes of the entire series.
The dish consisted of brown butter mousse, honey tuile, roasted milk chocolate ganache, tonka bean caramel, yoghurt snow, pear sorbet, chocolate coating and caramelised white chocolate crumble — that's a lot of elements!
He admitted to the judges not only that he was pulling out the "big guns" today, but that his cook could very easily be derailed. "What could go wrong?" Andy asked, to which he replied: "Everything. Timing, assembling . . ."
And at one point it did, Reynold snapping all of his delicate honey tuile feathers until he took a moment and walked away to compose himself. When he came back, he managed to make enough. It's not a Snitch without feathers!
Callum meanwhile made chicken liver parfait with wattleseed crackers, Davidson plum gel and onion puree, but he used an unconventional dessert technique to elevate his dish, deciding to brûlée the top of the dish.
Laura drew on childhood memories to make two snacks: one made of crab crafted to look like driftwood, and another of oysters, made to look like a pebble. When Laura's meringue lids for her squid ink pebbles crumble, she briefly panics, before deciding to replace them with discs of apple, whose acidity and freshness will contrast the meringue and oyster emulsion. She even used a sea parsley powder to make her pebbles look mossy, assembling the components into a beachside scene.
Andy Allen gushed that Callum's dish had "taken parfait to a new level for me", while Melissa dubbed his parfait as "joy on a plate". Laura's dish "transported" the judges to the seaside as intended, both in terms of its artful flavours and stunning design.
When Reynold presented his dish, complete with the theatricality/magic of liquid nitrogen and yoghurt snow, the judges literally exclaimed in delight. Melissa described the Snitch as "triumphant", while Jock Zonfrillo called it "inspired cooking", as they complimented his balanced flavours and technique.
After complimenting every impressive dish, the judges revealed that Reynold had won immunity, with his Snitch that was "one of the best dishes to ever be cooked in this kitchen". There's not much higher praise than that!
Read on for our interview with Reynold:
POPSUGAR Australia: How did it feel to win the very last Immunity Challenge of the season?
Reynold: Felt great! It just showed how much I deserve to be in the top four, because it isn't easy to go up against such incredible talent. I thought it would be, but geez, they haven't gone easy on us at all. The best feeling overall though would be that I got three immunities and finished off with a back-to-back win.
PS: Did you feel emboldened by the trivia from Mel about the first person through to Finals Week almost always making it to the finale?
Reynold: It made me feel like I could really win this competition — it's not far away! I only made it into the top four back in my season, so at least that's a relief. Anything can happen at this point of the competition, anyone can have a bad day, and that's all it takes.
PS: Was it intimidating at all to be given absolute freedom in the kitchen? What would you have done if you had that extra hour?
Reynold: There are some days that I like some restrictions and guidance but for a day that is this important, I need total freedom. I'd been banking this dish for a while and had been dying to make it in the MasterChef kitchen. I would have still done the Snitch if I had that extra hour — I just wanted to chill out a bit during the cook!
PS: You brought a little magic in the MasterChef kitchen! How does the Golden Snitch reflect who you are as a cook and your cooking style? In what ways do you personally identify with and are inspired by the Harry Potter series?
Reynold: I like bringing childhood wonders into my food — it brings a sense of nostalgia, and that's an emotional connection to the food. I see myself as just a chef that likes to cook with conceptual ideas, whether it be colours, themes, childhood memories or culture.
This dish came to mind as an "aha" moment, thinking of what would be magical and provoke a sense of wonderment. Harry Potter is literally that, and for me the Snitch was something I personally think is super iconic. My friend also pointed out that there was one moment in the series where Harry accidentally caught the Snitch in his mouth.
PS: You struggled with the delicate Snitch's honey tuile wings, but after taking a breather managed to make enough for your dish. What did you do to recentre yourself?
Reynold: I just breathed. I do a bit of meditation, especially during the competition, as it can be so stressful! I started meditating more around top 10 and I noticed how calm I was during challenges, but I also realised my lack of adrenaline caused me to lack in my performance with my cooking! So I stopped meditating for a bit, and that's where I cook best — with adrenaline. The tuiles were so delicate, however, so I decided to stop and take a few seconds to just calm down, breathe and focus to stop the shakes.
PS: How do you balance theatricality with delicious flavours?
Reynold: It doesn't always go hand-in-hand, especially during MasterChef, where you have to constantly come up with something new and it doesn't always go to plan. Flavours always come first, but sometimes I do get carried away and end up focusing too much on theatre. So the best way is to work with a flavour profile that is tasty and find ways to create that flavour in various forms. It's the same as design — aesthetics and comfort.
PS: Are you nervous at all about being able to make another dish that tops this one?
Reynold: I'm done, haha. I know my limits. I don't think I have another insane dessert in me for a while.
PS: How did it feel to be told you had made the "one of the best dishes ever to be cooked in this kitchen"?
Reynold: Amazing, just amazing! I know I repeated a lot of components various times in the kitchen, but to put the experience of the competition and all the things I've learned through my mistakes together to produce the Snitch is truly satisfying. But I do hope I can bring in a better dish if I ever set foot in that kitchen again as a guest chef. Because, once a masterpiece is done, it's time to move onto the next.
MasterChef Australia airs on Network 10, Sunday to Tuesday. Join us at our Facebook group Pass the Popcorn to gab about all things reality TV.