Reynold Poernomo Wins Immunity Challenge MasterChef 2020
Reynold's Dish From Last Night's MasterChef Immunity Challenge Will Fill You With Child-Like Wonder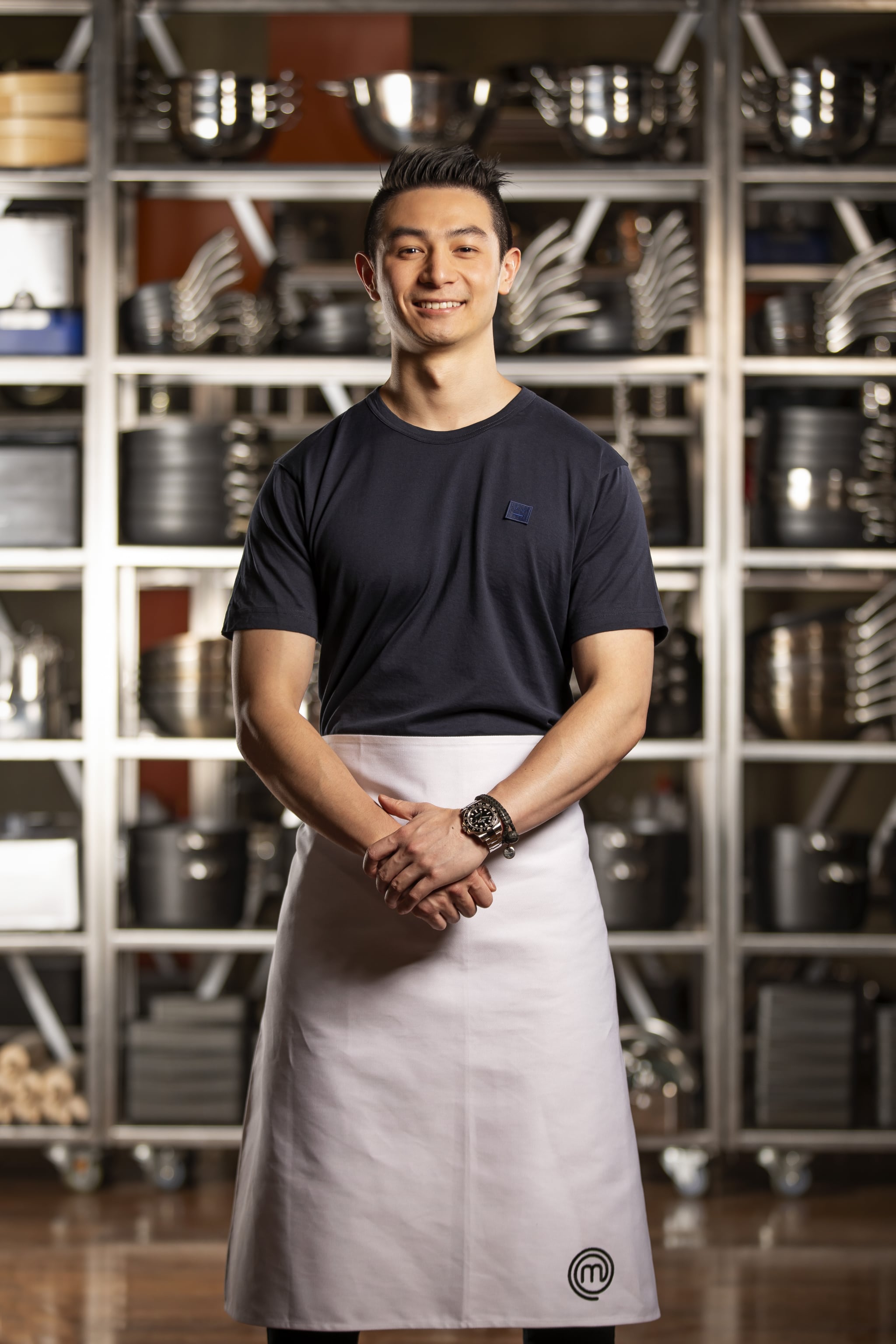 On last night's MasterChef, Reynold Poernomo won his first-ever Immunity Challenge with his whimsical Alice's Adventures in Wonderland-inspired dessert garden.
Jess Liementara, Poh Ling Yeow, Brendan Pang and Khanh Ong, fellow winners of last night's emotional Mystery Box challenge, were tasked with drawing on a classic fairytale to inspire them to create a dish in 75 minutes.
Jess chose Goldilocks, intending not only to create three spheres of different sizes with different fillings to represent the three bears, but to make a set for each of the judges. Ultimately she gave herself too much to do in the allotted time and scrambled to finish in time, serving up something that didn't quite match her hopes for the dish.
Poh tried to make a chicken and scallop broth with a tofu lily and smoked butter fried rice, to capture the spirit of The Ugly Duckling — a story that she connected with, feeling out of place growing up as a "migrant kid" in Australia, but having become stronger for the experience. Unfortunately, though, her rice was undercooked.
Meanwhile, Khanh riffed on Beauty and the Beast to make a Swedish chocolate cake, Kladdkaka, which he learned to make for his friends before watching the recent live-action adaptation. While a little rough on the outside, the cake was delicious inside, with a rose ice cream and strawberries cut to look like roses. Brendan also drew on the story, making Hakien, a double deep-fried Mauritian spring roll the judges thought was strong-armed into the brief.
Reynold decided to create not only the garden from the beginning of Lewis Carroll's novel, but the rabbit role through which Alice fell into Wonderland. He made a tree out of tempered chocolate, and included elements like a dolce diplomat cream, pistachio sponge and matcha soil. In a feat that definitely conjured a sense of wonder, he poured a vanilla caramel sauce into the dish, successfully creating a sinkhole! It had to be seen to be believed!
The judges loved the theatrics of his dish — and that Reynold didn't compromise on flavour either.
Melissa described the winning dish: "One dish was technically perfect, incredibly delicious and it didn't only hit the brief, it hit it out of the kingdom." We loved watching Reynold's celebration when he found out the dish she was talking about was his!
Read on for our interview with Reynold:
POPSUGAR Australia: You won your first ever immunity! How did that feel?
Reynold: ABOUT TIME!!! I'm so stoked, this year's competition has actually gotten so much harder as now we're surrounded with some incredible talents. I missed out in my season, even though I got straight 10s from all the judges. Then, once again, Dani kicked my arse earlier this season and I missed out on the only immunity pin of the season.
PS: Last night's Mystery Box challenge was so emotional for you — and so powerful for us as viewers. Did the idea of cooking for your family motivate you again in tonight's Immunity Challenge?
Reynold: It was definitely fuel to keep pushing hard in this competition, regardless of the challenge, and to always give it my best. We have had a lot taken away from us over and over again, and with COVID affecting our businesses, there was no way I'd want us to go through such pain again. So it's more drive to win this competition!
PS: We know you were inspired by the first chapter of Alice's Adventures in Wonderland. Why did you choose that story for inspiration?
Reynold: I wanted my dish, Down the Rabbit Hole, to take the judges into that exact moment where Alice has no idea what she's in for. I also wanted the judges to discover the mysteries and adventure that were lurking within the rabbit hole.
PS: Were you concerned that the caramel sauce might not work to create the rabbit hole into Wonderland? Do you think you still could've won immunity with just the garden and the flavours of your dessert?
Reynold: I was definitely more than just concerned . . . I felt embarrassed for a moment. It was a 'Let me take you into Wonderland' moment when I poured the caramel . . . And, in my head, I was thinking, Well . . . that's a bit awkward . . .
I probably couldn't have won — the dish was definitely delicious, but the idea was all about that rabbit hole effect.
PS: How did it feel watching the judges' jaw-dropped reactions to your dish?
Reynold: It brings me joy and a smile to my face when the judges have a jaw-dropping moment. As chefs, we love seeing our diners minds' blown and falling in love with our food.
PS: When you heard Melissa start to describe the technical nous and wonder of the winning dish, did you realise you were the winner? Could you feel Khanh and Poh's eyes on you?
Reynold: I was thinking it would have been Jess. Who the hell but her can make that dessert in our given timeframe and one plate for each judge? The win moment however was more of a relief to finally get out of my rough patch and do well — it was a victory worth celebrating.
PS: You won immunity in the first week of COVID-19 rules being introduced. When your rabbit hole of hot caramel worked, how did you quash the urge to hug someone?
Reynold: Haha, I'm not much of a hugger anyways. We quickly adapted to elbow bumps and feet taps.
MasterChef Australia airs on Network 10, Sunday to Thursday. Join us at our Facebook group Pass the Popcorn to gab about all things reality TV.