Roxy Jacenko I Am Roxy Interview
"My Reason For Doing It Is Not to Change Perceptions of Me": Roxy Jacenko on Her New Show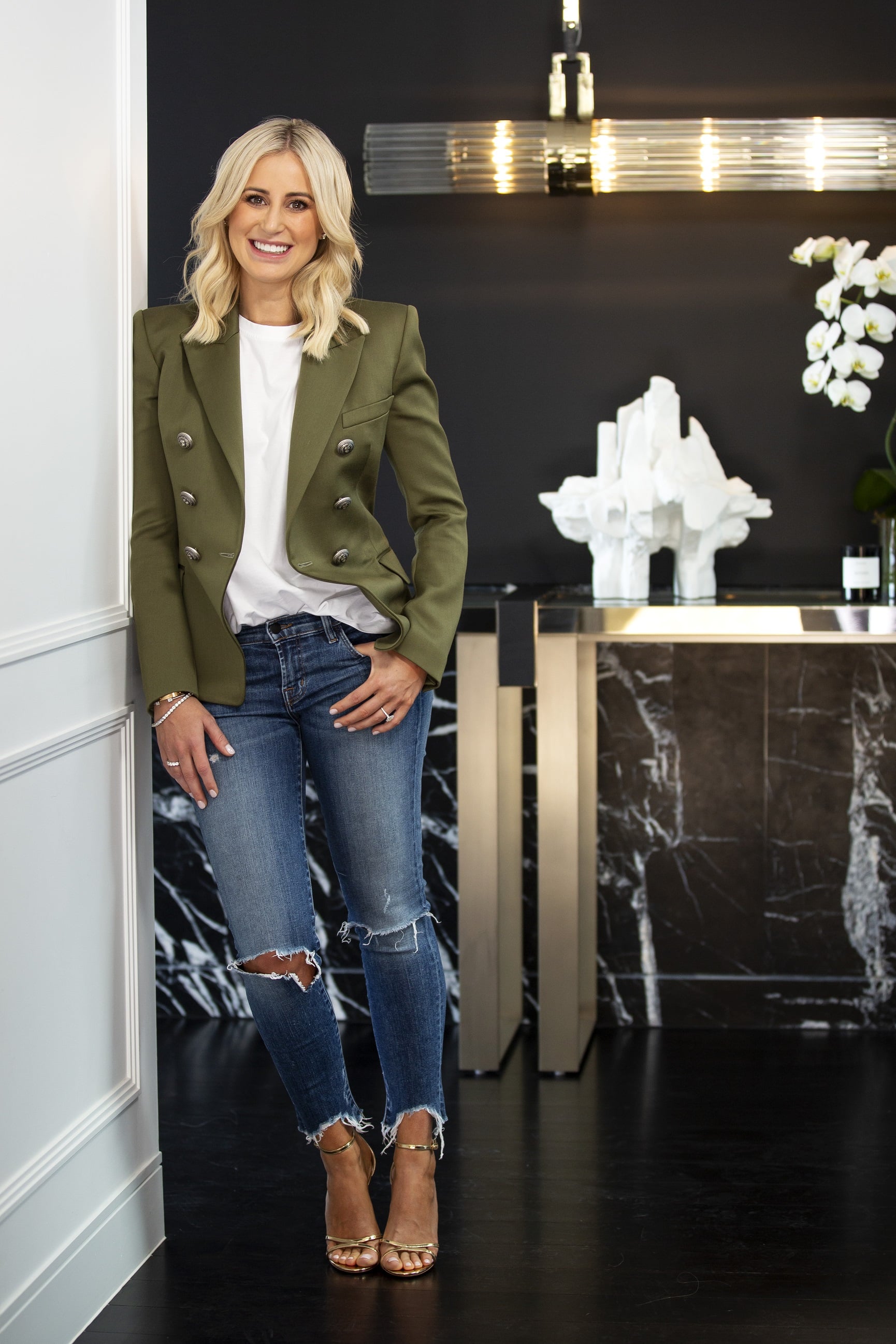 It's no exaggeration to say Roxy Jacenko is one of the most talked about people in Australian media. As a hugely successful businesswoman whose personal life has also played out in the spotlight, she certainly knows a thing or two about making headlines. But, as she explains below, that was not the reason she decided to invite a production crew behind the scenes of her day-to-day life for new reality show I Am. . .Roxy. Ahead of the show's premiere as part of Network Ten's Pilot Week, Roxy chats the 'reality' of her success, how she deals with public scrutiny and what viewers can expect from the show.
POPSUGAR Australia: Hey Roxy! What can viewers expect from I Am. . . Roxy?

Roxy: That it's warts and all. Someone who has run their own business since they were 24, and who has experienced the highest highs and the lowest lows. Going through cancer, having a husband go to jail, raising two small kids. . . it's full on! It's an exciting and rewarding ride.
PS: As someone who is so successful in PR, you know all about what makes headlines. What do you think will be the main talking point/ headline making moment from the pilot episode?
Roxy: Look, I have no doubt that it will probably be that I give my children coffee! [Laughs] No one goes out there looking for headlines, well I know I don't, but there's always going to be people who like or loathe you, so it comes with the territory. You know what, and pardon the pun, I think the reality is that it shows the hard work and what it actually takes to keep things going.
Yes, I've had success in PR, yes, my businesses have done well and there's more than just the PR company, but it'll actually show what it takes to get there. It's not easy and everyday is tough. Managing 25 plus staff, two children, five companies. . . life is not all roses! I think people will be quite surprised. I think they think at the moment my life is all champagne and canapés, and that I get up late in morning, have a game of tennis and then I might do a bit of work. But I can tell you, it's far from that! [Laughs]
PS: Is that what you think will surprise viewers the most when they watch the show, the amount of hard work you put in?
Roxy: I think viewers will be surprised by what it takes to run a successful company as a girl in business. I don't think I'm any different to anyone else, but what I do is shine a light on the fact that business is f***ing tough, and if you don't have serious guts and gumption then it doesn't keep going. You can be called not nice, but at the end of the day, you're fighting for your business to keep going. That's what the episode will show. But at the same time it's going to show me squabbling with my husband, and my kids going to bed at 11 o'clock. You know what, that's normal life! No one's life is perfect. People try to use Instagram to paint this picture that their life is all roses and fancy, but there's a lot of grit and grime that goes on just to get that.
PS: As you know, the show isn't guaranteed to be picked up for a full season. What do you think will make I Am Roxy stand out in the TV landscape and against the other shows in Pilot Week?
Roxy: Well I don't really think we've had anything like this since the days of Being Lara Bingle. The difference between this show and Being Lara Bingle is that I have got the business side of things. If the show gets picked up then that's fantastic, but if it doesn't then it was still an amazing ride. I've had the opportunity to work with Wippa [Michael Wipfli], who is the co-creator of the show, and I'm happy that I did it. I think the most important thing in anyone's life is to take any opportunity that comes your way and make the most of it. If it becomes a success, fantastic, and if it doesn't, well you tried! That's the most important thing, trying. You can only do your best!
PS: How did all the other people on the show like your husband and kids take to being in front of the camera?
Roxy: Well they sort of don't know any different! Keeping in mind this isn't my first foray into TV, as I did The Celebrity Apprentice. So TV is not something that my family is unfamiliar with. Pixie shoots every three months for her business Pixie Bows, so she is used to having to shoot and film behind-the-scenes footage. Meanwhile Hunter is just himself [on camera], he's five years old and a boy so he's an absolute menace. For Oli, it's not his dream, I'll tell you that much! But he also knows it's brought a lot of opportunity for me in business, which he supports. Whilst it's not something he's cheering over, he gets it. It's my world and my world has never been any different!
PS: The way you manage your staff has made headlines in the past for being controversial, and some people took issue with how you spoke to a staff member in a promo for the show. What do you say to those who question your approach?
Roxy: What I'll say is this: if you walk into my business as an intern, I want you to leave as a qualified or senior publicist. I don't know what world people live in where they think me saying to a staff member, "that's not right, no, no and no" is incorrect. She had been with me for 12 months and was working on an account. If you come to me and you give me your business, you want results. If I don't manage the staff member who is working on the account in a way that is going to bring results, are you going to keep your business with me? Run a business and see what it's like! The reality is if you give someone your money, you want results. If I'm not training people to think the way they need to in order to get results, then I shouldn't be taking people's money.
Credit to the staff member in the promo, she worked three days a week during her internship and got a full time job as a junior publicist. You know what, she's still here, and I'd do it all again! I don't take people on for them just to sit and be mediocre, I take people on to be the best they can be and to get the best results.
PS: You've been described as someone who is polarising to the public and that people love to hate, do you think the show will change people's perceptions about you?
Roxy: Not necessarily, because people don't like people who strive for success. I'm not looking to win friends, what I'm looking to do is work hard, give my team the best opportunities I can, and deliver excellent results for my clients. Whether I'm polarising or not, that doesn't even come into it for me. I've got a job to do, and that is to deliver. People hate success. If you're flashy and have nice things, there's always going to be someone who will say, "you didn't get it the right way." That's human nature. You can choose to buy into it, or you can choose to look the other way and use it as your motivation to push even harder to succeed more.
PS: I feel like hating success is a particularly Australian thing, we value the underdog to the point where we as a culture can't handle women who are a successful and vocal about it . . .
Roxy: Absolutely, I've lived it my whole life! When I started my business at 24 the gossip was, "oh well her parents must have bought her that business." No you morons, I started with a cordless phone and a fax machine, my parents didn't buy me anything. We love to hate people who want to succeed. At the same time, if I didn't want to go to work and was asking for money from the government, then we'd say nothing. Let those people be the talkers, I don't really care! [Laughs]
PS: What are you most nervous about the public seeing on the show (if anything)?
Roxy: Nothing, I don't sweat the small stuff, and I think that's the biggest thing. If I did sweat the small stuff, I'd be crying in the corner 24/7. My aim is to do the best I can so I can provide my family and my children with the best life and the most experience. I don't worry about what everyone else thinks, you cannot do that. There's always going to be people in life who don't like you, and at the same time, I've got some fantastic people who give me their full support. Those are the people you focus your energy on, not the negative ones. Just let it go in one ear and out the other.
PS: If viewers take away one thing from the pilot of I Am Roxy, what do you hope that is?
Roxy: That anyone can have anything as long as they have grit and determination, and want it to work. It doesn't matter who you or where you come from, everyone has the opportunity to make something off themselves. My reason for doing [the show] is not to change perceptions of me, because that doesn't matter. What you deliver matters.
PS: What would you your best career advice is?
Roxy: Work hard, do everything that no one else wants to do, put the extra hours in and never say no. Take every opportunity that comes your way.
PS: What's one thing not many people know about you?
Roxy: I don't think there's anything left that people don't know to be honest! [Laughs] You know what, there's this mentality out there that I'm a cold hearted bitch, but I'm just a normal girl trying to make something of herself. Also, I'm a mum, I'm a nice mum and I care about my kids. Whilst you may not agree with me giving my kids coffee if they need a perk up, or letting them go to bed at 11, I do me. My kids are happy and that's all I could ever wish for.
I Am . . . Roxy premieres on Network Ten Wednesday September 11.