Wendell Sailor The Masked Singer 2019 Elimination Interview
Wendell Sailor on Why He Repeatedly Said No to Doing The Masked Singer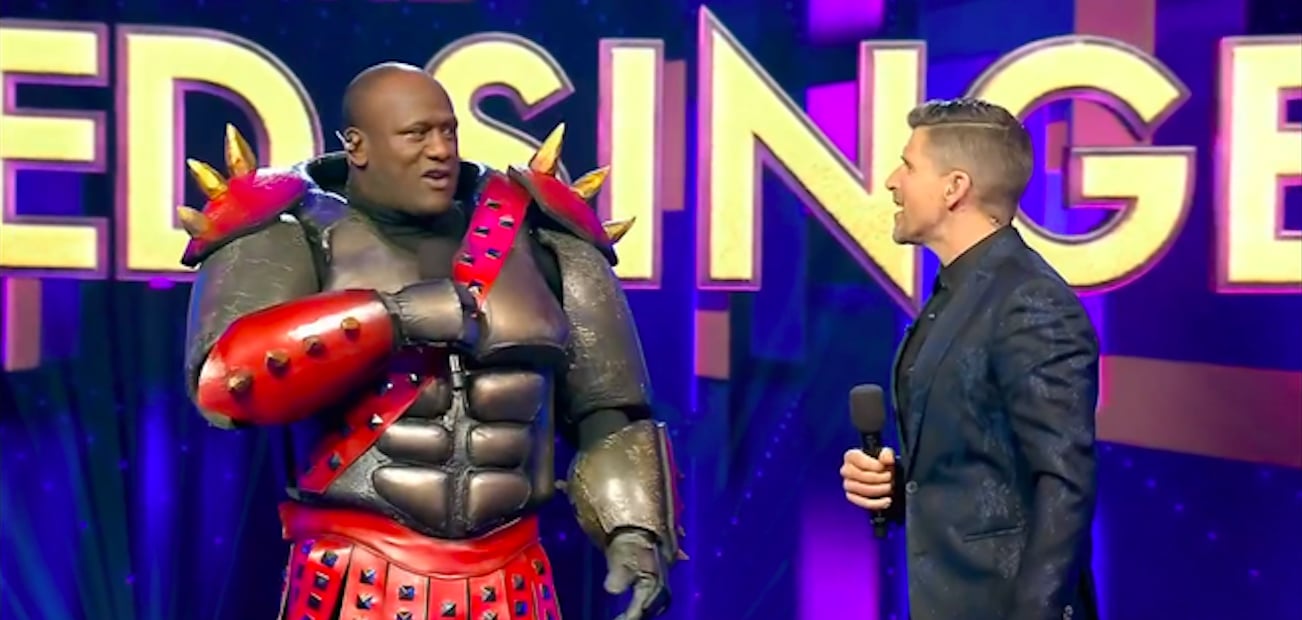 Wendell Sailor may be one of the most celebrated rugby players in Australian history, but he revealed an entirely different talent when he appeared on The Masked Singer. Given his sporting prowess, viewers were left pleasantly surprised upon the discovery of his singing and dancing abilities. Although he charmed audiences throughout his performances, he was ultimately eliminated in ninth place. Below, he chats the difficulties of doing the show, his hesitations going in and why he wasn't happy with singing Flo Rida's 'Low'.
POPSUGAR Australia: How was watching the episode last night?
Wendell: It was nerve-wracking! Even though you know what's going to happen, you still want to see what the reaction from other people is. There was also a lot of relief, and my adrenaline was pumping for a couple of hours last night from all the people messaging me going, "oh I thought it was you," or "you told me it wasn't you!"
PS: How many of your family and friends knew you had gone on the show?
Wendell: Only my wife and my son and daughter. I kept it in-house, my kids needed to know what I was doing since I was away all week and my wife helps manage my brand. My kids are 21 and 16, so they obviously knew it was important to not say anything about it and it was all good!
PS: What was the public's reaction like? I feel like everyone convinced it was Brendan Fevola rather than you. . .
Wendell: Yeah, I think the Fev thing caught on because he sort of threw himself under the bus on his radio show. I think people just love the anticipation of wanting to see you take the mask off, like I was even sitting there [during the previous episode] going, "no way is it Nikki Webster!" Like you're all in, you're all in and you just want to see.
PS: Last night you described the experience as "one of the hardest things you've ever done". What made it so difficult?
Wendell: Everything! The singing, trying to go to sleep, trying to remember my words, getting through the nerves and the fear of failure and wondering how people will react to your costume, your mask and who you are. All those sort of things play in your head, as well as having to get it right when you perform. We went through the performance once or twice, but by the time you go to perform it again the next morning you're nervous. It's attention to detail, it's repetition, it's everything. It's like playing football and training, except it's singing and dancing!
PS: What made you decide to go on the show?
Wendell: Well I said no a couple of times before I agreed to it, but sometimes you've just got to tick the boxes. I had that fear of failure and I'm also really claustrophobic, but I thought if I can do this and prove to myself and my family that I can tick a few boxes then that would be great to do. Also, when I saw the American version, I just knew it'd be a great show to do.
PS: How much experience had you had in performing and singer prior to doing the show?
Wendell: None really! I've done Dancing With the Stars before, but no singing. I'd only sung in the car, in the shower or the gym. I've always loved dancing and have danced since a young age, but not to that level or with that much choreography! Imagine trying to do all that with a rhino costume on? It was a hard task!
PS: How did Network 10 know to approach you about it, and that you could hold a tune?
Wendell: I don't know, I think they just threw out a net! The first time I was called I was just like, "nup, no way can I do that," but then they came back to me again and I was told they were pretty keen on getting me on. My wife then said to me, "babe, you know what, I reckon you can do this!" So when your wife says that, that's when you go, "okay actually let's give it a go."
PS: How did you feel about the clues they chose for you, did you think they were too difficult or too easy?
Wendell: No, I think they were fine! There were some easy ones there and some harder as well. If you're from Perth or Adelaide and don't know about the four premierships and stuff like that then it may have been harder, but I reckon they were great! They did it right because the clues could have applied to a few people, like people were thinking Barry Hall or Brendan Fevola. Brendan's the same age as me and has been to a few different clubs as well, as the clues hinted at, so I think they did it really well!
PS: Were you happy with the songs that you were given to perform?
Wendell: The first one I was happy with, but the second one ['Low' by Flo Rida] I wasn't. It was a rap song, and even though it suited the character of the Rhino, it was such a hard song to do. I didn't actually get it right until the day of the performance, like the day before when rehearsing I was so nervous. I don't mind Flo Rida, he's one of my favourite artists, but I reckon something other than a rap song would have been better. It is what it is!
PS: How did you end up being given the alter ego of the Rhino? How does it symbolise you?
Wendell: Well the Rhino is big and strong, and can come across as a bit headstrong, which is something that's gotten me in trouble. I think that all conformed to my personality, and when I tried the costume on I just knew it was the perfect fit for me.
PS: What do you think would surprise us viewers the most about your experience of filming the show?
Wendell: For the viewers it would probably just be the fact I went on the show, and that I love singing and dancing so much. I've never been a public singer, I don't even sing karaoke. To take yourself out of the sporting field and do something in entertainment I think makes people really surprised. It was funny looking on social media and seeing people with singing backgrounds commenting like, "I can't believe you got the opportunity to sing on national TV, I've been doing this for a few years and I should be the one up there." But at the end of the day, it's a show!
PS: I think you should be really proud of making it as far as you did considering the competition you were up against!
Wendell: I did want to make it one more week so I'd make it halfway through the competition at least, but I was pretty happy that I beat Brett Lee! I've been friends with Brett for years so I might try to give him a call over the next day or two and have a laugh with him about it all!