What Did Roxi and Kaitlyn Fight About on The Bachelor?
Roxi and Kaitlyn's Fight on The Bachelor Tonight Was Painful to Watch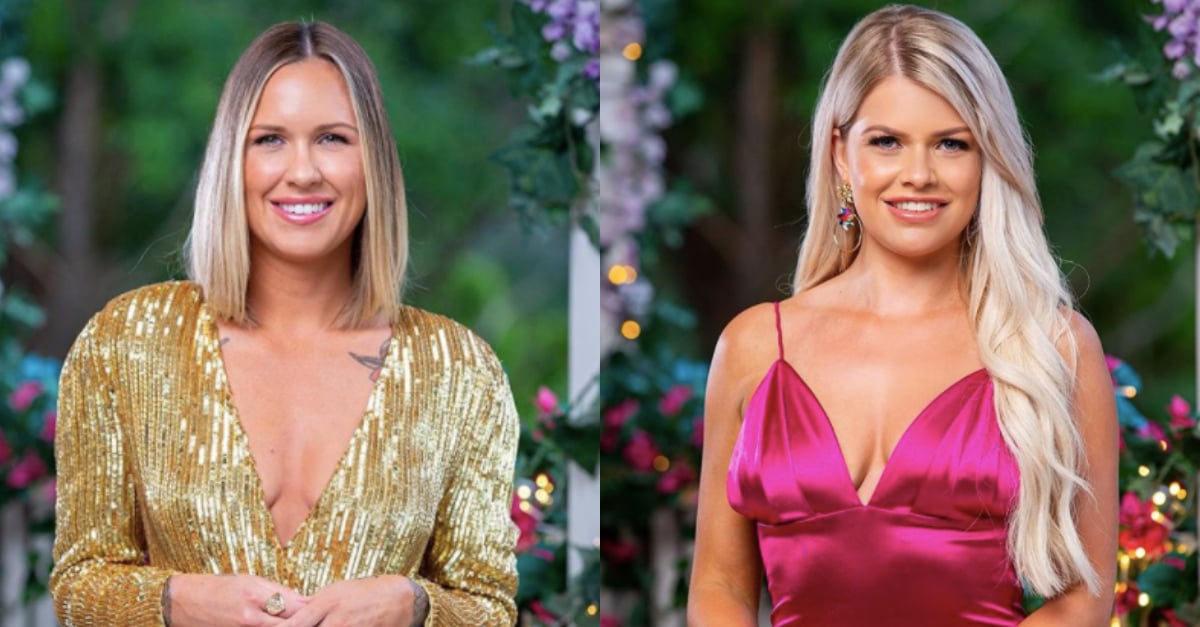 Tonight's episode of The Bachelor saw Roxi and Kaitlyn exchange barbed words at the cocktail party.
The situation brewed through much of the evening, with Roxi clearly vocalising her distaste for Kaitlyn's choice to awkwardly peck Locky on the mouth at the cocktail party, calling it "rude" and "classless". Kaitlyn thought it was necessary to catch his attention in some way, after Charley monopolised his time with a lengthy mud bath at the start of the night.
But the fight between the two women came later, when Marg tried to address the clearly tired and distressed group. So many people had gotten teary — from Bella to Nicole and more — about their lack of time with Locky, that it seemed like Marg just tried to cut the tension and bring everyone back together.
"I feel like at the end of the day everyone has their own personal issues that they're dealing with tonight in terms of them all feeling like they haven't had a shot tonight. I get it, everyone is upset . . ."
But Kaitlyn interrupted Marg to say she and the rest of the women weren't actually upset at all. "This is the whole house, you're depressed, you're sad . . .," she continued, with Roxi jumping in to defend Marg's right to talk and not just be cut down with a callous "Wah-wah" noise.
Kaitlyn shut that interaction down, putting her hand up to Roxi and saying, "Shush." Kaitlyn's gesture riled Roxi up further. "You're nothing to me," Kaitlyn added as Roxi stood up to walk out.
"You are trash," Roxi repeated, as Kaitlyn mocked her and said she should go off and cry to get attention. "Gold Coast f*cking trash," Roxi said as she stormed away. "Your fake hair, your fake lashes, your fake tits, whatever. F*ck off."
"I don't care," Kaitlyn declared, as other women rushed to comfort a crying Roxi.
Neither Kaitlyn or Roxi behaved well in all this, both seeming to lean into the 'villain' edit, Kaitlyn in the group and Roxi with her comments to camera. But at the end of the day, it's not fair to dismiss another woman because of the way they look, their perceived sexual promiscuity, or any cosmetic enhancements. That's toxic behaviour from Roxi, who called Kaitlyn a "Malibu Barbie", before adding, "B*tch is a slut." (And it's worth noting Kaitlyn too called Roxi a "silly b*tch" and the women offended by her rudeness "freaks" and "weirdos", but didn't otherwise comment on Roxi's appearance.)

Do we really need to write that it's not appropriate to call another woman a "sl*t" and a "b*tch"? Cutting each other down all the time is so exhausting!
This likely won't be the last time we see these two women argue with one another — but at least it'll be a lot harder when they're on group dates over Zoom.
The Bachelor airs on Network Ten, Wednesday to Thursday. Join us at our Facebook group Pass the Popcorn to gab about all things reality TV.