What Happened Between Irena and Bella on The Bachelor?
We Saw Bella and Irena's Friendship Fall Apart on The Bachelor Tonight — Here's What Happened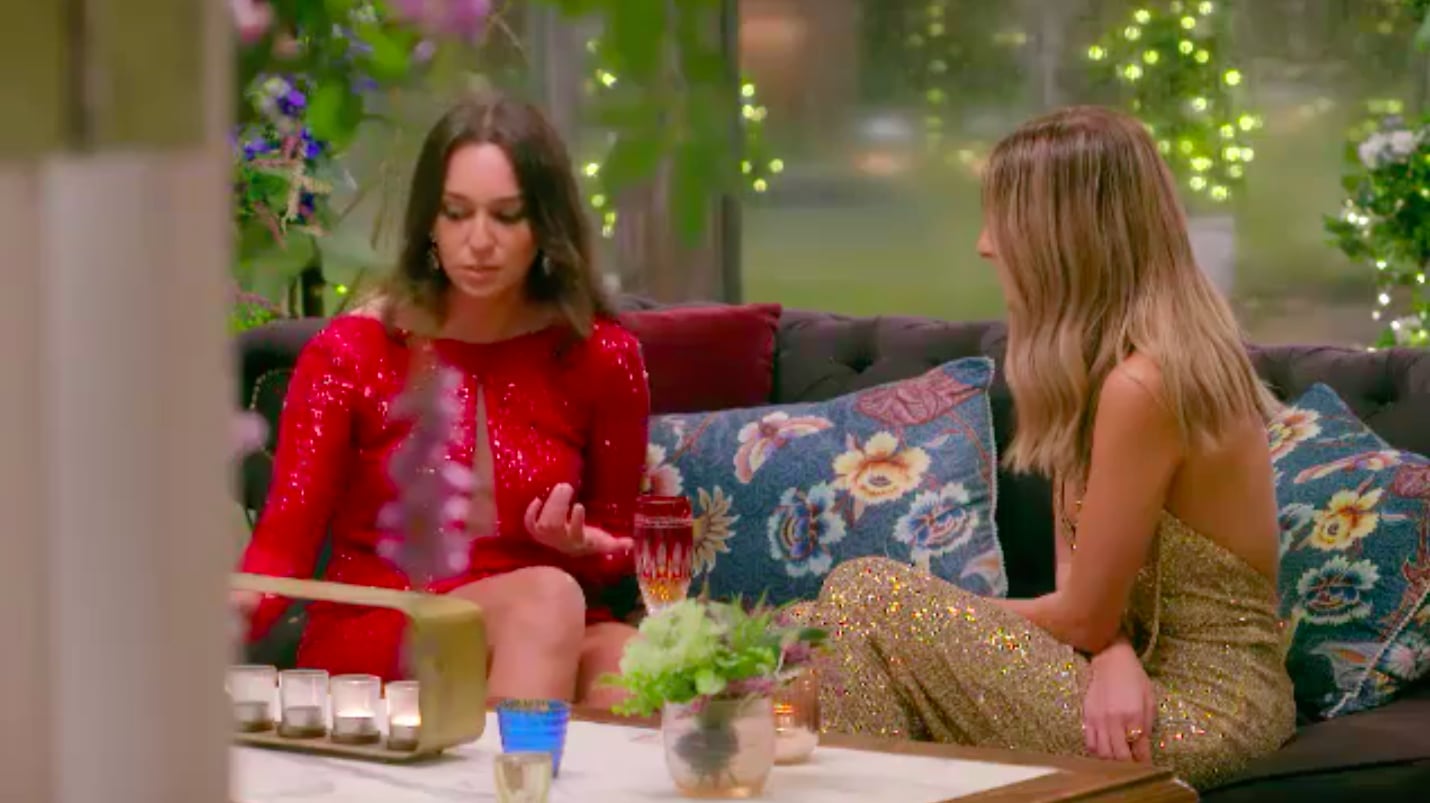 Bella and Irena's once-strong friendship appears to have strained in lockdown, with Bella accusing Irena of lying to her about her relationship with Locky on tonight's The Bachelor.
It's a rift that may have never resolved, with the pair currently not following each other on Instagram, even though it's believed they both make it through to at least the top five.
Last night, Irena complained about the way Bella boasted about her successful meet-the-family date, appearing to treat the situation as though she had already won Locky's heart. "It just upsets me because Bella thinks that she's the only person that Locky's interested in. I try to take the high road but I just feel like I'm constantly the loser in this friendship with Bella," she told Roxi and Maddy. "I think [our] friendship's done now."
When all the women reentered the mansion tonight, Bella and Irena's interactions became very tense very quickly. When Bella arrived after Irena, she went around the group greeting each woman, kissing them on the cheek. That is, until she got to Irena, when she just turned and walked away. It gave us flashbacks to coming face-to-face with a former friend at a high school party and being totally blanked by them.
"She said to me that Locky was calling her every day, so basically she's a compulsive liar," Bella explained to Izzy, Steph and Juliette. She complained that Irena was "bragging" about how much effort Locky was putting into their virtual courtship. "She took advantage of how close I was with her," Bella concluded, believing that Irena was trying to undermine her own relationship with Locky.
While Locky and Irena talked at the return cocktail party, Bella theorised to Steph and Izzy, "She's now sitting over there having a b*tch about things that I can guarantee you are fabricated." (They were actually mostly kissing and talking about how much they liked each other.)
It only got worse from there when Irena tried to address the uncomfortable situation head-on, taking Bella aside privately. Irena tried to say that she missed their friendship, to which Bella replied that she felt "backstabbed" by Irena.
Bella contended that there was a very important distinction between Locky calling Irena, as she had said, and what Locky told Bella about the situation — that Irena texted Locky first, and only then did Locky call her. What?
To make matters more high school, Bella called Izzy over to back her up. But Izzy didn't get a chance to weigh in before Bella ended the conversation. "Irena, I don't trust you anymore. I'm sorry," she said.
"I'm f*cking over your bullsh*t, to be honest," she said as she walked away. "You're a manipulative little b*tch." Irena seemed baffled by the comment, concluding that their friendship was over as Bella was clearly trying to sabotage her relationship with Locky.
This rapidly fracturing friendship all a long way away from the pep-talk Irena gave Bella when she was upset earlier in the season, and the "I love you!"s they shared. Oh look! Another friendship soured over a guy.
Daily Mail reported earlier this week that other women in the mansion "iced out" and "isolated" Irena after her falling out with Bella. "Basically everyone turned their backs on her after her fight with Bella," a source close to Irena said. "She didn't really have anyone to talk to."
New Idea spoke to Bella this week about her friendship with Irena. "Irena is my closest friend in the mansion and I knew she had a good connection with Locky too," she said.
"I loved seeing [Irena] come back from her date happy, but seeing her happy made me realise that my connection with Locky may be worse off," she continued. "[There were] really conflicting emotions when you have a genuine friendship with someone who also deserves to find love."
Next week, it looks like we're going to see Bella pull an Elly Miles — a frontrunner telling the Bachelor about her concerns about another contender, thus putting him offside. Oh Bella! It's so hard to watch women take out their insecurities on one another!
The Bachelor airs on Network Ten, Wednesday to Thursday. Join us at our Facebook group Pass the Popcorn to gab about all things reality TV.