What Happened On MAFS Episode 3 Season 7?
Married at First Sight Cheat Sheet: The 3 Biggest Takeaways From Episode 3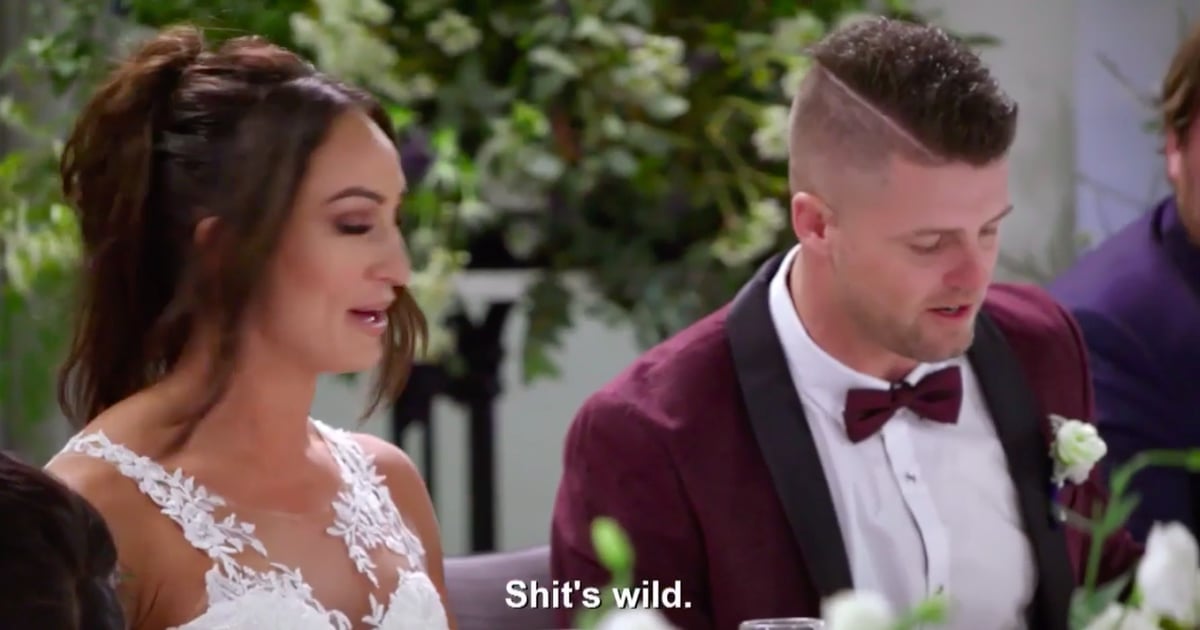 With Married at First Sight airing four nights a week for the foreseeable future, you might not be able to sit down and watch every single episode. We understand! It happens to all of us — even the most devoted among us.

That's why we're here, with this cheeky cheat sheet, so you can blag your way through tomorrow morning's office chat about the show, or alternately if you need a quick refresher after watching it live.
Here are the big moments you missed from episode three of Married at First Sight:
1. No one is having sex.
While Amanda is keen to sleep with Tash — "Hopefully there's insurance on the bed, and if we break it, they can replace it" — her bride wants to take it slow. It dawns on her the morning after the wedding that she doesn't know this person.
Meanwhile, Natasha is saying that Mikey is not her usual type, but they shared some "dirty kisses" on their wedding night. After a morning cuddle, Mikey admits it takes him a while to be affectionate with someone he's dating. No one on MAFS is getting laid!
2. David's parents have no time for Hayley — but David doesn't care.
First, David's parents, who are conservative Christians, voice their displeasure at his choice to get married to a stranger on television, even as David tries to assure them that at least he won't be having sex before marriage. Then, at the wedding, they look visibly frustrated by Hayley's antics. And well, she is a boisterous character. In the limo she literally says, "I could shit myself on my way down the aisle, anything could happen." But David wants them to trust his judgment.
She is loud from the get-go, thrilled to see her future husband and introducing herself to everyone, which David actually seems to appreciate. He tries to make his vows a kind of ode to his parents' long and loving relationship, but they parents remain stony-faced throughout, before trying to find a polite way to say to camera they really don't approve. Eventually Dad comes up with a comment about her being outside his normal type: "I think David's definitely got his work cut out."
Even as Hayley tries to ingratiate herself to her in-laws, Dad remains unmoved: "I don't know if she's the right style of woman for David." He reckons his soon needs a more "sedate" personality to balance him out, which aligns with his mum's previous comment that she wants her son to end up with a "stay-at-home mum". He urges his son to get to know his new bride before "going in too deep". But David's too busy saying "my wife", with the joy of a Borat impersonator, and has no intention of following Dad's advice.
3. Vanessa's story about feeling unworthy is super relatable.
Vanessa had such severe acne when she was younger that it scarred her face, which makes her feel unattractive, and unworthy of a relationship. She's looking for someone to love her imperfections. "I don't think anyone would be truly satisfied with this," she gestures. As she walks down the aisle, she believes she can read on Chris' face that he's disappointed by her looks — he quite literally averts his eyes. Then when he offers only a peck at the end of the ceremony, she feels her suspicions are confirmed. "My gut's telling me he's probably not attracted to me."
Throughout the reception, the pair seem to gel well, Chris telling his friends repeatedly how connected he feels to his new bride, how he likes her blue eyes and her laugh, without ever telling her. Meanwhile, she talks about how she thinks he's attracted to her personality, but is unsure about the exterior. She is deeply afraid of rejection, but insists that she's a good catch because of her heart. Still, it's hard to overcome that feeling in her gut: "I don't know how you act like husband and wife when the only think you can think of is, 'He doesn't like me.'"
At the end of the night, she chooses not to share a bed with Chris, as a protective measure. She doesn't want to sleep together until she knows for sure that he likes her. He sleeps on a foldout after she declines his offer to tuck her in.
Married at First Sight airs on Channel Nine at 7.30 p.m., Monday to Thursday this week. Come tell us what you thought of episode three at our Facebook group Pass the Popcorn.