What Happened on MAFS Episode 5 Season 7?
Married at First Sight Cheat Sheet: The 3 Biggest Moments From Episode 5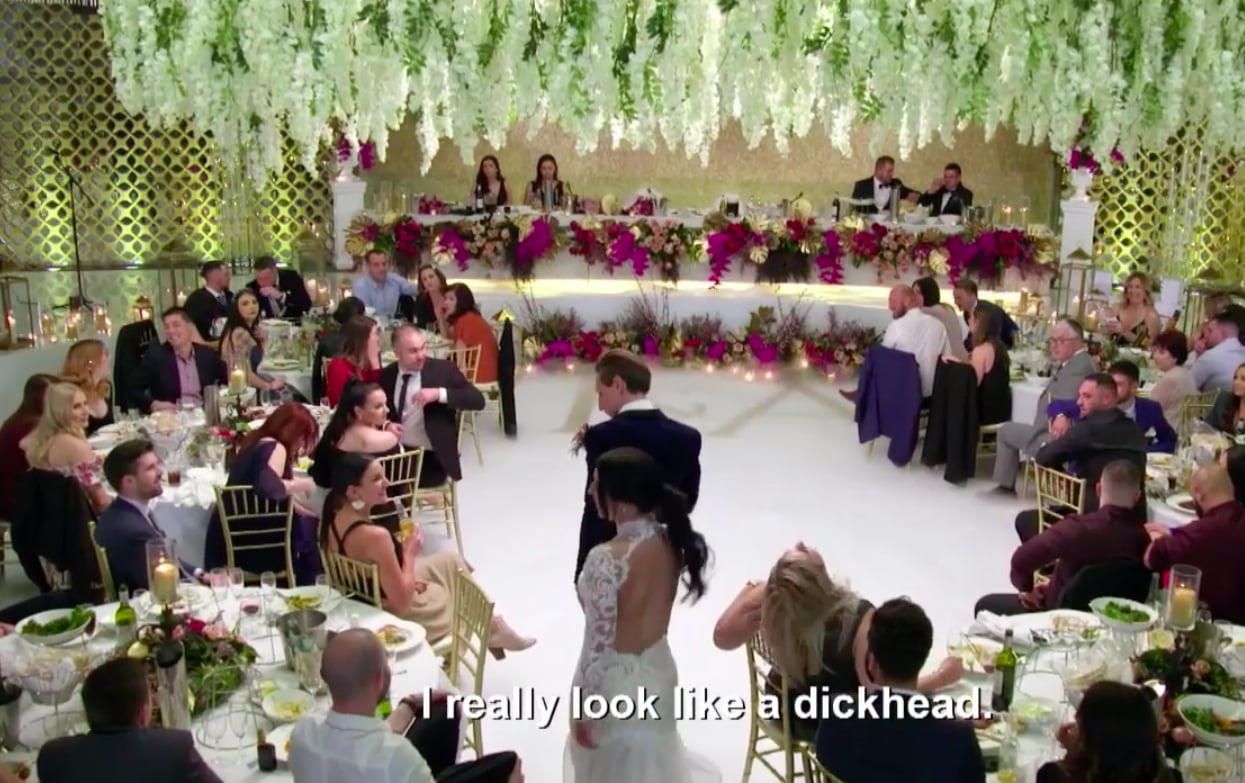 With Married at First Sight airing four nights a week for the foreseeable future, you might not be able to sit down and watch every single episode. We understand! It happens to all of us — even the most devoted among us.

That's why we're here, with this cheeky cheat sheet, so you can blag your way through tomorrow morning's office chat about the show, or alternately if you need a quick refresher after watching it live.
Here are the big moments you missed from episode four of Married at First Sight:
1. Connie's mum is not a fan of Married at First Sight.
The way Connie's mother and sister laugh at her when Connie tells them she's getting married is absolutely savage. "You haven't got a boyfriend!" Mum cries. We've been set up to love the reserved Connie, but fear she'll be eaten alive in this environment.
Mum isn't just against her daughter getting married to a stranger, but to the TV show itself. "It's ridiculous and catty," she says, and, hey, she's not wrong. "I'm pretty lonely, Mum," Connie explains, and our hearts pang. Everyone in the kitchen sips tea with a sense of purpose.
Mum retains a profound scepticism ("I can't stand your show," she informs a producer, "I think this show can be quite manipulating") until Jonethen's speech at the reception, when he explains that his father had a stroke and is paralysed on the left side of his body, and thus unable to be there. He talks warmly about wanting to be there for her, which gets an audible "Naww" from Mum. It's one of a handful of moments where Mum seems moved almost against her will. "I'm starting to think he seems really nice," Mum resolves. "You've surprised me," she informs Jonethen.
2. Ivan's parents get great pleasure out of embarrassing their son.
Ivan's mum loves singing so much, she's filmed at the start of the episode playing piano beside a deeply unimpressed Ivan. Mum thinks the film crew are in her home to shoot some real estate program and reacts with joy to the real reason: that her son has decided to get married on television. "Do you want your mum to sing at the wedding?" Ivan does not.
With the encouragement of other relatives though, Mum decides to do it anyway, singing The Carpenters' "Close to You", with Aleks, a singer herself, by her side. Ivan refuses to even stand up, sulking. And all of this gives his father tremendous joy. It's OK though: the most embarrassing moment for Ivan from this episode has to be the powder his friends deliver him for jock rash, or his tight Calvin briefs.
3. Aleks' parents are so against the whole thing they refuse to be involved in any way.
Aleks relays the news to the camera with stoicism, even though she's visibly upset. She says she respects their decision. Ivan notes that her parents aren't there and has her explain to him their absence: "They love me and support me, but they can't be here today." Later, in the wake of Ivan's adult tantrum about his mum embarrassing him in public, she stresses to him that he's lucky to even have his parents there. "You parents are here, count your blessings." She doesn't hold a grudge against Ivan though, forgiving him because he's a hot-headed European, just like her.
Married at First Sight airs on Channel Nine, Sunday to Wednesday. Come tell us what you thought of episode five at our Facebook group Pass the Popcorn.