What Happened on Married at First Sight's Girls' Night?
The MAFS Boys' and Girls' Night Reunions Were Even More Dramatic Than We Saw on TV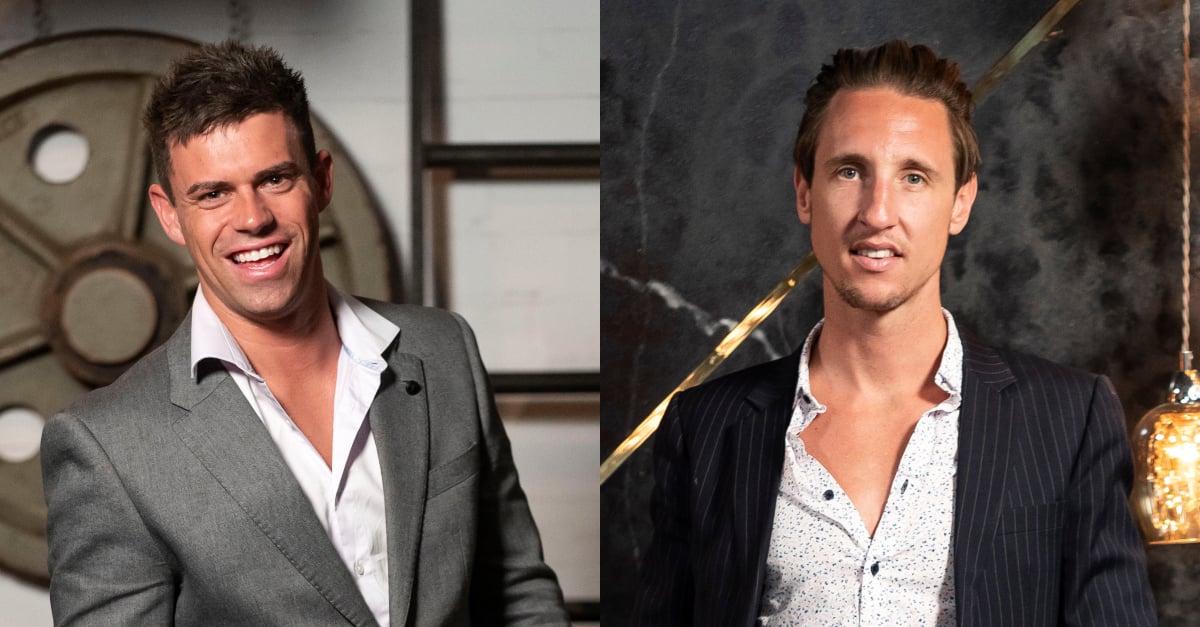 Married at First Sight's boys' and girls' night reunions saw cast members who had left the show returning to air old grudges and stir up drama between the remaining couples.
There we saw some more conflict — apparently between Liz and Hayley, who had not yet met on the "experiment" until girls' night. Hayley's return, of course, dredged up the Hayley-Michael cheating scandal, which really sealed the fate of David and Hayley's tumultuous relationship.
Talking to TV Week, intruder Liz admitted that she was "appalled" by her own behaviour on the night, but that it stemmed from her loyalty to Stacey. "I'd formed a close bond with Stacey and had heard about the cheating. I was going, 'It will be interesting to meet this woman.'"
During the episode, she called Hayley's behaviour on the season "revolting", and then stood up for Stacey as she's being berated by the other woman: "I was very protective of Stacey. Hayley was pummelling Stacey as a person. You could see Stacey was hurting. I'm there going, 'Hang on — aren't you the one who, while this woman was at home with her kids, decided to hook up with her partner?'"
"I absolutely lost it," she continued. "I was in such a rage because I couldn't believe someone could be spoken to that way. I was aggressive. I don't condone that."
Liz was so worked up she had to leave the room. "I told production, 'I'm not going back there while she's there.' I'm not proud of my actions. For me to be that way, I was pushed to my limit."
But fellow intruder KC said that Stacey was "no saint" in the context of the argument. "Some of the things Stacey was throwing out to Hayley were really belittling. [The insults] went both ways."
She said that she was sitting in the middle of the situation, but "ran" out of there. "Lizzie launched herself at Hayley. I just ran. Cathy grabbed me and pulled me in and I sat on her lap. It was really hectic."
Hayley told Woman's Day that she's "still traumatised" by the "attack", adding that she asked production to let her leave the shoot. "It was one of the worst nights," she said.
"I only agreed to return [that night] to seek vengeance on Stacey . . . I wanted to call her out for crucifying me over making out with Michael, whens he'd done far worse with Mikey." Ahh yes, the other cheating scandal.
She continued, saying that Stacey had accused her of being a sex worker: "Stacey was hiding behind this facade . . . using her two kids as a means of deflecting every horrible thing she had said about me behind the scenes."
Hayley said she was "set up by producers" and made to wait hours to join the other women, as they drank cocktails and spirits, which are usually not available at dinner parties. "By the time I was allowed into the dinner, the girls had started filming and had been plied with drinks."
She said Liz was out to get her from the beginning. "Lizzie was an absolute antagonist towards me — those crazy eyes from last year were back! She was screaming and shouting in my face while defending Stacey . . . it just didn't make sense.
"It was all too much – the other girls were in shock. I remember Connie being so overwhelmed, and KC almost fell off her chair."
Stacey explained her headspace to the tabloid, while acknowledging that she had "stooped to Hayley's toxic level".
"She mocked me for being a single mother! She couldn't fathom that I had a [legal] degree and two kids . . . She accused me of getting my degree out of a cereal box and suggested I have nothing to show for myself, only that I had a family.
"I was extremely triggered by those comments. My brother died when I gave birth to my son... it was a rough time."
She also defended Liz: "Hayley infuriated Lizzie by disrespecting me as a mother . . . I wanted out of there bu the producers kept throwing me back into it. Thank God I had Lizzie."
Mishel has said that she tried to "make peace" between the women, but was taken off set. "I was literally whisked up into a room and banned from speaking."
Connie told Krysti & Bodge that the Hayley-Stacey fight was "a lot worse in real life": "They showed you the G-rated version. It got, really, really bad. And it was quite heavily edited."
On Talking Married she added: "I was just sitting there with my head in my hands, looking at the ground and thinking, get me out of here . . . It was just so full on I just didn't know what to do with myself. I was a little bit embarrassed to be there seeing the girls carry on that way. It's just not right.
"It's so not right seeing women treat other women like that no matter what the disagreement is or what you're fighting about, no woman should stoop so low to the point where they're treating another woman in such a vile way."
Daily Mail have shots of an emotional Cathy leaving girls' night. She's then convinced by producers to return to the party. Did Cathy leave after saving KC from Hayley and Liz's altercation?

Poppy has previously said on Instagram, as spotted by Perth Now, that she too returned for the girls' night. There she explained on camera what really went on between her and Luke. But she doesn't expect the scene will air. "I started to get really visibly upset on camera, I basically said I left because of this, this and that. I spilled my guts about why I left."
She told Woman's Day that she shared everything with Liz, after the other woman "probe[d]" her for information, "like the minute I sat down she wanted to know everything".
"I just lost it and told her everything . . . every single detail about why I had to leave. But, of course, I was taken off set and hushed."
Now to Love explain that Tash and Natasha were absent as they were on a producer-arranged trip to Bali, while Aleks stayed in Perth with her ill grandfather. She added that she was "still traumatised by the dinner party and how I was accused of being unfaithful so I didn't want to be attacked again".
A source has also told Woman's Day that boys' night was no less riven by conflict — this time between Michael and Ivan. The source of the tension was the hotly disputed topic of whether or not Aleks had cheated on Ivan: "Michael didn't hold back and they went head to head in a full-blown yelling match over Aleks."
The pair were apparently taken outside the pub and closely watched by producers. "Both men were being really aggressive and it definitely could've gotten out of hand, but producers finally stepped in to diffuse the situation."
Apparently, Michael was encouraged to make trouble by the very same producers: "They were constantly in his ear all night. When things slowed down, they went straight over to him and whispered to him and sure enough, things kicked off again . . . They made sure it wasn't a friendly night."
And Ivan wasn't the only one who Michael went after. "Michael went absolutely hell for leather on Steve. He tore strips off him for not having sex with wife Mishel and for leading her on throughout the experience." Steve insisted in response that he and Mishel had an "agreement" — a likely story.
Mikey is believed to have entered the boys' night still embarrassed about comments made by his TV wife about his sexual prowess. "He came in defending himself, trying to make light of it as a joke and that he wasn't bothered by it . . . But the boys could all tell he was really embarrassed. He honestly believes his reputation with the ladies is done."
Meanwhile David was cut off from the free bar and then left the event: "David came in with a really bitter taste in his mouth so when he was cut off, he just stormed off set. But even though they chased after him, he refused to return."
Production attempted to rein in all the men's alcohol consumption: "Producers were worried a fight might start between the more brawny men, so they told staff to ensure they weren't too pickled by adding water to some of the booze!"
Ivan has since told Krysti & Bodge that the other grooms "pushed [him] a little too hard" over a 40-minute conversation about him and Aleks, and so he "suggested [they] go outside and sort it out as men". "I said what I had to say, and that didn't stop Michael. My response was, 'Keep going, buddy. Don't let my exterior fool you. Let's have a scrub out the front.'
"I was ready to go. I told him I was going to put a pool cue over his head."
It sounds like tonight is going to get really interesting.