What Really Happened Between Ciarran and Renee?
We Now Know the Truth About What Really Happened Between Renee and Ciarran Before Paradise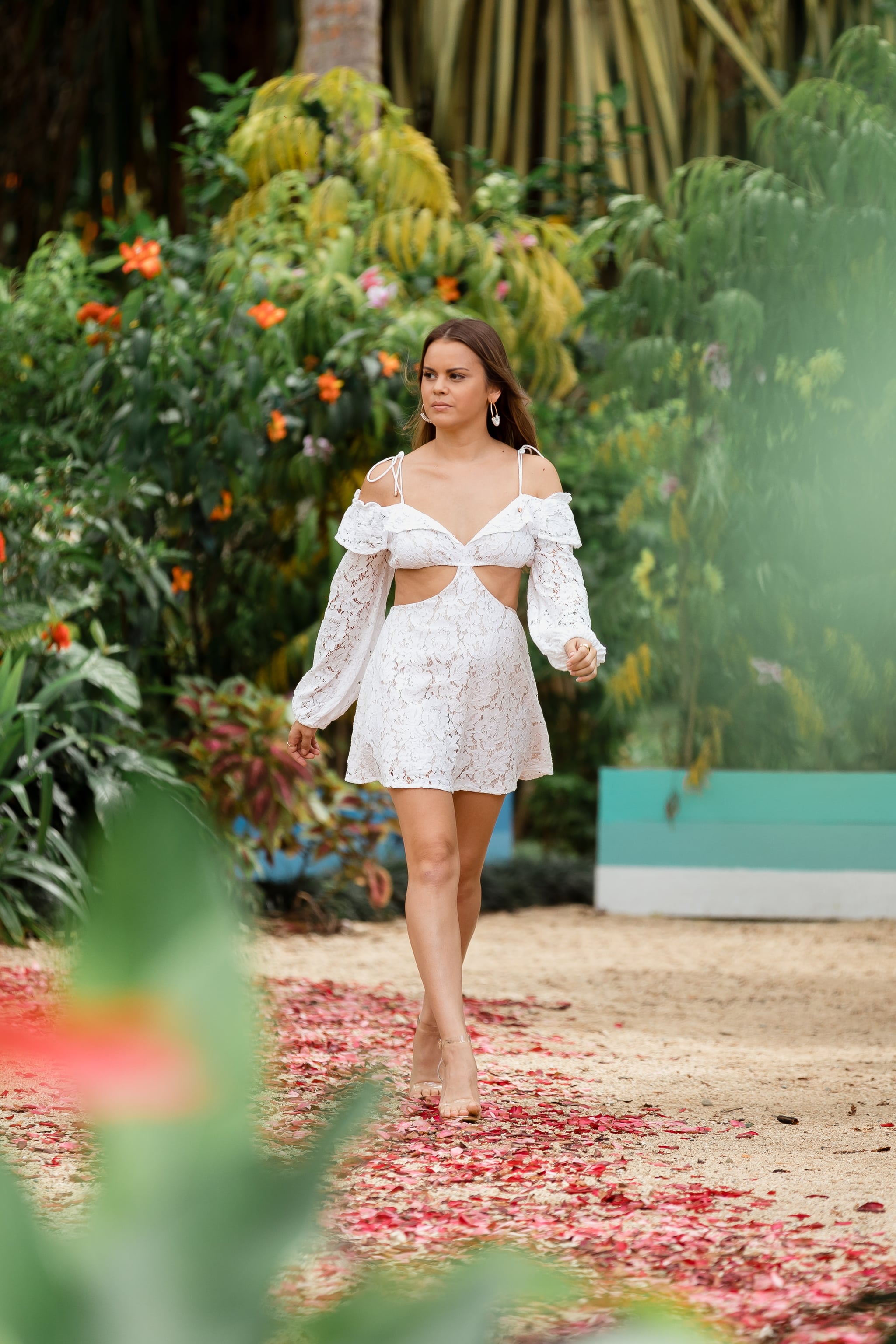 On last night's Bachelor in Paradise, the truth about Ciarran Stott and Renee Barrett's relationship came out in the final moments of the episode — Ciarran left Angie Kent's season of The Bachelorette to get back together with his ex.
While he appeared to leave the show last year after the untimely death of his grandmother in the UK, Renee, from Matt Agnew's Bachelor, has revealed on Paradise that Ciarran left Angie to rekindle his relationship with her. She said the exes were in constant contact while Ciarran was in the mansion, with Ciarran calling to check up on her and her dogs and saying he was worried about her. She confirmed that she was the person he called when he left the show: "Who do you think picked him up from the airport?
"He said that he was over it. He said that he wanted to come back. And that he realised that he still loved me and wanted to make it work."
Renee entering Paradise last night certainly shook up the island, with a banquet organised where the contestants could ask any questions of each other and Renee about the situation — including Renee's (ex-)friendships with other contestants, like Jessica Brody, Niranga Amarasinghe and Cass Mamone.
Ciarran offered during the episode, through tears, to leave Paradise, so that Renee could fully enjoy her experience — despite the connection he seemed to have formed with Jessica Brody. "I'm f*ckin' going. I'm done," a frustrated Ciarran said.
Talking to Ciarran after his dramatic exit from The Bachelorette, he told POPSUGAR Australia that he was in contact with his ex, hanging out together in Darwin, but that they were nothing more than friends: "We've hung out a few times with friends, and I'm not going to say anything bad about her because we're friends. That's just what it is, at the end of the day. I am single."
Speaking of her breakup with Ciarran to TV Week this week, Renee admitted that going into Paradise so soon after the fact still very fresh, "That's where I draw the line, he packed up his stuff, then I took him to the airport. Four weeks later, we were on Bachelor In Paradise together.
"The feelings are very fresh and we're airing all our dirty laundry in front of Australia."
Bachelor fan account Bachelor Funny has drawn up a predicted timeline of the Ciarran and Renee drama, noting that Ciarran would've left the Bachelorette for Renee in about July (the series is always filmed during winter).
By August a group of alum had travelled to Bali together, including a reunited Ciarran and Renee, then-new couple Jarrod Woodgate and Sam Royce, and Niranga, who supported Renee during last night's tense dinner.
After The Bachelorette finished airing in October, and Ciarran had garnered many fans, Ciarran was papped kissing women in Sydney, which means the relationship, to Renee's "four weeks" timeline, likely ended in October, before Paradise started shooting in November.
The topic of Renee has been a subject of conversation since night one. During their first night in Paradise, the contestants anonymously submitted any burning questions they had for their fellow castmates to answer at dinner. This, of course, resulted in Ciarran Stott sharing the gritty details surrounding his breakup with Renee.
After Ciarran revealed that he cheated on Renee at a wedding before breaking up with her, Cass admitted to the group that she was actually good friends with Renee. Meaning all the flirting Ciarran and Cass were doing may not be able to lead anywhere after all, because of her pre-existing friendship with Ciarran's ex.
"I'm loyal to my friends. If she was to walk in here, I'd probably have to see where my friend was at," Cass said before quickly contradicting herself. "At the end of the day, we are all here for ourselves": "If Renee was fine about everything, I might pursue this."
Renee also spoke to TV Week about her friend's sudden betrayal, "It was interesting to see who my true friends were.
"I expected a lot from Cass because she knew what happened with Ciarran and I. She even made a ring for me to give him as a birthday present, so I expected more from her. It was a betrayal."
During last night's episode, an emotional Renee spoke to Cass about how confronting it was to come face-to-face with her ex, and still be holding onto secrets for him. But while they were friendly on the series, Instagram Stories from fellow Bachie alum Sam Royce show Renee calling Cass a "b*tch" for hitting on her ex.
This definitely won't be the last we'll see of this drama!
- Additional reporting by Hannah Story