What Really Happened Between Michael and Hayley on MAFS?
Here's What We Know About the Hayley-Michael Cheating Scandal on MAFS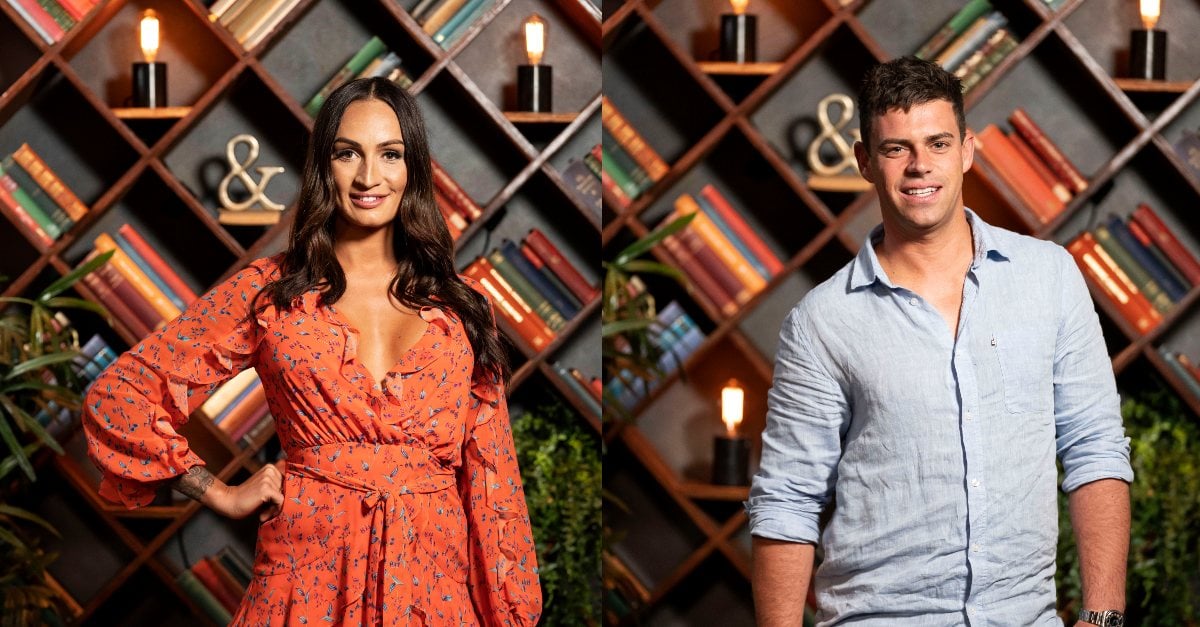 On episode 15 of Married at First Sight, David revealed one of the cheating scandals that has been rumoured since the series started: Hayley and Michael.
David made a home video of himself explaining the circumstances: It's 1am, and Hayley, Michael and Chris have gone out partying in Sydney's Darling Harbour. And someone has let David know that his partner is making out with Michael. "I was told that Hayley is macking out with Michael. Hayley is making out with Michael. My darling wife is making out with another husband." Does that mean the person who told on them is Chris?
David laughs because he has her keycard for the apartment. "It's probably best that I stay in here for now. I'm sure it'll all come up at the dinner party, and I'm sure it'll all come up at the commitment ceremony. Why am I smiling? Because I just want to go home and put this nightmare of a marriage behind me."
But what do we know about this alleged affair?

Vanessa told New Idea about the hook-up on Feb. 17, and the tabloid also have pics of the pair getting extremely close to one another.
"I swear on my life Hayley and Michael hooked up," Vanessa said. "It definitely happened."
She went on to contend that the pair "hooked up multiple times": "They were fooling around on the bed and dry humping. Shoes were flying everywhere."
Vanessa continued: "Michael walked into our room. He was really drunk; so was Hayley. She said, 'My husband doesn't want to fuck me'. And I said, 'Mine doesn't either.' [Michael] turned around and said, 'I would fuck both of you.'"
Insiders told New Idea that Hayley and Michael hooked up when Michael's partner in the "experiment", Stacey, was at home in Adelaide with her children.
On Fitzy and Wippa this morning, Michael denied the allegations. "I don't think Hayley is attractive, I think Hayley has a wonderful personality," he said. Ouch.
But he admit to something happening to TV Week on Feb. 24 — without saying what. "We were having a few drinks and hanging out. We were all joking and having a laugh. We were mucking around with the phone and were like, 'Oh how funny would this be if this got out?'
"We were fully clothed, just being stupid, being loose, having fun, not really understanding the implications of what rumours can do to your life."
According to Michael, Vanessa then said she had a video of him kissing a woman other than Stacey, and would sell it to the paparazzi. He reckons he was too drunk to know if he'd kissed Hayley or not: "It got to the point where I was like, 'Did I kiss her? Didn't I kiss her?'"
But Jon reckons the 'I was drunk' thing is just a way for Michael to cover his arse. "Michael obviously did it. He was just playing the 'Oh I was too drunk to remember' card. That's a lame excuse.

"I don't believe any girl would go out of her way to make herself look like a cheater."
Aleks says she spoke up when the cheating scandal came out, but that when Hayley was getting "completely bullied" by the group, she stepped in to defend her: "She was strong enough to stand up and admit to it. I have a lot of respect for people who tell the truth."
On Feb. 24, New Idea published a video of Hayley confirming the kiss. "There might have been something shared, but it wasn't a connection, that was more like a bottle of alcohol," she said. "Everyone's had a 16-year-old party pash, haven't they? One hundred per cent, that's all it was."
A source also told New Idea that the hook-up led to a confrontation between David and Michael, David calling Michael a "gutless dog" until producers stepped in to separate them.
"David is a huge guy, he's twice the size of Michael and he's a professional boxer too — he's not someone you would want to have an argument with. The producers had trouble pulling him off Michael so one of the girls started yelling out to call the police, but the producers managed to shut the whole thing down."
In a piece to camera, David apparently said: "I'm really angry right now. I'm going to stay in my room because if I see Michael again, I will punch his lights out and he will be a pile of dust."
The source added that Michael was sent to a different hotel for a few days, on the other side of Sydney, and production brought in security guards for the dinner parties from that point forward.
Ultimately, Michael told TV Week that the whole scenario made him realise how much he was into Stacey: "I'm not ready to let this girl out of my life; I'm not ready to say goodbye."

On News.com.au's Not Here to Make Friends podcast on Feb. 25, David explained that he and Hayley had been sleeping in separate rooms. He was in Tash and Amanda's old apartment.
"I heard this absolute howling out the front, it was Vanessa, she was absolutely hysterical. I ran out and Josh came out of the room and he was comforting Vanessa. It came out that Hayley and Michael had basically been having dry sex on Chris and Vanessa's bed."
He also revealed the real reason Vanessa and Chris' relationship seemed to descend so rapidly — the awkward dinner was actually three days after the cheating moment.
"[Vanessa left] because Hayley cheated and Chris didn't do anything to stop it, and other things happened that night, but Vanessa was so outraged that things had taken place that night that she left . . . Vanessa's got her own story to tell."
Hayley told Mamamia on Feb. 26 that Vanessa saw the incident unfold. Michael had encouraged Hayley to go along with him and lie about the kiss to "say [Vanessa] was crazy": "Vanessa called up Stacey and we came together and said that we were going to pull Michael up on his bullshit because he had been denying it.
"Our plan was to go into the dinner party and Vanessa was going to say: 'You know what Michael? Hayley told me the truth.' Instead of that happening, Stacey stood up and [accused me of] lying."
On Mar. 5, Hayley told Who that Michael tried to hook up with Vanessa too when they were all drunk together. "He was being a boisterous boy thinking he was some macho man."
Hayley said she got so much of the blame because her honesty had put her on the "outer" of the group. "All the cast members who didn't have my back, who were listening to the 'popular girl' in the experiment, they ended up messaging me and going: 'I'm so sorry I didn't have your back, I should have."
That same day, she also told A Current Affair, via Daily Mail, that they kissed repeatedly. "It wasn't this big in depth thing. I walked into a room. He had his Tommy Hilfiger top on walking around like the alpha male that he thinks he is. And we macked on . . . We went from chair to chair to chair. We went out. Kissed. It wasn't just one kiss. It was happening for the night."
On Feb. 26, Michael elaborated to TV Week that he truly didn't know either way, but thought Vanessa had video proof. "And then Chris goes, 'Mate, you 100 percent didn't kiss her. I did not see you kiss her.'" And Vanessa didn't have footage of the kiss itself. "And then Hayley told me we didn't kiss, and then she changed her story saying that we did kiss." And that almost fits with Hayley's story about going along with Michael's lie initially . . .
On Feb. 27, a handwritten letter from Michael to Hayley that was passed to her that morning at Fox FM in Melbourne, was leaked to the Daily Mail: "Hayley, you're not the only one I kissed! Plenty more secrets. M."
Stacey came out to say it's fake, and that her TV husband is dyslexic. "I don't even think much of him right now but this is weirdly desperate and low," she wrote in the comments to a MAFS Funny post about the letter. Hayley swiped back: "You are a terrible supposed lawyer . . . I thought you didn't argue without fact."
Fifi Box confirmed on Feb. 28 that Brendan Fevola, her radio co-host, had actually written the note. Ringing into their show with Byron Cooke, Hayley asked that they "inbox Stacey for me and post it on your Instagram apologising and telling her I am not some crazy person forging a letter".
Stacey spilled in her Instagram Stories that when her own cheating scandal came out at the reunion Michael owned up to his actions, saying "that he did actually kiss her and he remembers". Yikes.
Married at First Sight airs on Channel Nine, Sunday to Wednesday. Gab about all things MAFS with us at our Facebook group Pass the Popcorn.