Who Was Eliminated First on MasterChef Australia 2020?
First Eliminated MasterChef Contestant Lynton Tapp Tells Us How He Felt Like a Fanboy This Season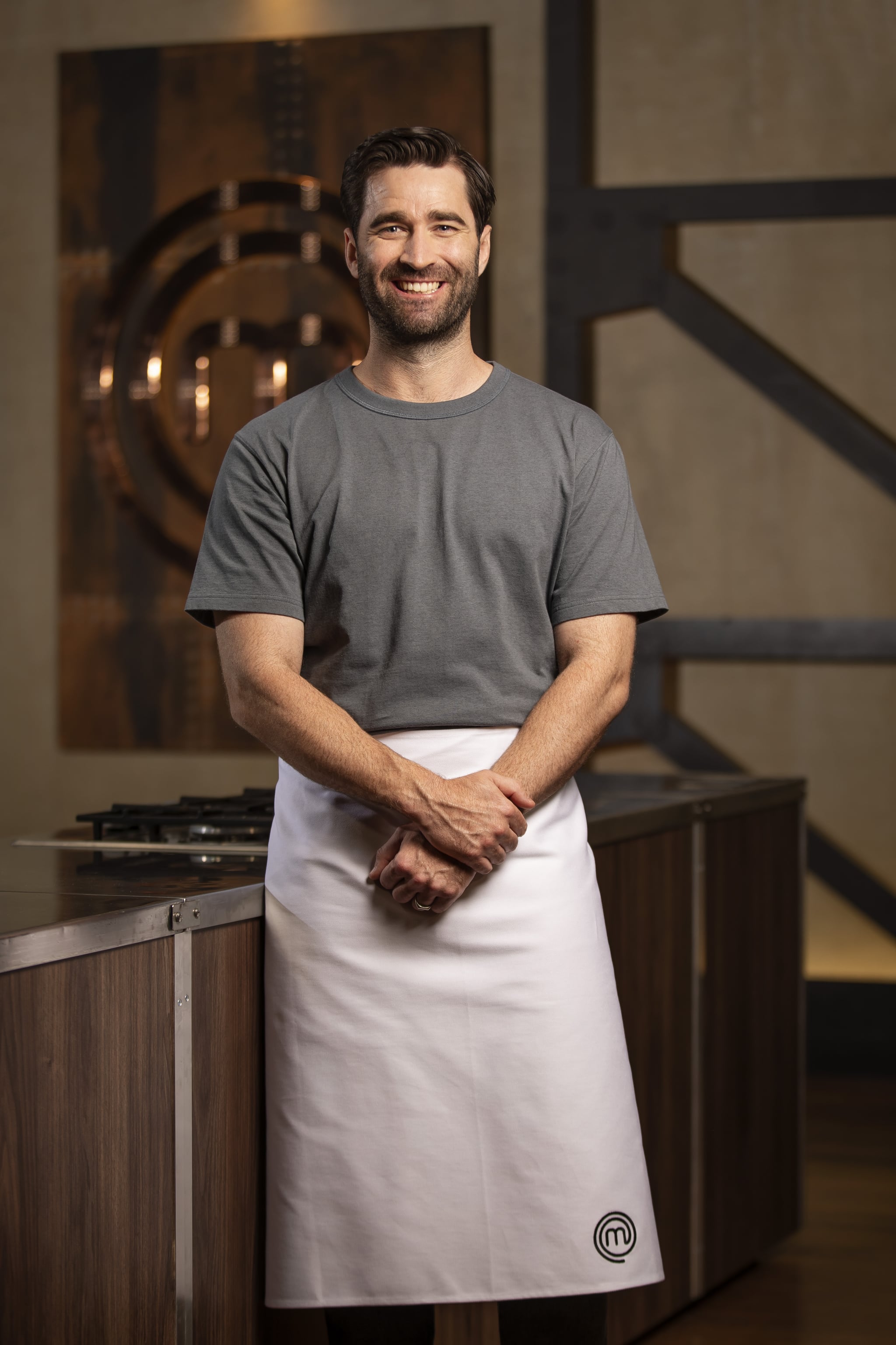 Lynton Tapp was sent home from MasterChef: Back to Win last night, after two ambitious cooks.
The challenge of the Elimination was choosing how to spend your 90 minutes. The judges tasted dishes as they were completed, sending some people up to the gantry to join immunity winner, Callum. You could, like the brave and chaotic Poh Ling Yeow, spend your entire 90 minutes making a perfect Strawberry and Lychee Cake.
Or, knowing that you'd need to cook again with the remaining time on the clock if your dish wasn't one of the top 19 in the competition, you could set out a conservative amount of time for two possible dishes.
Season five runner-up Lynton chose to split his time fairly evenly, making a mussel dish the judges thought needed a bit more flavour, before choosing the adventurous route himself in round two, with a blue swimmer crab, buckwheat and grilled asparagus dish. It was described by the judges not only as "beige", but as "dull" and "textureless". Oh no! While Courtney Roulston, Hayden Quinn and Chris Badenoch each proved themselves with their round two cooks, Lynton found himself in the bottom two with Rose Adam.
Lynton's loss after being up for immunity himself on Thursday, cooking alongside Gordon Ramsay, demonstrated that you can be "one of the best cooks in the competition", judge Andy Allen opined, but could still find at Elimination that "today is not your day".
Read on for our interview with Lynton, the first person to be eliminated from MasterChef 2020:
POPSUGAR Australia: How did it feel to be the first person eliminated from MasterChef: Back to Win, after being up for immunity last week?
Lynton: There's definitely a bit of disappointment obviously. In any other season of MasterChef, I wouldn't have even been in the bottom two going into Elimination, but obviously they've changed the judges and also rejigged the format a little bit. And having 24 of the best of the best come back they had to make it a little bit tougher and a little bit more exciting as well.
I am a little bit disappointed because I didn't want to go. I desperately didn't want to go, I desperately wanted to be on there for as long as I could. But I can leave there with my head held high because I'm really proud of what I did all week, what I cooked and how I performed. Also my elimination dish, my final dish, I'm still really proud of. I think it was a great dish. Obviously, I could have refined it and done things differently, but that's the beauty of hindsight, isn't it, after a long period of time passes between actually cooking it and then talking about it. And that's just the evolution of food. Anyone would love to have more than 43 minutes to create a dish, but that's all I had and I think I did a great job.
PS: You said that the judges might not have tasted a dish like your blue swimmer crab, buckwheat and grilled asparagus before. Do you think it was too adventurous for the judges?
Lynton: I think there was a level of creativity in there that the judges may not have agreed with. This is where my experience comes in. I've worked in some of Australia's best restaurants and toughest restaurants throughout the last seven or eight years, and I respectfully disagree with a couple of their comments. I'm not saying I don't accept their decision — of course I do. I have the utmost respect for those three judges, they've been amazing ambassadors and professionals in their own roles.
But the nature of being that 24 of the best means that there is going to be some conjecture at times, especially when a decision comes down to personal preference, and it's not based on say having a Pressure Test where you're cooking Maggie Beer's sour cream pastry, where there's a set amount of time, set amount of ingredients, and a set procedure, and a set judging guideline. When you're comparing modern Australian to Middle Eastern to vegetarian to dessert, it becomes tricky to navigate, especially in judging and feedback.
PS: What was it like to cook along with Gordon Ramsay? Was that your highlight of the season?
Lynton: Without a doubt. It was fantastic. Being invited back was a highlight because there's roughly 240 potential candidates that could have been offered a place back and I was one of those. So I was exceptionally chuffed at that.
One of my best moments was on Tuesday night in the Team Challenge. I was waiting for the opportunity to get on that pass and into a leadership role in that Team Challenge and I did and I really thought my skills showed throughout. I was very proud. The round robin Team Challenge with Callum and Sarah, I helped with those three creative beautiful menus. We communicated well and I thought that I showed great leadership in that.
Then cooking along with [Gordon] to make the potato-crusted Murray cod, that was a once-in-a-lifetime opportunity.
PS: What made you want to return to the MasterChef kitchen? How have you grown as a chef since your first time on the show in 2013?
Lynton: I could almost say it's not comparable, the Lynton in 2013 to Lynton in 2020, in terms of cooking. When I was in there in 2013, I went exceptionally well and that was down to my dogged determination and my stamina. Then I just kept practising and practising and practising and practising, cooking, cooking, cooking. I really knew very little at that time about food, and I was learning on the go.
This time around, coming back, I felt the cooking and the ingredients and technique side, I've got that in the bag, so I was focusing on different things. I was focusing on the tactics a little bit more — so what type of dish I wanted to put up, and what I wanted to portray in that dish, so I could talk about a story a bit more.
I think the evolution of Lynton over the last seven years has been significant and a lot of growth. Coming from a [cattle] station all those years ago, from cooking corned beef fritters to cooking the food that I do in restaurants and to what I produced this week, it's a big jump.
PS: Something we love about MasterChef every year is how supportive contestants seem of each other. Did you feel that positivity and warmth returning to the kitchen?
Lynton: I did. I've since found out and I think everybody got a sense of it last night — there were a lot of gasps, everyone was surprised that I left — that everyone was, and have told me since, they were really sizing me up as one of the main contenders. So there was an element of that. But everyone is so friendly and supportive and lovely.
I must admit I was fanboying in there to everyone in that room. Some of them are my friends and colleagues over the years, but there's some that I've never met and just watched through the television or read their books or follow them on social media. So I was a bit chuffed to finally be in a room with them and then them recognise who I was and say, 'Oh, hey Lynton, I love what you do. I saw you last week doing this . . .' It's a pretty exciting and surreal experience in that respect.
PS: What are you enjoying cooking while in self-isolation?
Lynton: I've actually been quite busy in self-isolation. Atticus [Lynton's son] and I are starting a little cooking program for ourselves across my social media, and we're making family-friendly meals that everyone can recreate at home. Being in isolation has made me focused on, 'OK, what are people likely to have in the cupboard?' And so I'm thinking along those lines. I'm also thinking, 'OK, their kid's at home — what can you do in a reasonable amount of time? What shortcuts can you take to make something that's tasty, easy and healthy?'
I think my overall goal is to have my recipes created in the suburbs of Australia. I don't expect them to be featured in the premium food magazines anytime soon. I want the mothers and the fathers to give me feedback and also think that they're tasty. So far, that's the feedback that I've been getting, and it's really warmed my heart because I haven't had a lot of experience like that across my years making TV shows [Network Ten's My Market Kitchen and A Taste of Travel], so it's nice to get that firsthand experience and feedback about life and recipes for them.
MasterChef Australia airs on Network 10, Sunday to Thursday. Join us at our Facebook group Pass the Popcorn to gab about all things reality TV.