Zoe-Clare Confronts Areeba on the Bachelor Premiere
The First Fight of This Bachelor Season Was About Respect and Red Hair & It Was Truly Baffling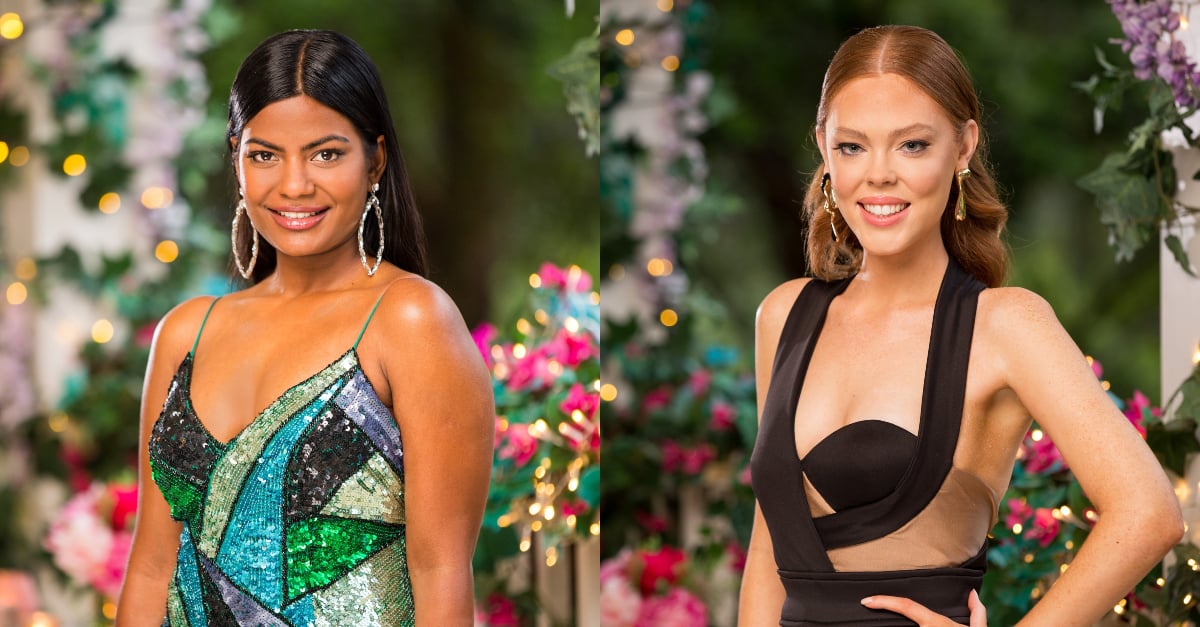 On tonight's premiere of The Bachelor, Areeba sat down and inserted herself into a conversation between Locky Gilbert and Zoe-Clare — and the bold move set up some early season drama.
But Zoe-Clare wasn't only offended by Areeba coming over and sitting next to them, effectively cutting short her time with Locky. She read it as a deliberate act against her, because she's the only red-haired contestant, rather than something Areeba would've done to anyone so she could spend more time with Locky.
If you're feeling confused, you're not the only one. Zoe-Clare struggled to explain her position to the other women, and to camera, talking at times about the importance of representation for people of her hair colour and pale complexion. She cried that Areeba cutting in and not adequately acknowledging her, just sitting down and talking to Locky and Locky only, was a way of "targeting her" and made her feel "invisible".
While the other contestants mostly agreed that Areeba's behaviour was rude, they didn't quite catch how Areeba's dogged pursuit of Locky translated into a slight against Zoe-Clare based on her hair colour. And neither did the producers, who tried to ascertain if a negative comment from one of the other women set her off. There was no such jibe. "You know what, I'm proud of being a ranga. I will be a ranga until the day I die," Zoe-Clare declared. "We are more striking than any other human that walks the Earth."
After going around the mansion telling other people she wouldn't tolerate Areeba's perceived nastiness, she eventually confronted the other woman. "I just wanna say what you did was really not appropriate, and it was really not OK."
"What are you talking about?" Areeba replied, before Zoe-Clare explained how disrespectful it was to interrupt her without saying, "Excuse me," or even introducing herself.
"He expressed that we had a vibe. You didn't care," she continued, bending over in front of Areeba with her hands in the other woman's face in an attempt to intimidate her. "So thank you so much for vibing whatever you thought you were vibing, for you to interrupt whatever I was vibing. And that's really great for you, but you also look kinda like a moll."
Areeba couldn't help but laugh as the rest of the women watched on in horror. "I really don't care I interrupted," she replied curtly, as Zoe-Clare walked off, before continuing to talk about it as a matter of "respect". At the same time, a nonplussed Areeba started to eat a sandwich . . .
"You acted like a moll, I called you out on being a moll," Zoe-Clare concluded.
No one behaved well in the midst of it, with Areeba not taking on board what might have been valid about what Zoe-Clare was saying (that perhaps she could have interrupted Zoe-Clare and Locky more respectfully), and Zoe-Clare resorting to cheap insults. By the time of the rose ceremony, Zoe-Clare had "taken ill", with Locky reserving a rose for her.
It's not The Bachelor without an early rivalry . . .
The Bachelor airs on Network Ten, Wednesday to Thursday. Join us at our Facebook group Pass the Popcorn to gab about all things reality TV.