Harry Styles Second Album Details
Harry Styles Is Coming For Our Necks, and TBH, We're Not Ready (*Whispers* Yes, We Are)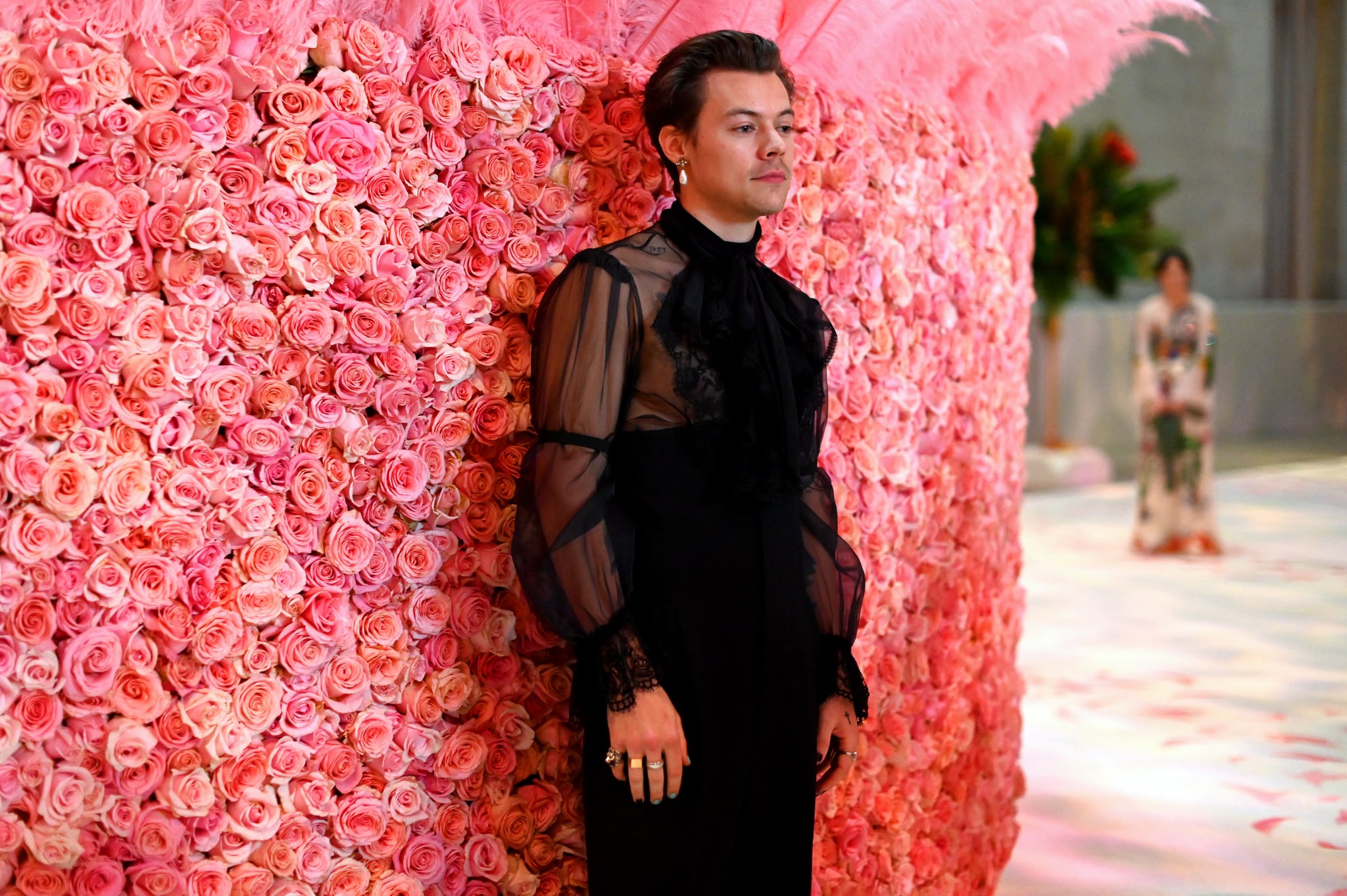 It's been 84 years since we've gotten new music from Harry Styles. Alright, we're being dramatic, but it feels like it's been ages since Harry Styles was released in 2017. But gird your loins, fam, because we feel very confident that our favourite curly haired Brit is about to bless us with new music. The timing just seems right, you know? The notoriously private 25-year-old hasn't given us a lot to go on in the way of what we can expect from his second album, but as someone very deep into this fandom and who has dedicated her life to this man (you think I'm joking, but I'm absolutely not), I've cobbled together everything I can find from the internet as well as made my own predictions for what's coming.
What Aesthetic Will Harry Styles Have For His Second Album?
Styles lived and breathed his aesthetic throughout the course of his first album. Harry Styles by Harry Styles was all about soft pinks, florals, and kindness. Styles's style (say that five times fast) consisted of sparkles, flared pants, and one iconic pair of pink sunglasses. It was light and bright. Looking ahead to Styles's second album, it seems we're in for something a little bolder and maybe a little darker.
Styles's stylist Harry Lambert told Miss Vogue after the Met Gala that the camp look they went with speaks to the aesthetic Styles wants to try in his new era. We got high-waisted black pants with a sheer lace shirt and a singular pearl earring, not to mention beautifully painted nails in soft turquoise and black. Since going off tour in 2018, we've also seen Styles rocking a Gucci handbag and keeping his nails painted in a rainbow of colours.
Lambert also told Miss Vogue that he and Styles are really going for the New Romantic vibe with both of Styles's Met Gala looks (he changed for the afterparties), so that's probably what we can expect to see in the future as well. If you ask me, Styles has already been playing with New Romantic-style fashion, which is a very British style that's a bit flamboyant and flashy, a la Boy George from Culture Club. Styles has been toeing the line into flamboyance for years, so maybe this next era will see him firmly settling into this aesthetic.
What Kind of Music Can We Expect on Harry Styles's Second Album?
Honestly, y'all's guesses are as good as mine on this one. Styles has been pictured in studio with Kid Harpoon, as well as hanging out with him multiple times. The two previously worked together on "Sweet Creature" and "Carolina" on Harry Styles, two very different songs with very different vibes. Kid Harpoon has also worked with Florence + The Machine, James Bay, and Maggie Rogers, among others. If it were up to me, I'd steer HS2 more toward "Carolina" than "Sweet Creature" (as lovely as "Sweet Creature" is), because I think the upbeat boppy vibe is more suitable for this new era.
Styles also spent some time with producer Mark Ronson at Met Gala festivities and after the fact (and here again), which means it's possible he's been working with him on music as well. Ronson has worked extensively with artists like Lady Gaga and the late Amy Winehouse, and we would not be mad about some of those influences floating into Styles's next body of work.
One thing to consider, here, though, is that both of these outings with writers and producers happened very recently, and most of us fans have been led to believe that Styles's second album has been pretty much buttoned up for months. Maybe he was just catching up with old friends (and colleagues) on these occasions, but we can't help but hope both of them had some influence on the new music. We're also hoping the next album might pull in some of the sounds of two previously unreleased songs he performed on tour, "Medicine" and "Anna." Both songs are a departure from some of the sweet slow songs we got on Harry Styles and judging by fans' reactions to the songs, I think they would be happy to hear more in that vein. (It's me. I am fans.)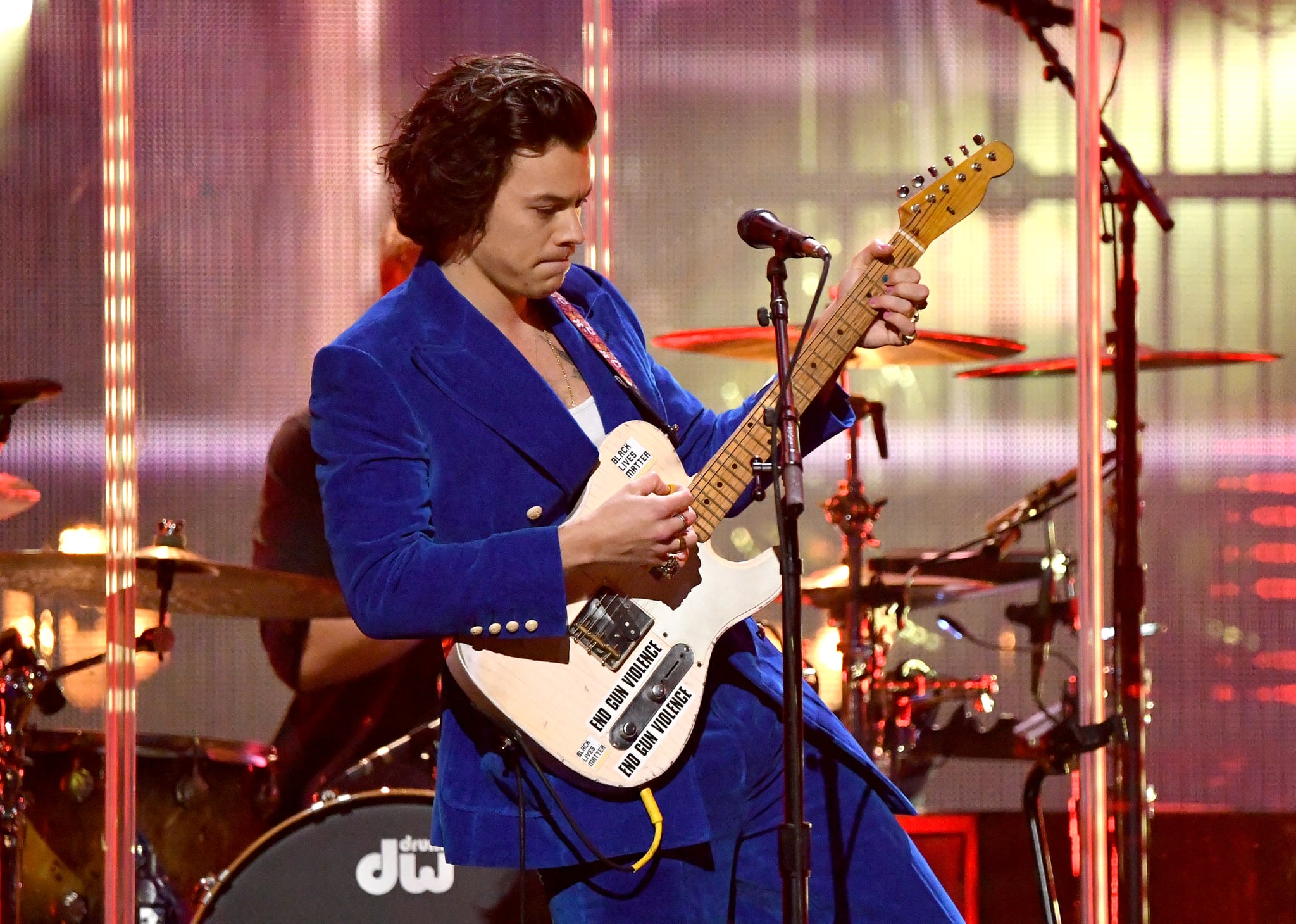 And while we don't know if this will come into play at all, it wouldn't be absolutely unheard of for Styles to draw inspiration from his mentor and close friend Stevie Nicks of Fleetwood Mac. He has already covered Fleetwood Mac's "The Chain" numerous times, but who's to say he wouldn't let the influence of one of his favourite bands sneak into some of his own new music? Anything is possible.
When Will Harry Styles Release His Second Album?
We have been contemplating this timeline extensively and have come up with . . . nothing concrete. Here's what we know. Singer Liam Gallagher said in July that he had heard some of Harry's new music back in March, which means he had something ready enough to share. Gallagher also raved about Styles and his music, and as an outspoken man, it's high praise for Styles.
At the beginning of July, Styles was seen in NYC, supposedly at a photo shoot for Rolling Stone magazine, but that's not totally confirmed. In June, he was seen hanging out with Rolling Stone writer Rob Sheffield on more than one occasion. While the two are friendly, it seems highly likely that these instances are linked and something might be coming from Rolling Stone. For Harry Styles, Rolling Stone ran a feature in April 2017, one month prior to the album's release. It stands to reason that if in June and July, Styles was working on something with the music magazine, it could possibly be released in September or October, meaning an album could quite possibly follow right behind.
What we do need to remember, though, is that Styles is supposedly in negotiations for The Little Mermaid to play the role of Prince Eric. Should he land that role, he'll have to figure in time for shooting the movie, which would factor into his music schedule. We don't know exactly when the movie is scheduled to start filming, but last we heard, it's looking like it could be April 2020. In theory, Styles could drop his music at the end of this year, shoot The Little Mermaid and then go on tour to support the album before circling back to do promo for the movie. It sounds like a whole lot of work, but just taking a peek at Styles's history, we can see the man likes to say busy.
Our biggest tip, though, that something is probably coming sooner rather than later is the fact that Styles has been seen filming something this month. He was in Cancun, Mexico, at the beginning of August filming this mystery project and in Scotland filming just a few days later. Though he's been working with Gucci on a few projects recently and has movie rumours swirling around him, on the trip to Mexico, he had his stylist, Lambert, with him, as well as his photographer from his last tour, Hélène Pambrun. It seems likely to us that that means he was working on a personal project rather than something for Gucci or someone else.
There's been speculation about whatever he was filming, but our guess is that it's either a video introducing the new era, similar to the one he shot to announce his first single, "Sign of the Times," or a music video for a forthcoming lead single from the second album. Either way, it feels like something is coming very, very soon.