15 Fashion Icons Design the Harper's BAZAAR March 2013 Cover
Harper's BAZAAR Editor Kellie Hush Calls In 15 Fashion Icons for Anniversary Issue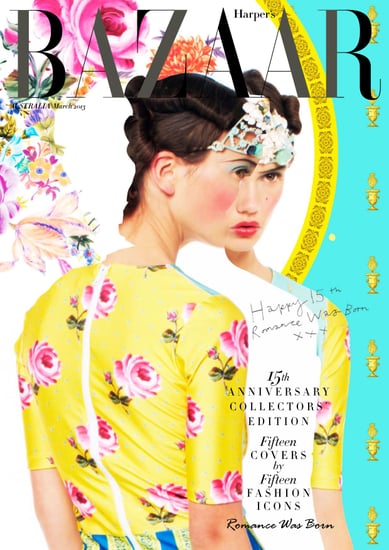 Harper's BAZAAR turns 15 this March, and to celebrate editor Kellie Hush commissioned 15 fashion icons to each design a special collector's edition cover — with all 15 options hitting stands this coming Monday, the 11th of February. The contributors credits for this collaborative project reads like a roll call of the industry's biggest names, with local labels sass & bide, Collette Dinnigan and Romance Was Born (pictured above) flying the Australian flag amongst the likes of Giorgio Armani, Victoria Beckham, Frida Giannini for Gucci, Christophe Lemaire for Hermès, Francisco Costa for Calvin Klein, Karl Lagerfeld, Alber Elbaz for Lanvin, Marc Jacobs for Louis Vuitton, Christian Louboutin, Stella McCartney, Diane von Furstenberg, and Harper's BAZAAR's global fashion director, Carine Roitfeld. We took the opportunity to quiz Kellie about the impressive project. See what she had to say . . .
How did the idea come about for the 15 cover options? Soon after I was appointed editor I flew to BAZAAR headquarters in New York. I had already started thinking about the 15th anniversary issue so while I was there I looked through the Hearst archives to see what anniversary issues had been produced over the years. There were special boxes, Swarovski crystal embellished covers, mini mags, big mags, hard cover books — all kinds of things. BAZAAR has always been about the cover and historically Harper's BAZAAR has created some of the most memorable covers in magazine history so I knew I wanted to create some kind of cover magic.
How did you manage the creative visions of so many people while remaining 'on brand' so to speak to Harper's Bazaar's aesthetic? There were a lot of emails, quite a few late nights and early mornings speaking to designers all over the globe but the end result is incredible, mind blowing. My brief was simple "share your creativity and latest inspirations" and knowing that I was working with some of the most talented designers in the world kind of ensured I was going to receive something incredible.
Has any international arm of Harper's ever issued this many multiple covers? BAZAAR Russia has done a similar project for an anniversary.
Which one is your personal favourite (tricky question I understand!)? I love all of them! It's like picking a favourite child. I have had several people say they are going to frame all 15 covers and hang them down their hallway — I think I might do the same.
Fifteen years is quite the achievement! What do see the future of Harper's looking like? Bright! Harper's BAZAAR is the oldest continuously-published fashion magazine in the world (first published in the United States in 1867) and is here to stay. It is a changing media landscape so how you read BAZAAR today might be very different in the future but it still will be an incredible global luxury fashion brand.
What does Australian style mean to you? Young, talented, fresh and athletic. I love Australian fashion and have always been a big supporter of our industry and personally love wearing clothes created by our designers.
What designers are you most excited about seeing at MBFWA? I'm yet to see a final schedule so can't comment just yet but the stars of the past years have been Dion Lee, Josh Goot, Ellery and I always love a Lisa Ho and Ginger & Smart show because those women know how to use colour and print.
Can you share any anecdotes from any of the cover shoots? I think what is amazing is that one of the busiest people in fashion, Mr Armani, was the first to send his artwork — a week before deadline. It says a lot about why he is so incredible successful today.