60 Seconds With Olivia Palermo Before NYFW Madness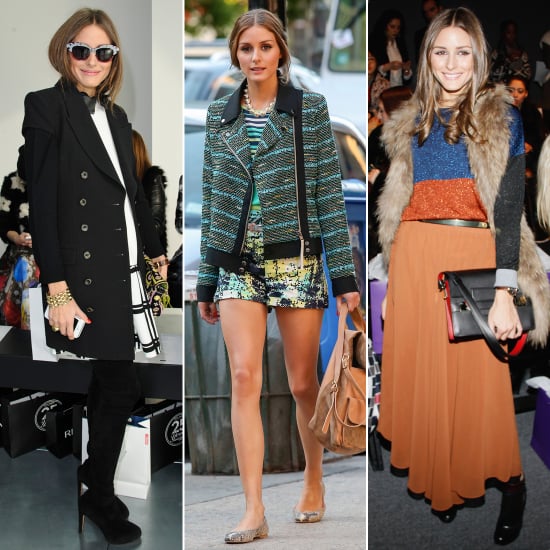 You could put Olivia Palermo in a potato sack and Crocs, and she'd still turn heads — but she's not just a pretty face. Olivia's gone from reality TV star to street style darling and fashion authority in her own right — as a Piperlime guest editor and editor of her own site, OliviaPalermo.com. You see, she's not just a natural beauty, but a girl with a serious love for fashion and a great eye for detail. She's one of the best-dressed women in any room — and any front row. Naturally, we'd like to know just how she does it. Here, she breaks it down in under a minute.

POPSUGAR: Fashion Week can be tough on real life — do you get to see Johannes [Huebl] much during FW?
Olivia Palermo: Fashion Week is kind of just my thing and my team at OP.com.
PS: Last Fashion Week was rough with the snow and storms! Does practicality ever trump style for you?
OP: No. You can always be practical and stylish.  
PS: Do you plan out your FW outfits in advance? If not, do you find yourself totally winging it the morning of?
OP: Yes, I think it's best to totally wing it.
PS: Any tricks for packing when you head to Europe for the marathon of Fashion Weeks there?!
OP: Lots of accessories and coats.
Keep reading for Olivia's favorite Fashion Week memory and the piece you might see her wearing straight from the Fall '13 runway.

PS: What's your favorite Fashion Week look of all time?
OP: I can't think of one look in particular, but the Paris and London fashion are always most inspiring.
PS: What do you always carry in your bag during Fashion Week?
OP: My Mophie charger.
PS: What was your first Fashion Week memory?
OP: Attending Zac Posen in Bryant Park.
PS: What have you been dying to wear since you saw it on the runway at Fall Fashion Week?
OP: The thigh-high mossy-green Céline boots from runway. 
PS: Who's the most interesting person you've gotten to sit with in the front row?
OP: My dear friend Giancarlo Giammetti.  Below: Olivia snapped a photo with her good friend Giancarlo (left) and boyfriend Johannes (right) while on vacation in Greece this Summer.