Adriana Lima, Doutzen Kroes and Linday Ellington Share Their Valentine's Day Style Tips: Shop the Victoria's Secret Angels'Look
The Victoria's Secret Girls Share Their V-Day Style Tips
When it comes to Valentine's dressing, there are of course the cliches: minidresses and heels, red and pink, and some slinky lingerie. While we're all reaching for some unexpected twist on the look, seeing the VS girls in their sexy silver minis has inspired us to go high-shine for date night. Our US sisters caught up with the gorgeous Doutzen Kroes, Lindsay Ellingson, and Adriana Lima to find out exactly how they prep for Valentine's Day. Read on for their dressing tips, then shop our picks to channel the bombshells' V-Day style, via ShopStyle!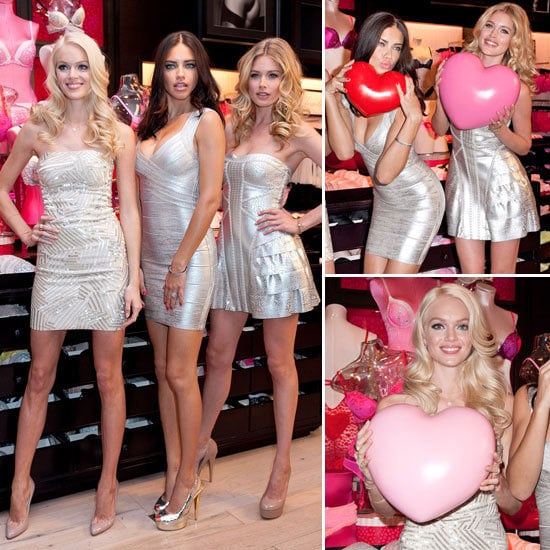 Don't be afraid to wear red: "Valentine's Day is my favourite holiday so I love to get dressed up with a red dress, heels — the whole thing. I'm a little cheesy that way, but I love it." — Lindsay Ellingson
Slip something sexy underneath: "Whatever I wear, I would wear something super sexy underneath, like a lace corset or a garter slip because just knowing you have it on makes you feel confident and sexy." — Doutzen Kroes
There's nothing wrong with playing up your assets: "I haven't figured it all out yet, but it has to be something tight and sexy, like this [Hervé Léger bandage dress]." — Adriana Lima
We quite liked the silver thing the trio worked at a recent in-store event in SoHo, NYC. Shop their molten metallic look below!