Anna Heinrich Fashion Shoot and Interview
"I Always Felt Like I Couldn't Do Things and So I Had to Prove Myself Wrong . . ." — Anna Heinrich
From boarding school to The Bachelor and everything in between, Anna Heinrich's life has been far from ordinary. Now Australia's golden girl talks to POPSUGAR Australia about family, the future and finding her happily ever after.
When Anna Heinrich arrives on set for her shoot with POPSUGAR Australia it's hard not to be bowled over by her energy. She walks in wide-eyed, barefaced and wearing a khaki mini skirt and white tee. She's got a grin from ear-to-ear and greets each member of the crew individually. The vibe immediately feels warm, and without even realising it, she has set the tone for a fun day, while still remaining every bit the professional.
We're here at La Porte Space in Sydney's Rosebery to photograph Anna for the Spring instalment of #popaushoots, and to talk candidly about her life so far. We're covering it all, from her career, to her family and friends, to her relationship with fiancé Tim Robards — because let's face it, she's been firm on our radar ever since we came to know her on TV in 2013.
Strong, confident and unfazed by all the action around her on our shoot, Anna has an independence that is seriously impressive — so it's not surprising to find out that she moved away from her family in Goulburn at just 12 years old, to go to boarding school in Sydney.
"You know what, it was a lot of fun. I was a boarder from Year 6 until Year 9, and then my mum moved up," says Anna. "I really enjoyed it. I think you got in trouble a lot more if you were at boarding school than if you were a day girl [laughs] — I got in trouble a fair bit but I was pretty good at the same time."
After a few years, Anna's mum made the move to Sydney, and the family has remained close ever since. Even on our shoot, Anna beams as she talks about her parents and sisters. "My family and I have always been really close. My mum lives about five to 10 minutes from our place in Bondi and I even lived with her up until I moved in with Tim about three years ago," explains Anna.
Anyone who has seen snaps of Anna and her two sisters, Andrea and Charlotte, knows the trio have a very close bond. But Anna reveals that they do have their differences.
"I think I'm the relaxed one, the chilled-out one, whereas Andrea is the loud one. She's got the biggest mouth — she's got a bit of a Julia Roberts mouth," laughs Anna. "And Charlotte is the crazy one, but really when you put us all in a room you cannot hear a thing, we're all trying to compete with each other."
Despite their light-hearted sibling rivalry, Anna makes no mistake about the role family has played in her life so far. At just 26 years old, Anna was building a solid career as a criminal lawyer when fate (and a girlfriend!) presented her with a unique opportunity: The Bachelor.
"My girlfriend basically signed me up. It wasn't something I ever planned or set out to do — it really just fell in place," Anna tells us about her decision to go on the show.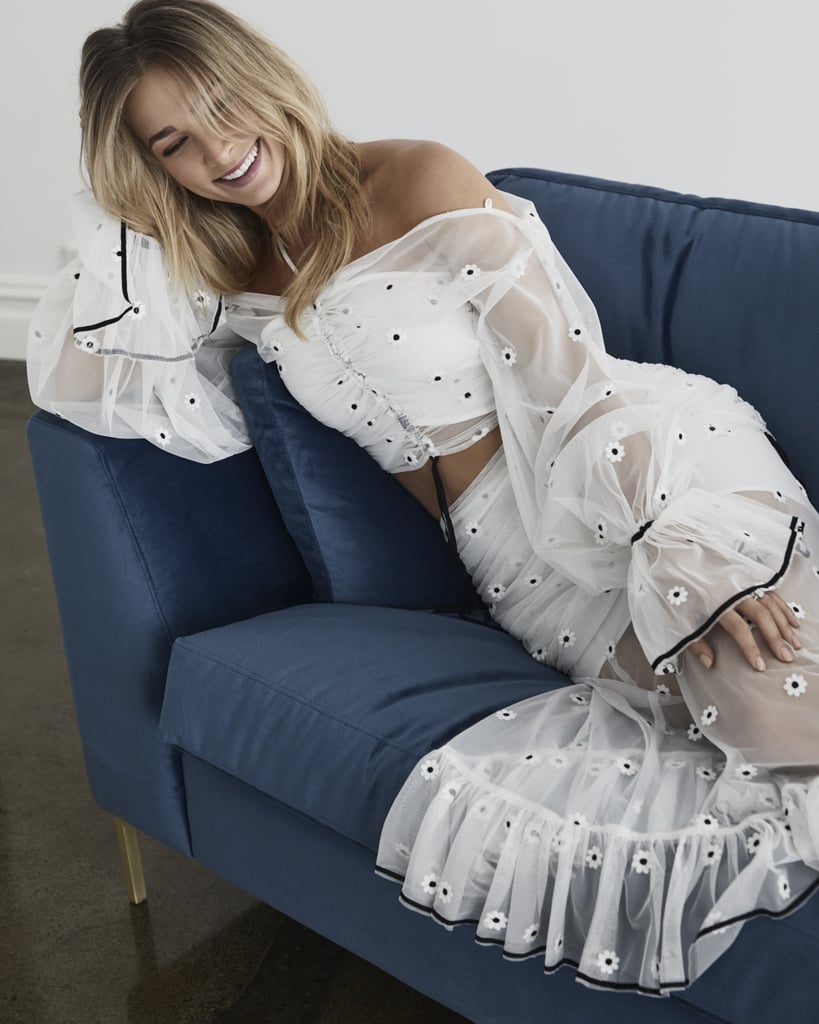 Initially she was hesitant, unsure if the move would be one she'd live to regret. "There was a time where I was like, 'I can't do this.' I had a good career that I didn't want to jeopardise in any way, and I didn't want to embarrass my family and friends," she reveals. "But I just felt there was something that was drawing me towards the show — now I know it was Tim."
As Anna begins to shoot with POPSUGAR Australia, making every piece feel both elegant and beautiful, it's hard to imagine she could ever feel less than perfect. But it seems even Anna has experienced insecurity and self-doubt.
"I actually remember the first day of The Bachelor — my mum dropped me off — and I rang her and was like, "Oh my god Mum, I can't do this, they're all models, I'm so out of my league." It was just so daunting because everyone looked like models to me," she says. "I felt very insecure and I didn't know if it was the right thing to do."
It turned out it was very much the right thing to do and — as they say — the rest is history. Anna met Tim, they fell in love and we fell in love with them.
"I felt very insecure and I didn't know if it was the right thing to do."
From afar it seems like Anna is very much living her very own fairy tale. But she's the first to admit that building her relationship with Tim in the real world took time and effort. "It took probably a good year or so," she says. "I was still wary of the fact that we were in the limelight and people wanted us to be together, so we had to separate that from our real relationship."
One thing that helped keep Anna grounded was her career. While most people would be lured by the promise of fame and fortune, Anna says she was determined to keep working as a lawyer.
"When I came out of the show, I went back full-time, but it's probably the last couple of years that I've been part-time," says Anna. "I like to keep my foot in the door, I think it keeps me grounded — I've still got that legal background behind me, I still have my practising certificate. I'm still the same person, I haven't changed."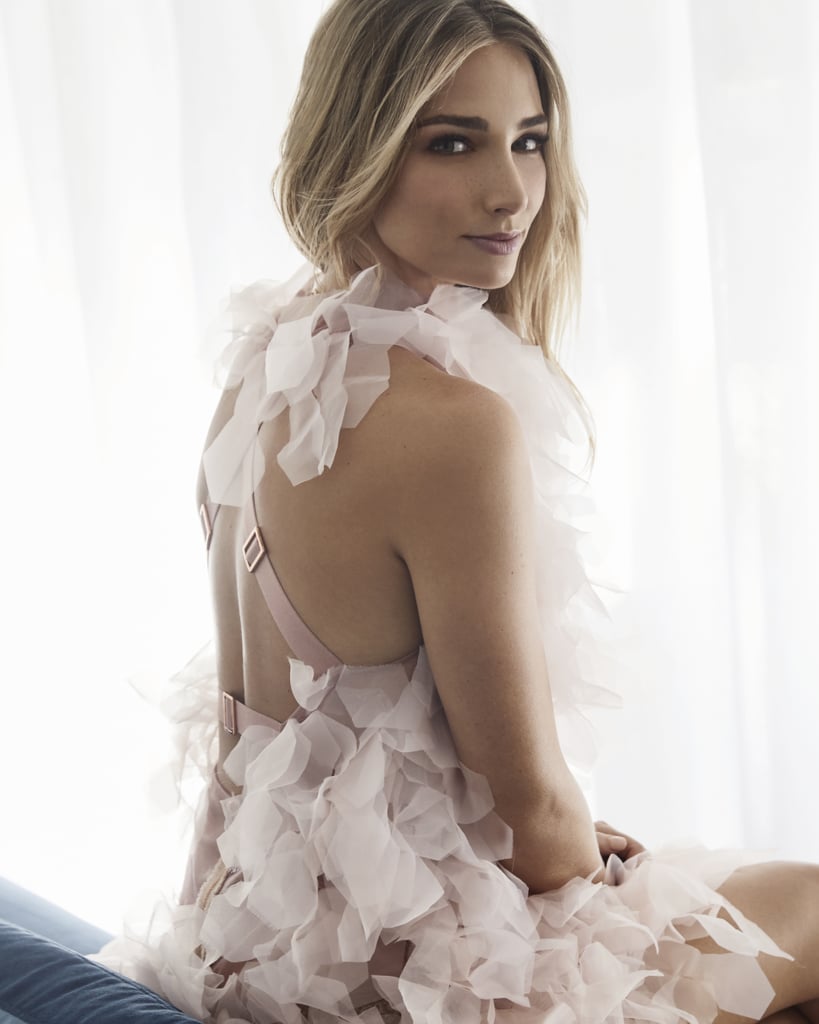 Balancing law, love and a life in the public eye is no easy feat and Anna isn't afraid to admit that sometimes it gets the better of her. She also opens up about something most women can relate to — she too has been hard on herself at times. "For me I always felt like I couldn't do things and so I had to prove myself wrong — I never failed a law subject but every year I would tell myself, 'You're going to fail a subject,'" she says. "It's a really bad way of thinking and I don't suggest anyone else think like that, but I always think the worst and hope for the best — I'd like to be more positive in that way."
Part of Anna's push to be more positive has meant blocking out the negative noise online. From trolls to harsh headlines, Heinrich remains unfazed.
"I think I have a pretty thick skin now, it takes quite a lot to get me," reveals Anna. "But I'm also pretty lucky because I have the support of Tim who understands it and we understand each other — we are in similar situations and it makes it easier when you have someone who supports you."
"I always felt like I couldn't do things and so I had to prove myself wrong . . ."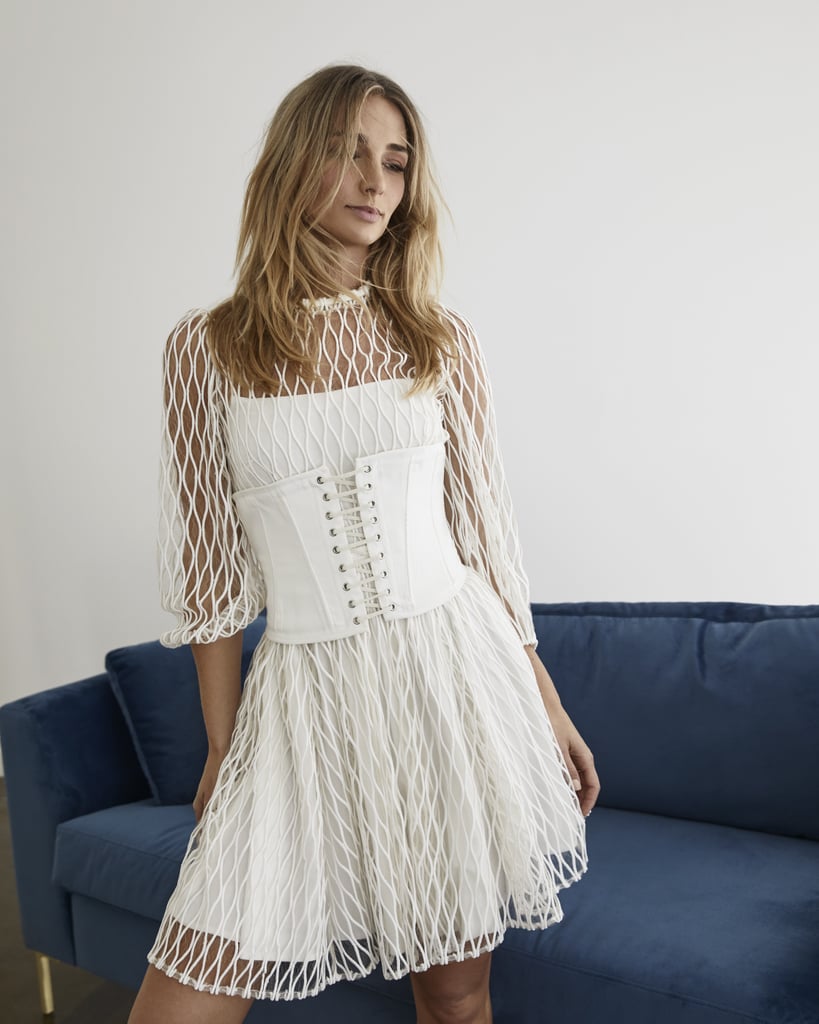 And it seems that grounding and support system is set to be a permanent thing for the pair, with Tim and Anna announcing their engagement earlier this year. "When it happened, we were staying in this little place in the Kimberley [in Western Australia] and before we left my sister had said to me, 'Look, he's not going to propose'," laughs Anna as she recalls the moment her life changed.
As it turns out, Anna's sister was wrong: Tim surprised his bride-to-be with a day trip on a boat, dropped to his knee and popping the question.
"We went out on a little dinghy in front of the place we were staying, it was completely isolated and he just did it there," smiles Anna. "I was very surprised and said, 'Have you asked my dad?' and he had — luckily!"
Proving that they really are the ultimate #goals, Tim and Anna are even planning the wedding together.
"Tim is someone who likes to have a say in everything, so he wants to be involved and he wants to be a part of every last decision," laughs Anna. "But it's a good thing because you hear stories about guys not wanting to be involved whatsoever, so I do appreciate him putting in a lot of effort so we're doing it equally."
And while we really want to hear more about how their wedding will unfold, the call time on Anna's shoot is fast approaching. The garments are carefully packed away, the hair and makeup artist leaves, and just as gracefully as she arrived, Anna exits, farewelling the team and grabbing her things on her way out. She may be soaring through life, but her feet are still firmly on the ground — and we love her for it.