Australian Hollywood Stylist Sophia Banks Coloma Spills on The Hunger Games, Oscars Trends, Style Tips and more
Australia's Answer to Rachel Zoe? Meet Sophia Banks Coloma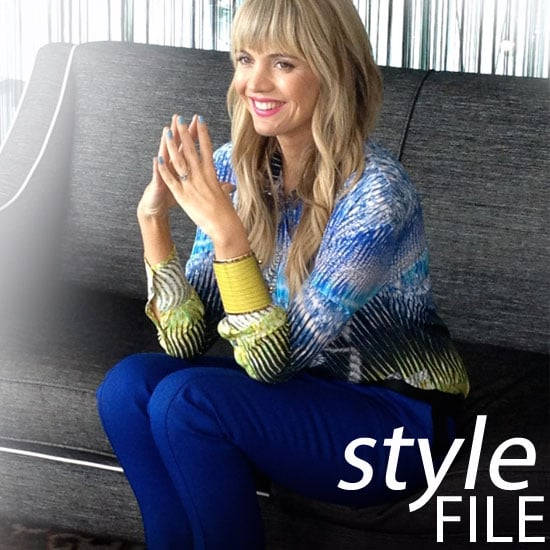 Late last week we were lucky enough to score some time with expat-Hollywood stylist Sophia Banks Coloma. Not familiar with SBC? You will be soon. The trained designer knocked on doors in LA before setting up her own fashion emporium, Satine. The Sydney-sider started dressing her Hollywood clients and now she's the style-guru behind The Hunger Games (no biggie), more than a few of our favourite Oscars red carpet moments, and the personal style of Amber Heard and Blake Lively (amongst others). Add to Sophia's CV her costume-design credentials, sharp trend-forecasting skills and rumours of a looming reality show and you've got Australia's answer to Rachel Zoe. Needless to say, we were keen to talk shop when she was in town.
On Amber Heard: She's Grace Kelly, she's totally Grace Kelly. Even with no makeup. She has a huge career ahead of her.
Can you say anything about rumours that you're doing your own reality show? I can't say anything about that.
On Amanda Stenberg from The Hunger Games wearing that Collette Dinnigan dress: I pulled it out of the archives. We had to get it altered. A lot! She's only 13
The stylist tricks every woman should know and use: Buy clothes that fit, number one. Get things altered — even a little bit — it makes such a difference. Hemlines, waists — get them tailored! Get a well-fitting bra. Also, understanding your body shape and dressing accordingly. And colour. And taking risks! Simply by throwing on a pink shoe, a touch of colour can really lift a whole outfit. And then spanx!!
On showing skin: I don't really dress people provocatively. If you're showing legs, cover the cleavage. Or vice-versa. Never both! ONE THING. I'm a less is more girl.
To find out Sophia's trend tips and favourite Aussie labels (amongst other things) justread more
Top trends for the coming season: Australia is interesting because you get colour and fabrication first, and silhouette later. It's a very odd market. So for A/W later this year you'll start to see velvets, as well as colours like emerald green, the Oriental yellow and red like those at Marc Jacobs and Jason Wu. There's a whole Eastern/Film Noir look going on —  which has a distinct 1940s influence. And mixed prints are massive — we call it print-blocking. Either block colours with printed pieces, or prints with prints.
What are some of your favourite Australian labels? And what shows are you hoping to see at MBAFW? All of them! Bec & Bridge, Alex Perry, sass & bide, Yeojin Bae, Nicola Finetti, Josh Goot, Manning Cartell, camilla and marc, Collette Dinnigan. I really love Australian labels and I want to have as many in my LA studio as possible. I will be here (at MBAFW) looking for stuff to use for my red carpet work.
Are Americans familiar with Australian labels? Sass & bide yes, but other labels? Not so much. I mean, they love it even if they don't recognise the label immediately. My clients respond to it, definitely. I just did the first fashion shoot ever for Just Jared and … amongst the international labels I used camilla and marc and sass & bide. I love their designs. I am always on the local designers' backs for them to send stuff over to me!
What is your favourite part of the job? Being creative. And it's fun to set trends. I do forecasting, and I'm already working on S/S 2013. I love predicting trends. I had this whole thing about white being the big thing at the Oscars. And I was right.
And the worst part? The schlepping!
Tips for aspiring stylists: Out-work people! Get in, assist someone, and be prepared to out-work everyone.
Do you hire Australians? Oh yeah, we work harder than everyone else. I think it's really good to have training as a designer, or a background in film. Then form a creative side — be very up with your fashion. Scour Style.com. Then find inspiration from unexpected sources. And have a point of difference; don't be afraid to have a voice. It will ensure that people can come to you for something unexpected. Don't be too safe with your styling choices.
What do you prefer: design, costume design, style? I love them all! Styling you get to work with all of the amazing styling and amazing celebrities. You're not stuck in just what you have — you get to pull the best of everything and you get to create trends. That's really fun. With editorial you get to use all the amazing stuff that would get canned on the red carpet... For film you have to be about the character first, and you get to add to the life of the character through the clothes. I have to tell you, being on a movie set is one of the most intense but wonderful experiences. You get to collaborate with the most creative people in the business. And then designing: you get to design what you can't find for the red carpet! I'm glad I'm a trained designer. But I love all of it. They feed into each other... I will eventually do my own line. I definitely look forward to the movies. I want to win an Oscar one day.
What are your personal go-to labels? So I have designers that I love that I put on other people, then designers that I personally wear. Personally, I love Céline, Stella McCartney, Mary Katrantzou, Brian Atwood...  Prabal Gurung, Number 21 and Alexandra Riche. There's two new lines that I love; Belle Savage which is a British line and Amanda Wilmont.