Best Dressed Male Celebrities at the 2011 VMAs: Kanye West, Joe Jonas, Justin Bieber, Ne-Yo or Taylor Lautner?
Who Was the Best Dressed Guy at the VMAs?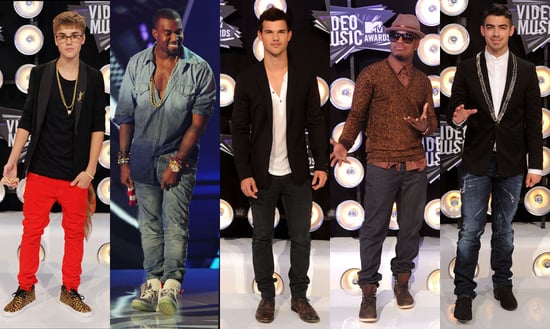 Even with all the fierce fashion our favourite female style stars rocked at today's MTV VMAs, it was hard to ignore what the boys brought to the table. Justin Bieber wowed in red pants and a classic blazer, Kanye West did double denim, Taylor Lautner looked sleek and sexy in his suit jacket, Ne-Yo played it cool in a v-neck sweater and fedora, and Joe Jonas dressed up his jeans with a smoking jacket. These handsome fellas gave us a lot to be excited about on the VMAs black carpet, so let's hear it for the boys: which dapper dude gets your vote for best dressed of the night?