Bridal Jumpsuit Trend
Cool or Crazy? Bridal Jumpsuits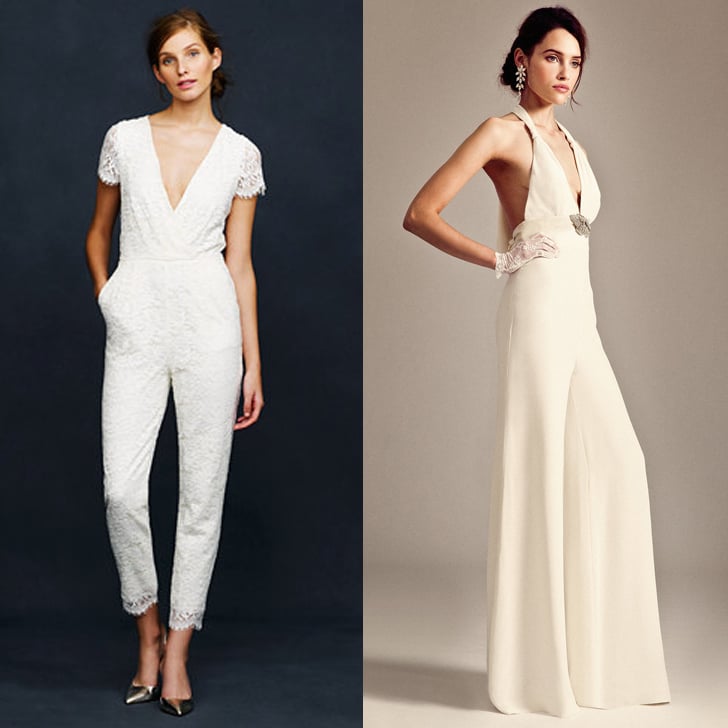 Source: J.Crew and Temperley London
You know how you get engaged; the man of your dreams gets down on one-knee, you immediately Instagram that big, sparkly rock to share the news with everyone your nearest and dearest, and then grab mum and your bestie to go shopping for the perfect wedding jumpsuit? Neither. But in a turn for the unexpected, while we were just getting our heads around bridal trends like pink dresses and black gloves, another designer has added the long romper to their bridal repertoire.
In 2013 Viktor & Rolf debuted a six-piece bridal capsule titled "Married", and in it was a shirt dress and a jumpsuit. Then again at Bridal Fashion Week last year, Temperley Bridal introduced new designs, including a '70s-inspired jumpsuit (right). And most recently, J.Crew hopped on the quirky bridal bandwagon, unveiling a white lace jumpsuit — pockets and all — amid its more traditional offering of gowns (left).
While we can see the benefit (comfort! pockets! price!), we're going to leave the verdict up to you. So spill, would you wear a jumpsuit on your big day? Is it cool, or is it crazy?