Bride and Bridesmaid Collection By Forever New Ever After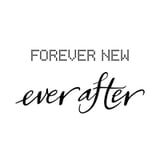 We want to celebrate your moment. From entrance-worthy bridal gowns to pretty bridesmaid dresses and all the final touches, Forever New Ever After is a place to find everything you need for an event to remember.
And the bride wore… Forever New. Just in time for the wonders of wedding season, Forever New has launched its first bridal collection, which is every bit as pretty as you would expect from one of our favourite local retailers. While bridesmaid dresses seem a natural expansion for a brand that is already well-associated with pastel tones, the 20-piece Ever After capsule collection even includes dresses for the bride herself.
The designs range from bohemian styles to more grown-up shapes — we're in love with the sophisticated, modern silhouette of the Cindi Lace High Low Midi, and can just imagine the chic city nuptials it would be worn for. The quality of each piece matches the height of the occasion with 100% silk, Chantilly-inspired lace and intricate hand-beaded features throughout the collection.
If you've been called upon for bridesmaid duties, you might want to tag the bride-to-be in images on Forever New Ever After's Instagram account (separate from the main Forever New account) for some not-so-subtle hints. Classic navy, ice blue and the most delectably soft shade of peach are the main colour themes; the styles are pretty and conservative. It's a romantic antidote to the naked dress trend that has taken over both red carpets and wedding aisles of late. But they're also fun enough to double as wedding guest attire if you've got more than one set of nuptials to attend this season.
Even for those with no weddings on the horizon, the campaign's launch imagery is enough for an afternoon of daydreaming and wishlisting. Keep scrolling for our edit of the best pieces from the collection.