Camilla and Marc Designers
In The Studio: We Talk Fashion, Family and Business With Camilla And Marc
Picture life as one of Australia's most highly-regarded fashion designers: a fast-paced, colourful whirlwind of airports, meetings, studio time and fashion weeks. That's the reality for Camilla Freeman-Topper, the creative force behind Sydney-based fashion brand Camilla and Marc.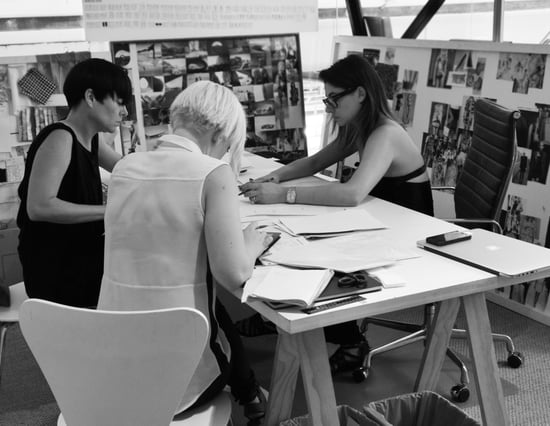 Few Australian designers have garnered quite the following — and maintained it for ten years — as brother and sister pair Camilla Freeman Topper and Marc Freeman. Since the brand's 2003 launch at Mercedes-Benz Fashion Week Australia, the design duo haven't looked back, explaining their evolution from small local label to international design juggernaut as "a carefully considered process." 
The pair are participating in the Shop Small campaign, encouraging Australians to shop locally. But, don't be fooled, Camilla and Marc isn't just a hit at home, the brand is a common sight on the red carpet. "Drew Barrymore always looks beautiful in our pieces," Camilla said of her favourite celebrity to dress. A hard one to pick, considering the likes of Kristen Stewart, Kate Bosworth, Kirsten Dunst and Rose Byrne are all proven fans of the brand. But when it comes to her personal style, Camilla's most cherished pieces are the ones that strike a personal chord. "I have a lot of my late mother's pieces that I really adore and love."

Three months out from fashion week, we chatted with Camilla about what it takes to pull-off a show, the advice she'd give to a younger Camilla and mixing family, fashion and business. Keep reading.

"No day is typical!" Camilla Freeman laughs, who at 32 has already successfully launched two fashion brands, one swimwear line, and leads a team of 30 staff. In the Summer of 2007, Camilla and her brother Marc added a range of swimwear, C&M Camilla and Marc SWIM, to their label line-up, and in August 2012 broadened the offering to include a diffusion line of ready-to-wear fashion, denim and the swimwear we'd already come to love. She takes a blood, sweat and tears approach to managing her brands, explaining she spends most of her time leading her team:  "I spend a lot of time with my design team going through new collections, styling, briefing them in on creative direction as a collection I also spend quite a bit of time working with my marketing and PR team." 
Camilla has never strayed from her design ethos to create "luxurious, high-end fashion for discerning consumers" — an aesthetic that has carried across each collection, and ultimately led to the brand landing the crème de la crème of international stockists, including Saks Fifth Avenue, Intermix and Net-a-Porter. "I am travelling a lot," the mother-of-two admits. But although she's away from home, it's a part of that job that inspires most of her designs: "Seeing all different parts of the world, and new different parts of the world often, I find I'm constantly getting inspired by travel people, culture and food." 

Camilla Freeman-Topper and Marc Freeman preparing for Mercedes-Benz Fashion Week Australia
Although she's yet to announce whether Camilla and Marc is on the schedule for 2014 Mercedes-Benz Fashion Week Australia, she explains a Fashion Week show is no easy feat. "We start planning months and months and months out. We decide in our production team, our styling and creative team all those aspects need to be decided on early in. Location is a very important factor that we need to decide on and depending on the direction of the collection it will also help steer us in the direction of the venue," she explains.  "We always create our own music. We work with a music person whether they be new and up-and-coming, or old-school and have been in the industry a while." So, does she get nervous showing a collection for the first time? "It's not really nerves. . . It's more running on enjoyment. I think by the time I get to that point it's more adrenaline and excitement, I'm really to put it out there to the world. "

Camilla dressing models backstage at Mercedes-Benz Fashion Week Australia
From early on, Camilla was earmarked as one-to-watch in the industry. She studied fashion at Sydney's Whitehouse Institute of Design, before being awarded a post-graduate scholarship to undertake further training in Florence, Italy at the Accademia Italiana Arte Moda. Despite this, and enjoying the kind of success reserved for a select few in the fashion industry, she does have some advice she wishes she could go back in time and tell a younger version of herself. "Nothing has been very successful if you haven't put a lot of work into it, I am a really strong believer in that. Even if it does come naturally to someone I feel like it's really important to put effort into something and we have a never really put anything into the world unless we felt it was worth it." She always knew the succes wouldn't come easy, "I feel like I knew it was going to be really tough. I knew it was going to be a lot of blood, sweat and tears. But if I put everything into it would work out. It was hard work and everything was worth it."