Emma Freedman Interview: Sydney Cup Races Style Tips
Sydney Cup: Emma Freedman's Racing Dos And Don'ts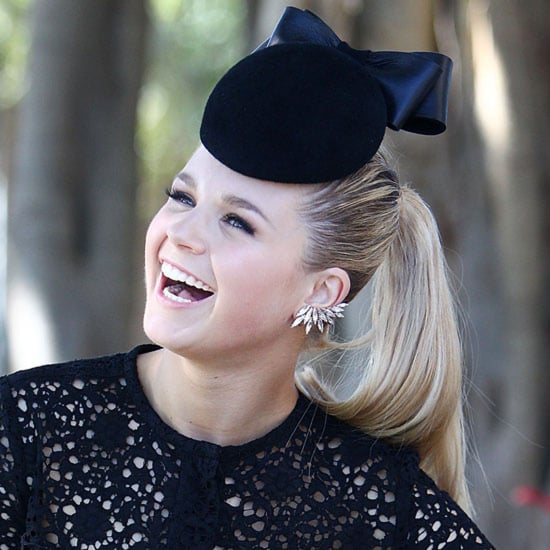 Tomorrow's Schweppes Sydney Cup marks the last race day of the season, and to get you geared for the big day, we've got David Jones' racewear ambassador Emma Freedman to lend us her insider knowledge. The daughter of five-time Melbourne Cup winner Lee Freedman, and a style icon in her own right, she certainly knows a thing or two about dressing for a day on the field. Here, she talks dressing dos and don'ts, raceday essentials, and which accessory is over and done with. Once you've read Emma's interview, you can head on over to buy your tickets — there's only a few left, so move fast!
POPSUGAR: So, dress codes: What are some big do's and don'ts at the racetrack?
Emma Freedman: Adhering to the traditional raceday rules are a must — but you can have fun with them! The basics are keeping your skirt/dress length appropriate (around the knee area), during the Autumn months a sleeve is imperative whether it be capped or longer. Go for a felt headpiece or hat and accessorise appropriately — if it is cool, have a blazer or a coat. Nothing worse than a lady leaving the races with her boyfriends jacket draped over her chilly shoulders!
Does each race day have a different theme or dress code?
Yes and no. Some racedays have a clear cut code — like Derby Day where you should always wear black and white. Cup days (Sydney or Melbourne) lend themselves to bright celebratory colours and a bit of fashion experimentation. If attending an Oaks Day, pretty and feminine is usually the way to go. The most important thing though is to wear an outfit that makes you feel great and that you feel reflects the day and your personality.
For more of Emma's expert style advice, keep reading here!
How should we dress differently for the Autumn Carnival than to the Spring Carnival?
Felt hats for Autumn instead of straw for Spring, closed toed shoes, accessorising with gloves and hosiery. In terms of the colour palette — rich jewel tones are often seen more during the Autumn carnival instead of those bright or neon pieces, but that's not to say you can't inject a little colour into your outfit. Dressing for the inevitably inclement weather though is probably the biggest difference — coats, blazers — any type of 'cover up' that might help you keep warm is a must, but it has to match your overall look, of course.
Top trends for the Autumn Racing season?
Pant-suits are a great idea — its powerful but also warm. Texture is big this season, whether it be lace, leather, felt. It adds sophistication to any look. Prints are still big. In terms of millinery, structural headpieces are making waves. It's a polished look and much welcomed after the era of the fluffy fascinator. If there was a way of describing the look for heading to the track this season it would be polished, chic and sophisticated with an edge of fun and quirkiness.
What personal looks/designers can we expect to see from you this season?
I wore Victoria Beckham to Derby Day — I just love her pieces. Australian designers are doing beautiful race wear though, too — Camilla & Marc, a suit from Carla Zampatti, print from Josh Goot, separates working together from Scanlan & Theordore.
Can you wear a fascinator to track in Autumn? Or is it purely a Spring thing?
To be honest, I think the day of the fascinator is done. It's about headpieces and hats now — remembering they come in all shapes and sizes and there's one for everyone out there! I like to see only two or so trims on a hat — I think anymore can look really overdone and busy. Simplicity is underrated.
What race day essentials do you always carry in your clutch? Formguide, pen, lipgloss and powder, wallet with money so I can have a bet, a killer pair of sunglasses, phone and keys. Nothing too tricky — just the basics to help me have a great day trackside!