First Look at Cue's A/W '13 Campaign shot by Derek Henderson
First Look: Cue Calls in the Big Guns for Winter '13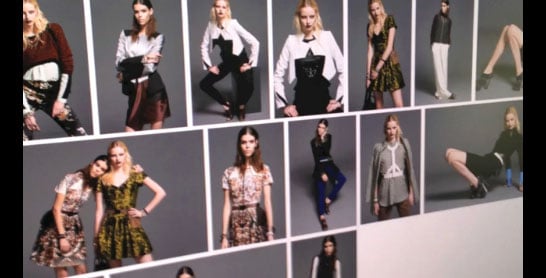 Winter is going to be a goodie by the looks of Cue's latest campaign. It was an all-star cast for the two day Sydney shoot, with Derek Henderson snapping international modelling talents Meghan Collison and Elza Luijendijk (whose collective CVs list the likes of Vogue Italia, Prada, Versace and Proenza Schouler) for the Winter '13 campaign. The mood? Future-facing with a clever play on Baroque-inspired prints, but reimagined in an utterly modern way via sculpted silhouettes, razor-sharp tailoring and structured add-ons like peplum-belts.

Cue's head of design, Prue Rainey, nominated her must-have item for us, saying "Jackets are a key investment item for the season, look for something structured with strong angular lines. We have used futuristic fabrics for a modern feel, bonded scuba and metallics will take you into the new season and beyond!" This clip might be short, but it's certainly sweet. The full range drops in-store (and online) from mid Feb. The question begs. . .  can you wait?
To get a first look at Cue's Winter campaign, just . . .