Five Fab Minutes with Kate Bosworth: On Being a Style Mentor, Buying Topshop Collabs and Rainbows
Kate Bosworth on Topshop, Front Row Style and Rainbows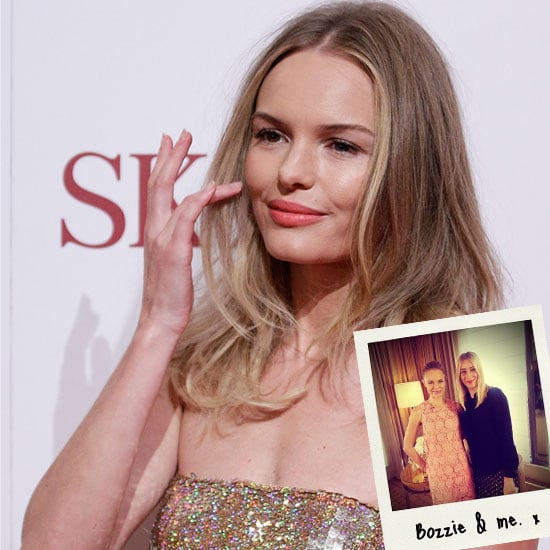 Confession; I have felt a touch jealous of Bella over the last two days. Reason being is not her latest shade of orangey-red lipstick, or her swishy locks. Nope. Alison Larsen, editor of BellaSugar Australia, is bona fide besties with Kate Bosworth. They've tweeted, they've held hands, and this morning they made it official when Ms Larsen sat down for a proper chat with the beautiful blonde, who is in town for her SK-II duties, this morning. Green is the word, people. Needless to say I begged for some fashion-related questions to be thrown into the mix. Head over to Bella to get the start of their cute convo, then keep reading to hear what Bossy had to say about being a style mentor to her fiancé Michael Polish's 14 year old daughter, loving Topshop's designer collabs, and rainbows. Yes. Rainbows.
To hear what Kate had to say, just . . .
What's the last fashion piece you bought — or something that's on high rotation for you now? Well I just got a lot of the new J.W. Anderson range for Topshop. That's why I knew your skirt, I have that skirt! You'll see me wearing it I'm sure. But I think he's such a talented British designer. Actually the striped shirt that I wore to the Bondi to Bronte walk was his, too.
Yes our fashion editor was all over that! She knew that! Oh she did?! Oh my god, there's the most beautiful rainbow outside — sorry it's so pretty. I can see it through the screen! It's gorgeous.
Yeah, how pretty. But I do love what he's done for Topshop. I'm sure I'll be wearing that skirt too, I love the spiders.
I can't wait to see it. If you could give your younger self style advice, what would it be? I'd just give my younger self the piece of advice to, you know, everything is going to be OK [laughs]. I feel like in your teens and your early twenties everything is just kind of manic. I don't know, it's kind of just a confusing time and you're figuring it all out, finding your legs a little bit. Being 29 and feeling just much more aware and comfortable in my own skin, I'd just say it's going to be OK. It's not as big of a deal as it feels. Michael [Polish, her fiancé] has a 14 year-old daughter so I feel like in a way, I love the role I have taken on with her which is more of a kind of mentor and guide and being able to have her look at things in a certain way you know I wish I had at that age. You know, to have someone help me figure things out.
And for it to be you! She must be thrilled. You attend a lot of fashion shows and always look amazing front row – how do you decide what to wear? Does someone dress you? You know, it depends. In terms of fashion shows, I'll wear the designer that I'm going to see. For example at New York fashion week recently I participated in a series of interviews with Style.com interviewing a few designers that I was close with and interested in speaking with; so I popped around to their studios a day or two before I did the interviews or go to their show. It was just a combination of knowing them and them knowing me and what's new in their collection and like any woman, just what you feel like wearing that day. It's a collaborative thing because obviously also it's important for them to be showcasing their work, so in terms of that it was a little bit more specific to kind of talk about it together. But yes, it's more of a mood thing and also being aware of wanting to showcase the designers work, because it's so much work. It's quite incredible how they start with an idea, the genesis of the collection, and all the way through the final product.
Do you have a style icon? I love a woman who has a certain classical sense but also slightly experimental. So I do love Cate Blanchett's style, I've always loved her style. I love Tilda Swinton's style. I think she always really interesting and kind of experimental with what she's doing. Anyone who just feels comfortable. I mean I've always tried really hard even when I was younger and I didn't know myself as well, to not walk out the door feeling slightly uncomfortable. I'll stop before I get out the door because you just know you're going to be plagued with bad discomfort.