How To Wear Stylish Metallics Like Olivia Palermo
One-Minute Makeover Tip: Give Your Look the Metallic Touch
We're putting an end to ever having to utter the phrase "I have nothing to wear!" — one one-minute makeover tip at a time. Truthfully, it only takes a moment to refresh your style, like, for instance, with a touch of metallics. For today's little lesson, we're looking to high-impact shine to transform your everyday ensembles — and yes, we're talking about your daytime look, too. It's easier than you think. Just take a cue from Olivia Palermo's subtle version, and read on for all of our editors' tips.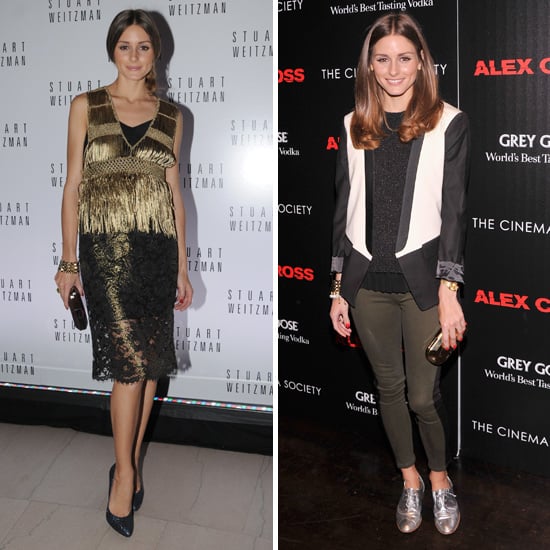 Start simple. If you fear the potency of metallic shimmer, look to one great piece in an understated silhouette. A metallic tee is a great jumping-off point to amp up black skinny jeans. This is also a look you could easily wear during the day with flats or ankle boots, then out with heels. And, speaking of heels, metallic footwear happens to be a huge trend this season, as well as a pretty safe place to start experimenting with small doses of gold and silver.
As you feel more comfortable with high-wattage metallics, feel free to mix and match gold, silver, pewter, and gunmetal shades. The trick to making it work is balancing all the shine with more grounded textures, like a woven knit or wool.
Remember that metallic pieces are already bold, so don't overdo it (especially for day) with sexy silhouettes. Gold- or mercurial-hued pieces will feel the most sophisticated in classic silhouettes, like suiting, trousers, or tailored tops. They'll also be the pieces you'll be able to keep and rewear year after year.