Industry Secrets from Fashion Week Australia 2013 MBFWA
So, Fashion Week, What's Up With That?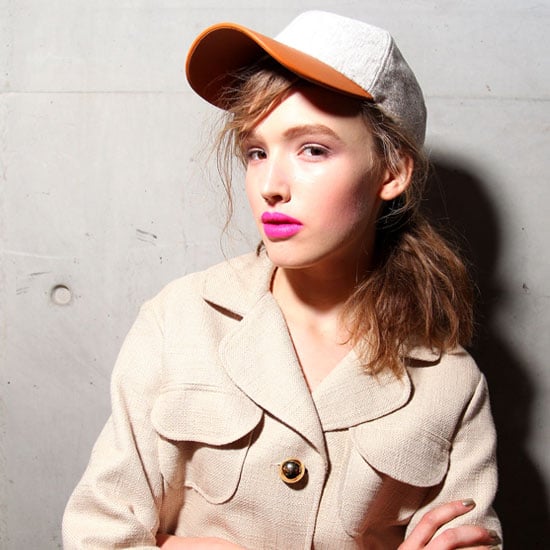 We came, we saw, we reviewed, we flopped! After five days straight of covering near every show on the official (and unofficial) schedule we accumulated a) first hand knowledge of every useful amenity on site, b) instant recall of where and when every designer is showing and c) a good dose of Day Five delirium. Here are some of the funnies we noticed that we just couldn't let slide. So fashion week, tell us, what's up with that? 
Street style snapping became a professional sport. At peak times the peacocking outside Carriageworks created so much congestion it was near impossible to fight a path inside. Multiple outfit changes in a single day, capes, spiked headpieces and underwear-as-outerwear made this a fashion fight for only the most dedicated. Even Tommy Ton looked overwhelmed. 
We played shoe bingo with Valentino's Rockstud t-bars. Everyone had a pair! Ditto that for Tony Bianco's Kalista heels. And Céline's Luggage Tote.
The death knell was rung on neon. Editor-types stuck to black, black, grey, Bordeaux, and more black. 
The lack of food (again) meant hangry, sorry, hungry hoards of journos, bloggers and editors. $25 for a pitiful salad is no one's idea of fun. Where is MissChu/Justin Hemmes/Sydney's food trucks when you need them?
On the food front: Schlepping to the local pub/pizza joint in your fashion week finery will illicit strange looks from the uni student crowd. 
Soulless tunes: Most models walked to word-less, trancey, electronica beats that certainly didn't invite toe-tapping. Alice McCall and the Hello Elle show were the only two happy exceptions. 
For more insider notes from fashion week, just . . .
Spot the stylists! Fashion editors and freelance stylists looked to be separating themselves from the online/blogger/peacocking pack by dressing down for fashion week. We spied many a flat shoe, pair of jeans and ponytail on the front row.
The international blogger pack still looked keen on Sydney. Susie Bubble, Natalie Joos, Candice Lake, Tommy Ton, Bryan Boy and Hilary Kerr from WhoWhatWear (cue heart palpitations) were all on deck.
Carriageworks got a tentative thumbs up. Despite some initial reservations, the fact that the show venues were no more than ten metres from each other had a happy-making effect on the high-heeled crowd. 
Buyers are the new bloggers: Net-a-Porter and Stylebop threw some fabulous soireés while representatives from Shopbop, MyWardrobe and Robby Ingham were front and centre all week. 
Whack-a-doo headwear seemed a sure-fire way of ensuring your picture was taken. Head chains, spiked headbands, netted fascinators and sculptural headpieces were all spotted floating about Carriageworks. The Redfern locals looked mystified. 
Even with a water brand as a main sponsor, the Media Centre ran out of bottled aqua. C'mon kids, this stuff is thirsty work!
Speaking of the Media Centre, we all appreciated the interior styling (truly, t'was lovely) but the Arctic temperatures had journos dashing outside to defrost in the sunshine between filing stories. 
No one claps anymore. Not because they didn't adore the show, but because their hands are otherwise occupied with filming/snapping/Instagramming the finale. 
The Redken Retreat, once again, offered tress-salvation for Day Four hair. A good blow dry can reinvigorate even the most jaded front row regular. 
An unevenly balanced schedule meant that many of the magazine girls and industry types skipped Thursday and Friday all together. Cue empty seats and ghost-town vibes. Boo. 
Move aside Insty, because fashion week announced the arrival of Vine. These 15 second images-in-motion made tweets so. much. more. fun. 
Designers working with what they got: Sure, there may have been no sparkling harbour or Opera House to use as a runway backdrop

—

 but clever designers made use of Carriagework's industrial setting. Alex Perry, Manning Cartell and Vanishing Elephant all ran with the theme superbly.