Inka Williams Interview
Meet the Model Justin Bieber Messaged on Instagram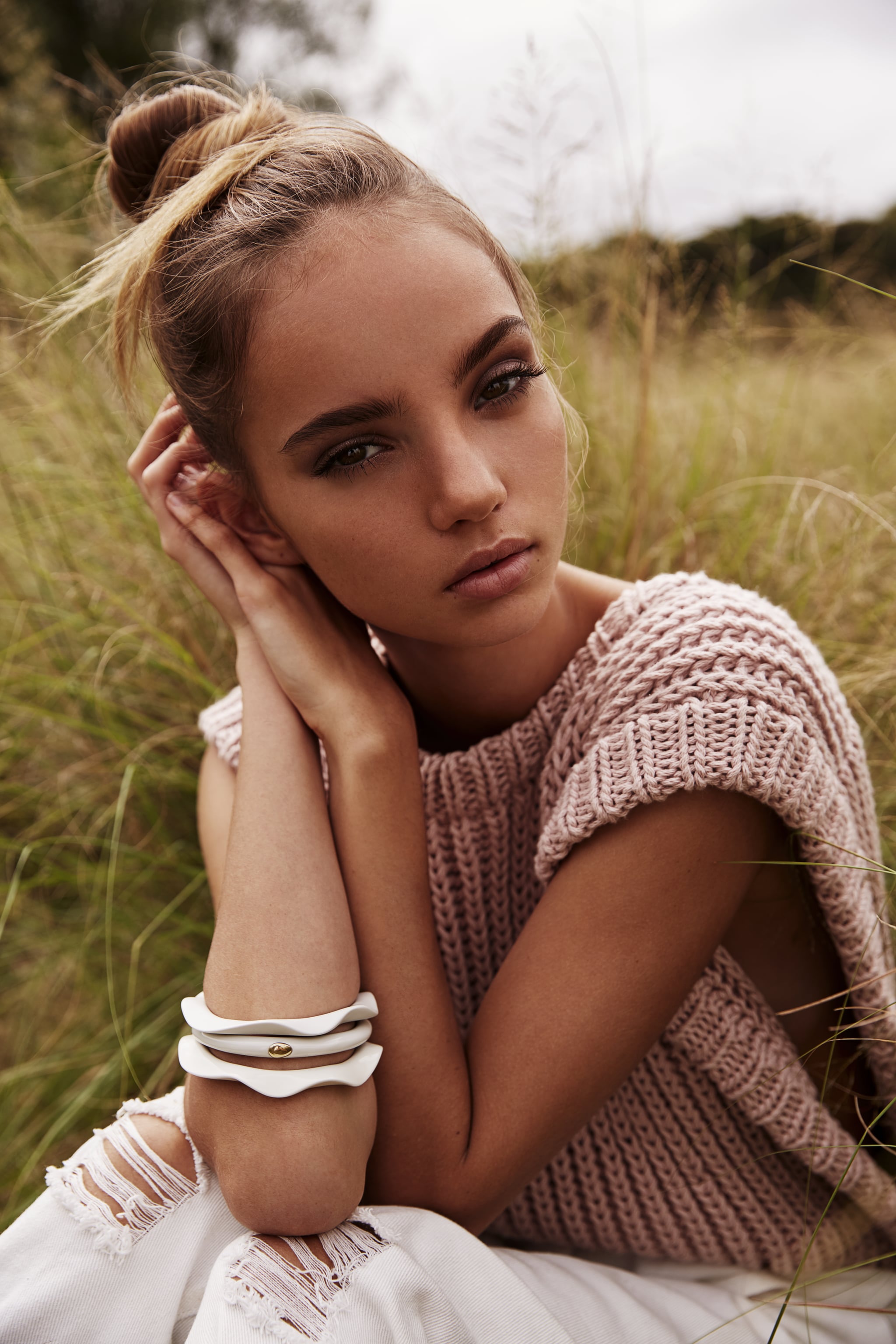 Here's what a quick Google search of Inka Williams will tell you: She's 16, she's a model, she has over 680 thousand Instagram followers, and she's based in Bali. But spend a day with the Melbourne-born beauty and you'll learn there's so much more to Inka than her striking looks.
Five a.m. call times are never easy, but that's when Inka showed up to our Autumn #popaushoots prep location, all by herself. Makeup-free and wearing a denim jacket, camel skirt and Adidas Yeezys, Inka was ready for whatever transformation we had in store for her — not that we were planning anything outrageous. As we forecasted a season full of sweet shades of pink and blush, and the cosiest knits around, we knew Inka would be the perfect girl to showcase the trends.
A lot has changed in Inka's life over the past couple of years. She's part of this new generation of models who are insanely popular — the social media stats don't lie — and yet mysterious at the same time. "To be honest, I still haven't really realised the amount of people that are following me," Inka tells us of her Instagram account. "Of course I'm really grateful. I feel it started growing when I got 10,000. From then, I started gaining them really fast — it was only two years ago I had 5,000 followers on Instagram, so it grew really fast. But I feel like it hasn't really changed me or anything."
A scan of Inka's page reveals a mix of editorial shoots she's done, her bikini-filled life in Bali, and fun snaps with her friends and boyfriend, Zak Henry — remember, she's a 16-year-old girl doing 16-year-old girl things. There's no formula to her Instagram success or what she posts: "As long as I like something, I'll post it. I don't really look at the grid and stuff, I just post what I like. I think what's important is lighting and the edits. If it's not good quality, I won't post it."
Despite her Insta-fame, which means she gets recognised when she's out in Bali — "Maybe it's 'cause the population's smaller, but in Bali, every time I go out to a shopping centre or a restaurant, there will always be someone asking me for a photo or something" — Inka's relationship with social media isn't as involved as one might think. She explains during breaks on the shoot that she only uses it to post pictures, and then leaves it as the likes accumulate. She's also using Snapchat, an even better way for her fans to see what she gets up to during the day.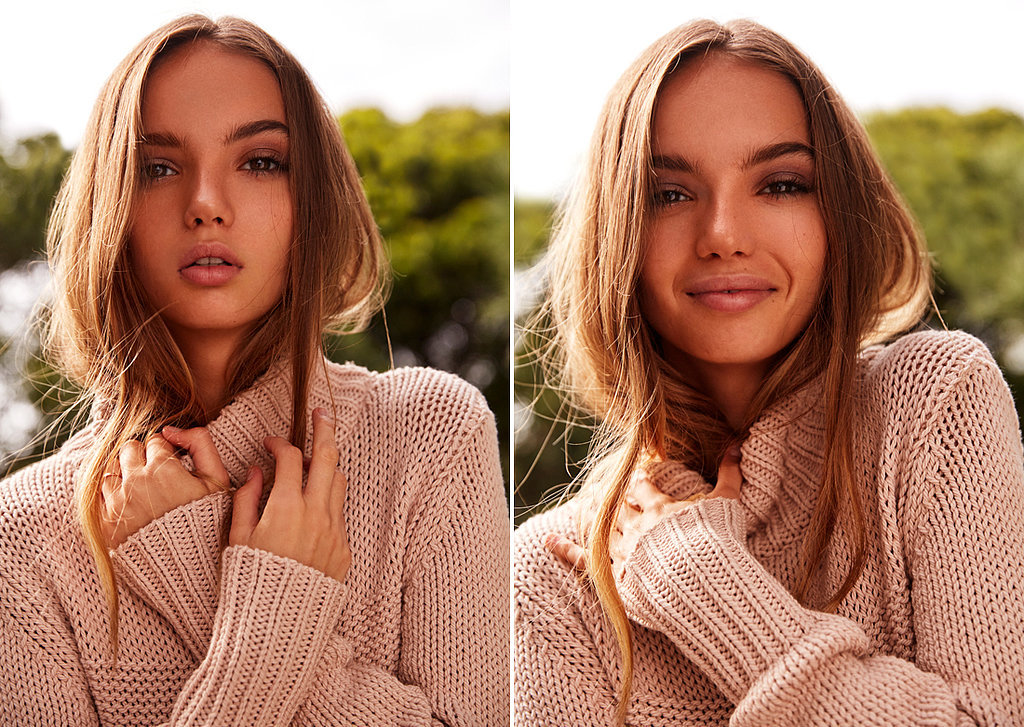 But enough about social media (for now). It's time to chart Inka's career from the very beginning. Like other successful models, Inka's leap into modelling happened when she was very young. "I found this magazine the other day — well, my mum did — I was 5 months old and it was a baby shoot I did for this magazine," she recalls. "After that, I kept doing this shoot every year for my dad's friend. It was a princess dress thing; I would do it every year until I outgrew the dresses. I did a couple of jobs for my parents' friends here and there in Bali." It wasn't long until she caught the eye of agents. "After that, an agency in Bali called Bali Stars scouted me and got me work for local brands and some brands in Australia — that's when my following grew. I started doing jobs with big followings like Sabo Skirt, Pepper Mayo and stuff. After that, I got scouted by IMG, and now here I am."
It makes perfect sense that Inka was quickly snapped up by Supré to be one of the leading members of their Girl Gang, alongside Sarah Ellen and Isabelle Cornish, which helped reposition the Aussie brand as a go-to for cool basics and affordable trend pieces, and helped build Inka's profile here. Working with girls going through similar times in their lives led to off-camera friendships, especially with Sarah. "When I met her, I didn't actually know anything about her," Inka says. "Now I follow her on Instagram. I love just popping by on her feed and just looking at what she's doing. She's a really good friend of mine."
The rest of Inka's friends are people she's grown up with in Bali. Technically, Inka is Australian because her parents made the decision to have her in Melbourne so she had an Aussie passport, but her mixed accent and exotic looks — her mother comes from France — give away her international upbringing. Growing up in Bali "is really different. You get to grow up with so many different people from so many different places. All my friends have different nationalities." It's not only the culture that makes it exciting, as Inka tells: "It's really free as well. I feel like it helps you to be a bit more mature. You're allowed to do whatever you want in Bali, so you kind of learn from an early age what you can do."
Her exposure to so many cultures from a young age means Inka, the middle child between two brothers, can speak five languages: English, Indonesian, Balinese, French and Spanish. Is there anything else people would be surprised to learn about her? "Probably that I have seven cats," she laughs. "I also have this really weird talent: I can lick my elbow. Try and do it, it's impossible!" (It's worth noting here that the three POPSUGAR Australia editors on the shoot did attempt this, and failed. Inka did it with ease.)
When it comes to her career aspirations, Inka hopes modelling takes her to New York or London — "I'll just go with the flow." Her favourite kinds of shoots are "editorial shoots where you do something really different and where the styling is different. I love shooting with animals because I think it's so fun." She counts working with "amazing photographers like Steven Chee and Josie [Clough] from It's Now Cool" as some of her career highlights so far, and described her POPSUGAR Australia shoot as "so fun! I loved the styling, the colours were amazing, the lighting was really good as well."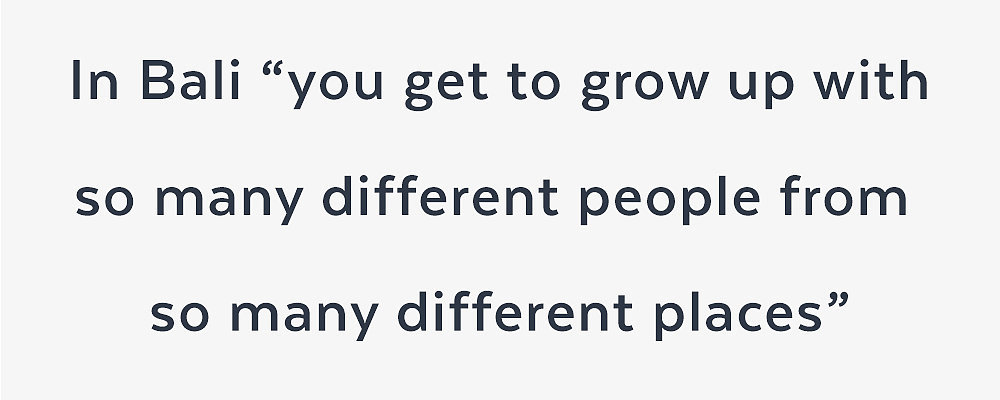 Back to the shoot. It's one thing to read about Inka and learn about her, but seeing her in her element is on another level. Having been in the game for some time now, she has no qualms about getting changed in the middle of a park, or having her long wavy hair pulled back tightly into a top knot. She's efficient; the looks get done quickly, and before we know it we're moving on to the next shot. She also eats anything. You can put it down to youth and fast metabolism, but there's nothing precious about this model. Oh, and she's super polite and helpful — even when she's trying to hold up lace pants that are too long and big for her, she'll offer to take some bags off your hands as you make your way to the shoot location.
It's this professionalism, teamed with Inka's do-anything-for-the-job attitude if she's "working with talented people I trust," that will see Inka go far. And of course, the big brown eyes and pillow lips don't hurt at all.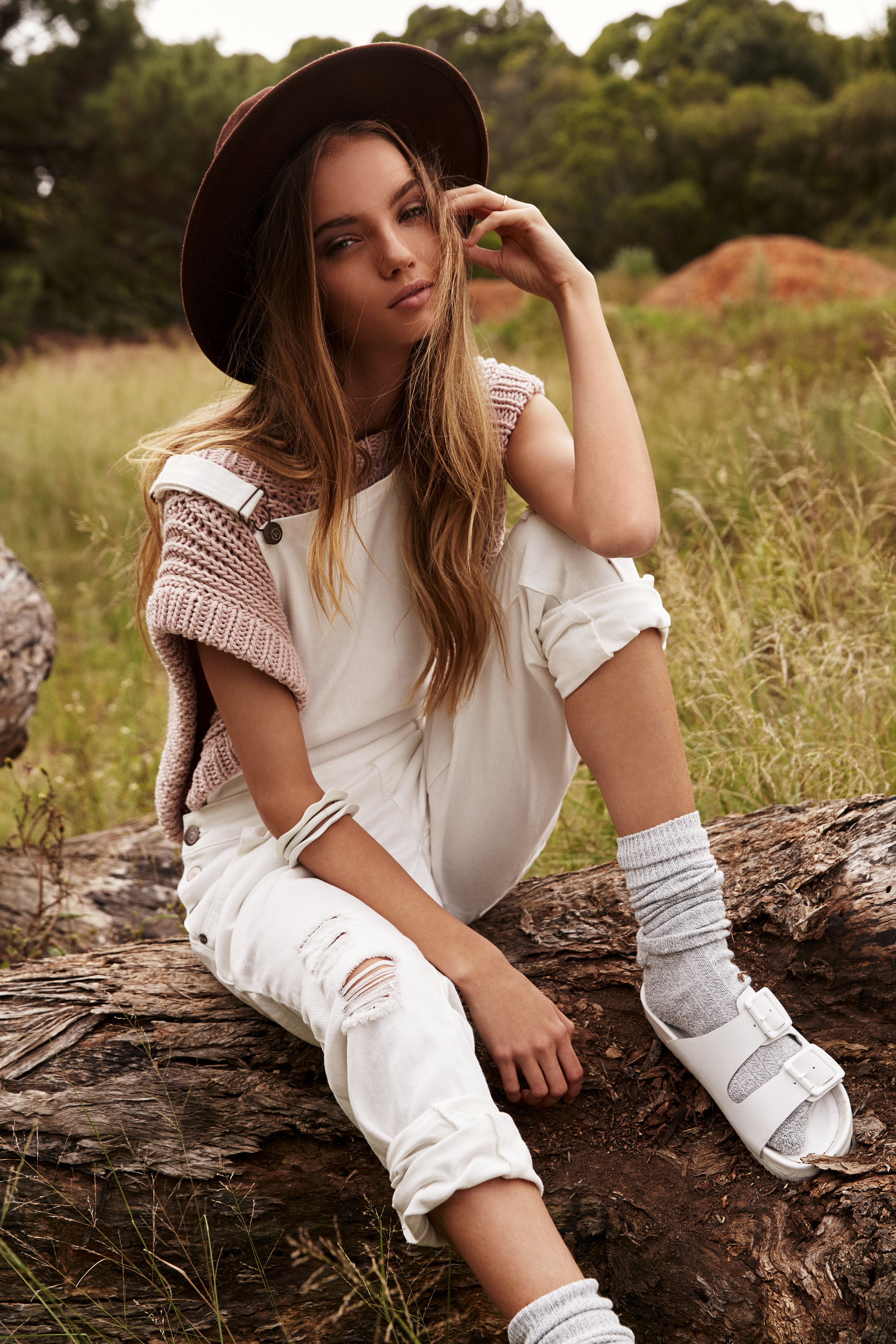 Away from the camera, Inka turns her focus to things that are important to her, like helping those who are less privileged. With her expansive reach she's been able to draw attention to the Bali Life Street Kid Centre, a non-profit project that provides shelter and opportunities for struggling Balinese mothers and their children.
She's also an avid smoothie fan. Asked what she would do if she wasn't a model, Inka answers, "This is going to be really weird, but I'd probably have my own smoothie business or something. I love making smoothies. Every time I'm home and there's friends over, I always make so many smoothies. I grew up around so many yummy fruits in Bali, so that's probably why." And there were other star aspirations, but not as a model: "I thought I was so good at singing until I recorded myself and heard myself sing."
And of course, there's travel, which Inka is keen to do a lot more of, beyond where modelling takes her. Europe is definitely part of the plan, but the place that "has been on my bucket list for so long is off Papua New Guinea and called Raja Ampat. It's a thousand-something small islands and it's so beautiful. The underwater life is amazing. My dad's gone a couple of times on a boat to film some things there, and it was like oh-my-God amazing."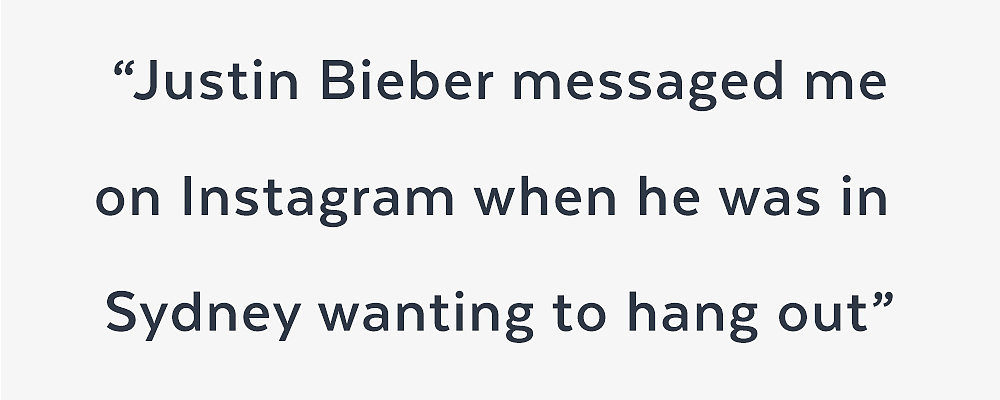 As we wrap up our interview and finish on light-but-important questions like who Inka's celebrity crush is — she said, "Maybe A$AP [Rocky] . . . I wouldn't want to date someone famous. I'm good with Zak, he keeps me grounded" — Inka shares one last story about an encounter with one of the most famous people on the planet. "Oh, funny story!" she says. "Justin Bieber messaged me on Instagram and gave me his number when he was in Sydney wanting to hang out, but I was already at the airport. Zak was like, 'Whatever, I have no hope, just go with Justin Bieber!' And Zak's mum always pays him out now, and bought him a Justin Bieber toothbrush. There are two buttons and it plays two different songs: one for the morning, and one for the night. When he got it, he just wanted to throw it away!"
So . . . did anything happen with Justin Bieber? Inka replied to his message to let him know that she was already at the airport, but that he should let her know if he decided to go to Bali. And future communication is not out of the question because "I have his number! He re-messaged me on Twitter and said, 'Sorry I missed you,' and followed me on Twitter." Should Zak be worried? Inka laughs. "Nah, I like Zak more!"
Photographer: Dave Wheeler
Stylist: Kate McGregor
Makeup: Elsa Morgan
Beauty editor: Justine Dunton-Rose