Inside The Man Repeller Leandra Medine's Wardrobe: Snoop her 100 Plus Shoe Collection!
The Man Repeller Owns Over 100 Pairs of Shoes: Surprised?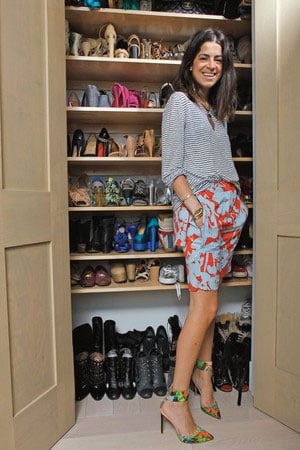 I don't know a girl who doesn't love shoes. Do you? The Man Repeller (aka Leandra Medine) is no different to the rest of us, recently talking to Footwear News about her fetish for fabulous footwear. For the newly married Medine, "shoes are just a really fun mode of escapism for a woman. The higher the heel, the more fantasy is put into the shoe." Hear, hear! Read on for highlights from this closet confidential . . .
On her storage space: "Because the closet is wide and I can't see all the way in when I open it, I typically put the stuff I know I'm not going to wear as much to the sides, and the things that are in top rotation go in the middle. Also, I have to keep it neat."
On her most expensive pair: "Christian Louboutin [heels] that retail for about $3,000, but I didn't buy them. I could never spend that much on a pair of shoes."
On her cheapest pair: "Probably my Supergas. Those are like $50 a pair. I also wear a lot of Havaianas flip-flops."
The footwear trend she despises: "Leopard-print shoes. I hate leopard print so much. The leopard-print strappy platform is such a trendy shoe, but it's such a dated trend."
Her go-to shops: Barneys New York, Net-a-porter.com and Mytheresa.com. "All the Isabel Marant shoes that you can't find here, you can find [on Mytheresa.com]. I'm also a big Yoox.com shopper."
On her shoe-shopping MO: "I rarely buy shoes at full price. I'm really good at waiting for sales. I don't care what season shoes are from; they're still new to me."
Head to WWD to read more. Image courtesy of George Chinsee and WWD.